MADHERO: Hey everyone, sorry if this episode is a tad late. You know how it is, what with traveling to the moon to get away from the serial killer that haunted you almost 40 years ago.  Takes a while to settle on the moon and junk, but I think we finally got away. Jason might've gone to space, but Michael Myers sure hasn't.

STICKMAN: Not yet, anyway. If this one does well, who knows. HEY.
LARRY: But wait.....look at our BANNER. AAAAAAHHHHHHH
STICKMAN: OOHH NOOOOOO
MADHERO: Oh  shit. I think it might be best to talk news soon before its the last piece of news we'll ever tell
NEWS
It feels like we've spoken about James Gunn every episode since his sudden termination from GotG3 sent shockwaves through the internet. We know the story of how and why  it happened, we know that Disney had no plans to hire him...and it seems Gunn has taken that very much to heart, because he's defected to the enemy, as it were. Originally rumoured, now confirmed, the GotG director has signed on to write and potentially direct a "fresh take" on the Suicide Squad franchise for the DCEU, the previous film of which we all here were pretty comfortable in naming our least favourite film of 2016 by some margin.
This is a pretty crazy outcome to this situation, being fired from Marvel and then jump ship to work on a DCEU franchise that was very much propositioned as an equivalent to GotG, in terms of the vibrant style, cast of misfit characters with questionable moral standards (Not too dissimilar from Disney themselves) but ultimately a sense of comradery and heart.  Obviously GotG succeeded big time in that department, whilst Suicide Squad crashed and burned so hard the crater can be seen from space...but with Gunn himself on board to try the idea again? DC and Warner Bros could very well end up with the crowd-pleasing heartfelt smash hit that Marvel and Disney previously had with the GotG films. Regardless of how this actually turns out...wow...karma really is a bitch.
MADHERO: Top 10 Anime betrayals
LARRY: This news fills me...with so much joy. Even if its out of spite.
MADHERO: I'm obviously still disappointed they didn't manage to make up, but this is one hell of a middle finger to give, even if that's probably reading too much into it.
LARRY: I don't think it's reading too much into it at all. This is absolutely revenge
STICKMAN: He probably had a lot of offers from different studios, but I'd imagine DC spent a lot getting him to jump ship. It's quite the statement.
LARRY: DC struck while the iron was hot and now they have a genuinely great director redoing their grandest fuck up thus far.
MADHERO: I guess out of all the properties, Suicide Squad makes the most sense for Gunn since that tried and failed to tap into what made Guardians of the Galaxy great. Obviously its not the first time a MCU director has jumped ship (Joss Whedon) but its still pretty wild
STICKMAN; Look what happened with Joss, even if the situation was far from ideal.
MADHERO: Either way, its made me the teeny tiniest interested in the new Suicide Squad, which I thought to be impossible after that first one. Good on you, WB.
LARRY: I am now VERY interested, especially if it's closer to a redoing than a sequel.
Alright, here is where I draw the line. THIS IS IT. RIGHT HERE. Ahem. Disney will be remaking "Lilo and Stitch," arguably their most successful and popular post-Renaissance project (but not the best, because The Emperor's New Groove exists). Up-and-coming Hollywood horror scribe Mike Van Waes will be writing it (cause yeah, that makes sense), and Aladdin producers Dan Lin and Jonathan Eirich will produce. So, in case you thought Disney maybe would possibly try to maybe MAYBE put any rhyme or reason in remaking their older films....ugh. I was on board with these live action remakes, but the last few haven't been particularly good, and I love "Lilo & Stitch," it's one of my all-time favorite Disney films and features some of the most nuanced family dynamics you'll ever see in an animated film, so to see it get this treatment just... makes me sad. BUT WHATEVER MONEY HAHA. I'm sure Lin and Elrich are reaping the spoils of their time in Aladdin-land. Speaking of which...
We got our first official teaser for Aladdin, and it's fine, I guess. Some beautiful musical arrangements of classic Aladdin-tunes, our first look at the Cave of Wonders and Aladdin himself, portrayed by Mena Massoud, and some sandy dunes. Yay. But also, fuck you Disney.
MADHERO: Uhoh, Larry has finally snapped
STICKMAN: And I thought i was fed up with live-action remakes.
LARRY: Why the FUCK is a HORROR WRITER writing a LILO AND STITCH REMAKE. That makes no sense.
MADHERO: I mean, just because they've worked on horror doesn't necessarily disqualify them for this. The Jungle Book screenwriter worked on Street Fighter: The Legend of Chun Li and that turned out fine.
LARRY: Gee, that movie turned out so well written (it didn't).
STICKMAN: I thought everyone loved The Jangle Book.
LARRY: It was okay. The writing was not the star.
MADHERO: While I have a lot of fondness for Lilo and Stitch, I don't really hold it sacred and don't think its unremakable or unadaptable
LARRY: WELL I DO.
STICKMAN: I don't see why doing a horror screenplay has anything to do with it though. Are you saying horror films can't be well writtteenn. You wanna fight bruv.
LARRY: I'm saying Lilo and Stitch isn't a horror film.
STICKMAN: I mean it could be. I'd watch that. It's scary that this film is happeninnnginingg.
MADHERO: I mean, Pleeklee is pretty terrifying. This is probably so they can sell more merchandise in Japan. They love Stitch over there
LARRY: There's one scene that you can maybe do horror for and that is Stitch's arrival. Das it. This is dumb.
STICKMAN: Writing horror doesn't mean you can only write horror. Ya dang. But how 'bout that Aladdin.
MADHERO: That suuuuuuuuure was a teaser
LARRY: The teaser didn't do much for me. Solid slow arrangement of Friend Like Me tho.
MADHERO: I imagine we'll get something more substantial in the future for Aladdin. More of a "hey this is happening." Guess we'll see next summer
LARRY: I think Genie is what's gonna make or break them. Until we get that, I have no strong feelings.
STICKMAN: Make Tron 3 you bastards.
So some you may remember The Chronicles of Narnia movies from back in the day. Y'know, the Walden Media/Disney one that was pretty much Lord of the Rings but with more Jesus Lion. The series, adapted from CS Lewis' classic seven part series, really hit the ground running with the 2005 original, before losing steam with Prince Caspian and eventually Voyage of the Dawn Treader. which ended being distributed by Fox. While murmurs were going around that Walden Media wanted to continue with the Silver Chair, it all seemed unlikely since the original kids were all adults now. And now its super dead with the announcement that Netflix has acquired the rights of the series.
Seemingly out of nowhere, Netflix announced they had not only obtained, but will get to work on not only adapting the books into movies, but several into tv shows as well. This strategy actually makes a lot of sense considering the incredibly fractured timeline and scale of the stories, with books like Magician's Nephew and The Horse and His Boy now much more likely to be adapted. As a big fan of the books as a kid, I'm very curious what Netflix can come with both from film and television front, but I guess we'll have to wait a while
STICKMAN: My indifference is painful.

MADHERO: You should have that looked at
LARRY: I read the Narnia books, and liked them a lot. Not sure if we really need all of them adapted, they vary in quality
MADHERO: They do, but I would like to see a full adaptation of the whole series, and I think some books could work as a movie and the other as a tv show
LARRY: I just don't really care to see "The Magician's Nephew" on the big screen. Or on TV for that matter. It's kiiiiiiinda a snoozer.
MADHERO: That's probably the one along with The Horse and His Boy that you can probably skip. Its been ages since I last read them or watched the movies for that matter.
STICKMAN: I have only read Lion Witch & Wardrobe. I only watched the first movie and I was not a big fan.
LARRY: Cuz that one is most telling for what Narnia is. Its imagery is definitely the starkest. Also C.S. Lewis and Christianity and such. I saw Lion and then Caspian. Skipped Treader.
STICKMAN: That one has a dragon though. You messed up.
LARRY: And bad writing too apparently.
STICKMAN: Must've been written by a horror writer  AMIRITE.
MADHERO: Dawn Treader was one that probably could've been a tv show cause boy howdy is it slow. I'm personally excited by the news, but with Netflix its hard to say when this actually kicks off
STICKMAN: It won't be for a whiiille. All these big fantasy things take ages to prepare.
MADHERO: And it'll be like "surprise, its out" like with all Netflix releases
Adam McKay, known initially for his comedic work in films like "Anchorman" and "Step Brothers," really made a splash when "The Big Short" was as good as it was, and now, in a sort of follow-up to that, McKay is bringing us another dramatized expose, this time on the life and times of Dick muthafuckin' Cheney. Vice, directed and written by McKay, looks to tackle Cheney's rise to the vice presidency, and how his actions regarding the war on terror (and other things) would change the direction of American and world history.
We finally get our first official look at some of the film's transformations, particularly Christian Bale as old, fat, bald Cheney, and Sam Rockwell as good ol' George W. Bush, who looks to be stealing the show. Plus we get some Steve Carrell and some Amy Adams, which is never a bad thing. Ultimately, based on the trailer editing and pacing, this looks to be a similarly toned piece a la "The Big Short," but perhaps even more extravagant and polished. Then again, "The Big Short" turned out to be a very verite, very unpolished film as a whole. So who knows what the fuck this will turn out to be. All I know is that I prefer this McKay over any other McKay previously, so I'll gladly indulge.
MADHERO: Sam Rockwell eating chicken wings gives me life.
STICKMAN: But is he a racist?
MADHERO: I mean, he's George Bush so...... possibly?
LARRY: Probably**
MADHERO: I'd make a Kanye joke, but well.....y'know. Anyway yeah this looks really good so far.
LARRY: I'm here for more satirical McKay. I really enjoyed The Big Short.
STICKMAN: Christian Bale got fat for YOUR entertainment.
MADHERO: His doctor must be seething. STOP GAINING AND LOSING WEIGHT, YOU FUCK. YOU WILL LITERALLY DIE
LARRY: I guess they came...to some sort of...agreement.
STICKMAN: Maybe he filmed a remake of Super Size Me to get there.
LARRY: Well now I'm just gonna ponder how one remakes a documentary.
MADHERO: Its a pretty remarkable transformation, and it will be a bit of a rude awakening for those who thought the Bush era wasn't so bad, which I did cause i was a dumb kid.
LARRY: It was VERY bad. We just didn't know all of the crazy bad shit until like 5 years after it happened. If the Bush era was as transparent as Trump's, we'd be in hell.
STICKMAN: I always thought it was terrible, it just feels...preferable in comparison to these daaays.
MADHERO: Oh America, you clods.
LARRY: That's kinda what Vice is going for, I imagine. Possibly shedding even more light on Cheney.
STICKMAN: Mainly it just makes me want to smack Christian Bale's potbelly.
MADHERO: Quickly before he loses it again for The Machinist 2
STICKMAN: Oh god. His poor doctor.
So hey, some not so fun studio news. While we all here at AtS are big fans of A24, its important not to forget one of the other modern auteur production company: Annapurna. The company, owned by Oracle heiress Megan Ellison, estimated to be worth over 60 billion dollarydoos has been founded to give auteur filmmakers the money needed to make the films they wanted. That has led to some great films like The Master, Her and Foxcatcher. And they seemed to be growing, having stepped up to distribution, even handling the new Bond film domestically. There's only one issue: they aren't making money.
While Annapurna continued to make movies, they didn't seem to put much effort in actively marketing them. Detroit bombed pretty hard and their most recent movie, The Sisters Brothers, cost more than 40 million to make but hasn't even made a million yet. This has now caused their head of film production Chelsea Bernard to be fired, as well as dropping their high profile Fox News/Roger Ailes movie, 2 weeks away from start of production. Larry Ellison, Megan's dad has now stepped in and will coarse correct the company to make money. This isn't a total collapse just yet, but these aren't the signs of a healthy studio. Hopefully they can recover so they can continue to make great films.
STICKMAN: Oy vey. This'd be a big loss.
MADHERO: I don't think they're gone just yet. Its not like Telltale which just completely collapsed. We see companies like Global Road still be around somehow after bomb after  bomb
STICKMAN: True, but who knows these days.
LARRY: Let's hope Buster Scruggs does well for Netflix and maybe gets a nom or two.
STICKMAN: LAIKA just partnered up with them too, I don't want my LAIKA to get hurt any moooore.
LARRY: Not LAIKA....Weren't they struggling too?
MADHERO: I mean, a Coen Bros film will probably get some love. Still though, its both a bit surprising and not very. They really need to know how to market their films better. Releasing Detroit in August probably wasn't the best idea.
STICKMAN: Detroit was a hard watch too. Hardly summer fare.
LARRY: To be fair, that film can't be easy to market... "Hey, come see this devastating protest film." It doesn't have inherent mainstream appeal.
STICKMAN: No but then you market and budget it accordingly.
MADHERO: That's just one example though. It just seems like they don't really do great at awards season. Does make you wonder what's going to happen to the likes of Vice and now the Roger Ailes movie
LARRY: Yeah they haven't had a major awards contender in a while.
STICKMAN: There's still a lot of good projects coming out of that studio. Problem is awards are kinda the bread and butter of studios who make that kinda thing.
LARRY: Exactly. Detroit coulda done well in that regard had they been smarter.
STICKMAN: A24 is very similar but does a lot better when it comes to awards.
LARRY: They also handle budget a lot better. A lot of their awards contenders stay on the cheaper side.
MADHERO: We'll see what happens next. They're still owned by a billionaire so they have some money in the tank. Hopefully they can get off the ground soon and continue to release great films.
STICKMAN: Please save my LAIKA.
OH SHIT, sometimes we get boring stories on here, and then other days? We get the bIG NEWS. Remember Dance Dance Revolution? One of many game franchises of Konami that no longer seems to exist? Well it's BACK...as a post-apocalyptic action movie. Wait, what. In what will no doubt eventually fall under the 'Never gonna happen' folder of video game movie adaptations (Remember that space epic Tetris trilogy that was being made?) , DDR is being propositioned for a feature movie by newly founded studio 'Stampede Productions' and the basic premise is that the world is on the brink of total destruction, and only the power of dance can unite, and save the world. Presumably they've taken the titular Revolution of Dance a little literally? But there you go. That's all we know, and it'll probably never happen...but hoOOOOo WEE, what a fucking funny news story this is. And since we're here, fuck Konami.
MADHERO: Gonna hit all the arrows in the right direction to some jammin' J-pop
STICKMAN: Gotta take those shoes off for maximum stomp dude.
LARRY: Oh my Lordy Who in the world is writing this?
MADHERO: This could be a fun parody or skit, but this seems like a bit of a stupid idea, but stupid enough to be fun
STICKMAN: This sounds like a Collegehumor skit that got out of hand.
LARRY: Yeah exactly. This is the sketch that comes after that Tetris announcement
MADHERO: I feel like there have been similar movies that couldn't use the license but now here we are.
LARRY: I guess this is basically Step Up meets Cloverfield?
STICKMAN: I can't see this film ever happening but it's hilarious that it's even being propositioned.
MADHERO: Konami's gotta make money to things besdies pachinko somehow
STICKMAN: Konami can fuck my dick. The last movie they had a hand in was Silent Hill Revelation and that was garabbaage. They'll sell this shit to anyone and I'm not here for it...even if I kinda am for DDR Apocalypse.
LARRY: Oh.
MADHERO: Hopefully Vogt-Roberts can keep them out for Metal Gear Solid then
STICKMAN: God that film is going to be either amazing or the worst thing ever. He's clearly a huge MGS fanboy and that means he's gonna play it too close to the games, which are nonsensical...BUUUT...we're talkin DDR here, which is going to win the Oscar for Best Popular Film one day.
----------
MADHERO: Alright, I think about does it for the news. Now we're still definitely running away from Michael Myers on the moon, but you know who else is on the moon? Ryan Gosling, who's now playing Neil Armstrong in Damien Chazelle's First Man. Y'know, that guy that really impressed in that Kubrick movie. It feels somewhat weird that there hasn't been a movie till now, but here we are, and Sticky and Larry have both seen it.
LARRY: Time for us to rocket into review mode. Har har
STICKMAN: Oh dear.
MADHERO: Alright you rocket men. What did you think of First Man? Is it the Oscar campaigner they're hoping for? Stickman, tell me your thoughts?
REVIEW
FIRST MAN
DIRECTOR: Damian Chazelle (Whiplash, La La Land)
STARRING: Ryan Gosling, Jason Clarke, Claire Foy, Kyle Chandler, Corey Stoll, Christopher Abbott
SYNOPSIS: A look at the life of the astronaut, Neil Armstrong (Gosling), and the legendary space mission that led him to become the first man to walk on the Moon on July 20, 1969.
STICKMAN: WELLLLL, I think it's safe to say this is a early Oscar frontrunner in a lot of categories. Damien Chazelle has already proven himself a great director with Whiplash, and then last year's surprisingly enjoyable (For me who doesn't like musicals) La La Land, both completely different but high quality productions. Once again with First Man he's made yet another completely different film in tone, experience and even visuals...and yet once again made another amazing experience, this being perhaps his most absorbing to date.
On the surface this may seem like a standard biopic about an important part of American history, we've seen a lot of those before, and this one certainly goes to places you will expect. However...the real star of the show isn't the history, it's the intimacy. Both in terms of characters and the space exploration itself. The space sequences are mostly pretty fucking terrifying, in a way I've never experienced in a space-set movie before, there's a real grounded and dangerous feel to the way it's filmed and the sound design especially, it's pretty stressful to watch but amazing in that respect. The performances are also great, Ryan Gosling plays a beautifully melancholic and stubborn father who deals with grief in a perhaps...not particularly ideal way? Wheras Clair Foy plays his desperately struggling wife who's trying to keep everything together. They work great together, and the terrifying and beautiful space sequences are played ...and filmed quite jarringly but also fittingly different.  All in all this is a slow, but terrific and moving experience. But that's just MY thoughts, what say you Larry.
LARRY: Yeah I agree with everything you said, Sticky. Chazelle has definitely cemented himself as a chameleon of a filmmaker with "First Man," what feels like if you took parts of "Gravity," "Dunkirk," "2001," and "Tree of Life," and made something wholly engrossing. Chazelle shoots it all as though you were watching a home video the whole time and it works wonders. And yeah, this is one of Gosling's strongest performances to date, with Claire Foy also giving a tremendously nuanced performance. I also wanna give a shout-out to Justin Hurwitz, a man who has proven that he's not just a good jazz composer but a great composer period. The score here is fucking phenomenal. I think, at times, it can get just a bit repetitive in how the plot moves from point to point, but that's really being nitpicky. For me, this is easily one of the year's best and second only to "Whiplash" as the best in Chazelle's filmography.
STICKMAN: That score was fuckin crazy yeah. Never thought I'd hear the theremin in a film like this.
MADHERO: On the spoopy space travel scale, where does it rank between your average space adventure and Gravity?
LARRY: I was not the biggest fan of Gravity, though I marvel at its craftsmanship. But it definitely channels the isolation of Gravity while stripping away the polish.
STICKMAN: It's a lot more grounded for the most part than say...Gravity or Interstellar, but the way the moon sequence is shot certainly goes for the same fantastical angle. I really liked the way it used different cameras for different portions of the film.
LARRY: Yes the moon sequence does stick out as one of the movie's grander sequences. The home video, grainy camera in his personal life versus the digital beauty of space.
MADHERO: A lot of people have played up the realism to its space travel and how terrifying it really was. That's what interests me the most for sure.
STICKMAN: You have a old vintage look for the majority, then it gets IMAX cameras for the moon sequence, and then afterwards it has a refreshed look, like its following the advancement of space travel. I watched this shit in IMAX and I tell you what, two of the space sequences in this film gave me some real anxiety.
LARRY: Oh yeah, the film opens with one of the most intense sequences of the year.
MADHERO: BUT DOES HE PLANT THE FLAG?!
STICKMAN: THE FLAG IS THEEEREE BUT YOU DON'T SEE IT PLANTED. WORST FILLLLM.
MADHERO: 0/10 Communist anti-America garbage. But hey, probably not. I'm really excited by this film. Is the more nuanced subdued family drama worth the wait for the grand spectable of space travel? Its almost 2.5 hours which is pretty long
STICKMAN: It feels long but I was never bored. The family stuff is almost as compelling as the space race  at times, thanks to the performances and score. There's a sequence on the moon that's fucking genuinely heartbreaking.
LARRY: I would say it does feel long but yes, never not engaging. Every scene feels warranted to be within the piece. And yeah, I know what scene Sticky is talking about, and I completely agree. I was about ready to sob.
STICKMAN: It was the tragic remake of A Grand Day Out I never expected.
MADHERO: Alright, you sad space cowboys, let's wrap it up. Anything you want to say before and give your final thoughts?
LARRY: Anyone who tells me La La Land is Chazelle's best film can go take a fucking hike. That's all I'll say, this man is capable of so much beautiful filmmaking.
STICKMAN: Watch this in IMAX if you can, I'll say that much. That moon sequence is filmed with IMAX cameras and it's worth every penny to see that bit alone. One of the best IMAX sequences I ever did see.
------------
MADHERO: Damn, I mean I preferred Whiplash but I guess that's high praise. Anyway, we've got ANOTHER REVIEW HOT AND READY TO GO! Drew Goddard is best known for his work with Joss Whedon on Buffy, but he showed his mettle with Cabin in the Woods as a new director to watch. He sure took his sweet time, but he finally has a new movie out that definitely looks stylish as heck. Larry, you're the only one that's seen it from us. Unlike its characters, did you have a Good Time at the El Royale?
STICKMAN: Oh SHiIIET I didn't see this film, I get to drink orange juiiiice.
BAD TIMES AT THE EL ROYALE
DIRECTOR: Drew Goddard (Cabin in the Woods)
STARRING: Jeff Bridges, Cynthia Erivo, Dakota Johnson, Jon Hamm, Cailee Spaeny, Chris Hemsworth, Lewis Pullman, Nick Offerman
SYNOPSIS: Seven strangers, each with a secret to bury, meet at Lake Tahoe's El Royale, a rundown hotel with a dark past. Over the course of one fateful night, everyone will have a last shot at redemption - before everything goes to hell.
LARRY: Oh boy, did I. "Bad Times at the El Royale" is another artful, unpredictable genre-bender from the masterful mind of Drew Goddard. You can't help but be stunned by Goddard's ability to take a studio-driven film (marketed poorly but expectedly as this crazy action-thriller) and make some genuinely excellent storytelling out of it. Part Chrstie-esque mystery, part-60's crime thriller, Bad Times at the El Royale showcases an incredible cast at work with a script that gives each one of them their own unique presence.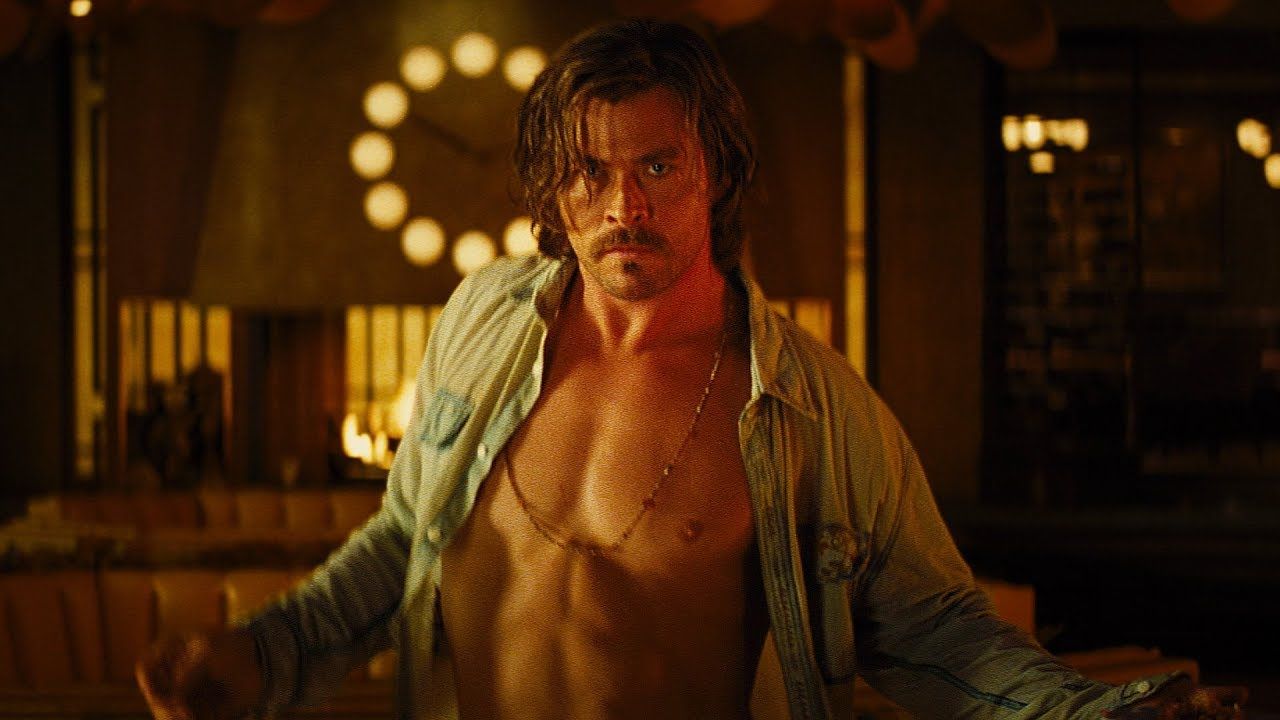 They each fit like puzzle pieces in the story at large, but the film certainly doesn't play it safe in regards to how long you'll be with them. Add to that gorgeous cinematography, lovely period production design, a solid soundtrack of Motown hits, and an unpredictable plot pushed by poignant tension, and you got yourself one hell of a good time at the theater.  Not every loose end is tied up, and the third act (or fifth act? idk this film's structure warrants a second viewing) leaves a little to be desired, but I would still thoroughly recommend this one to anyone looking for something a little smarter than your average blockbuster.

MADHERO: Cabin in the Woods was marketed pretty poorly as well so I guess that's his curse.
LARRY: You can't market smart blockbusters without dumbing them down, apparently.
STICKMAN: I thought this seemed a little generically zany..if that's even a thing. Like, big all-star cast, weird premise where everyone gets to chew the scenery...that kinda thing.
LARRY: Well, it's not. As I said, marketed poorly.
MADHERO: I think its more so hard to market without giving away the mystery or what the movie is really about. Cabin's twists were best kept as a surprise. Are there any similar surprises here?
STICKMAN: Marketed very poorly then. Cabin in the Woods wasn't even mentioned in the stuff over here and that film's great.
LARRY: To be honest, the trailers definitely give away some important shit. If I were to recommend one sees it, I wouldn't show them the trailer.
MADHERO: How much fun is it and does it take a while to get going? I'm interested, but the length is kinda throwing me off honestly
LARRY: I did have a lot of fun trying to solve the mystery and see how the pieces fit together. To be honest, it's doesn't take very long at all, 15-20 at the most. One of the most important parts kickstarts the juicy shit. It does ultimately feel long, but that's because it moves slowly thanks to the excellent tension.
STICKMAN: What's the tone like on this film, is it a dark comedy like the trailer suggests or what.
LARRY: It's much more a crime thriller than a dark comedy, but there are some darkly comedic moments.
MADHERO: Who's the highlight out of the 7 mystery men and women? It looks like Dakota Johnson and Chris Hemsworth are having a lot of fun. Any highlights?
LARRY: Personally, my favorite performance came from Cynthia Erivo. She's a beloved theatre actress just getting her start in this and McQueen's "Widows," but this is a phenomenal debut for her. Personally Hemsworth is also good but for all of the wrong reasons. He is NOT who you expect from the trailers.
MADHERO: Nice, great to see more of an unknown shine through. Any final thoughts?
LARRY: Go see it, it's excellent storytelling done with studio backing. More films like this deserve to be treated this way, and if Goddard just kept doing this forever, I wouldn't even be mad.
-----------
MADHERO: Alright, we may have 2 reviews, but there's even more movies coming out. I hope you're ready, because its October so things are about to get a little.... spooky.
STICKMAN: Yeyeyeyeye
LARRY: Ooh BOI
MADHERO: Great to see you guys hyped for Goosebumps 2. But I guess we'll take a look at this other appropriate release first
MOVIES
HALLOWEEN
DIRECTOR: David Gordon Green (Our Brand is Crisis, Stronger)
STARRING: Jamie Lee Curtis, Judy Greer, Andi Matichak, Will Patton, Nick Castle
SYNOPSIS: Laurie Strode (Curtis) comes to her final confrontation with Michael Myers (Castle), the masked figure who has haunted her since she narrowly escaped his killing spree on Halloween night four decades ago.
STICKMAN: Yeaahh bOOOIIIi. I don't even know why I'm excited cuz I don't hold the original up that highly but I'm exciiiited.
MADHERO: Michael Myers is back, but more importantly, Jamie Lee Curtis is fucking pissed.
LARRY: I keep seeing the long-take trailer for this before movies and I never get tired of it.
STICKMAN: Jamie Lee Curtis is the real Halloween. She's gonna fuckin murder everyone.
MADHERO: That would be a twist worthy of the sequels. Luckily this is a clean slate. No getting his ass kicked by Busta Rhymes, no occult shit, no origin story. Just some straight slasher goodness
STICKMAN: Who knew the world would be excited for a Halloween sequel in 2018, but here we are. This is gonna make all the moneys.
LARRY: Well, when you retcon the canon....
STICKMAN: You can never retcon Halloween 3. NEVER.
MADHERO: Maybe when the Myers saga receives proper closure, we can finally get the Halloween 3 sequel we deserve. The Silver Shamrock must live
STICKMAN: Please Blumhouse, PLEASE.
LARRY: I totally get these references because I have 100% seen that.
STICKMAN: Season of the Witch is objectively the best Halloween film Larry. Unless...this one surpasses it? DUN DUN DUUUUN.
GOOSEBUMPS 2: HAUNTED HALLOWEEN
DIRECTOR: Ari Sandel (The DUFF, When We First Met)
STARRING: Wendi McLendon-Covey, Madison Iseman, Jeremy Ray Taylor, Caleel Harris, Chris Parnell, Ken Jeong
SYNOPSIS: Two boys (Ray Taylor, Harris) find a manuscript in an abandoned house called "Haunted Halloween." When they open it, they release Slappy who plans to create the Halloween Apocalypse with the help of his Halloween monster allies.
STICKMAN: Oh dear. The return of the weirdly handsome werewolf.
LARRY: Jack Black actually agreed to do this. What a world.
MADHERO: Its weird. Ive heard literally no one talk about this. I guess the lack of Jack Black kinda made no one care, even if they have the chubby kid from IT
STICKMAN: Jack Black is in the film though. They were trying to keep it a secret for no reason. And then they realised people weren't gonna see it so they were like OH BUT WAIT HE'S HEEERE.
MADHERO: Yeah. Not in it much, so kinda weird they went that direction. Guess they thought that dummy was the real star
STICKMAN: And that werewolf. I'd let him bump MY goose, if you know what I mean. Because I sure don't.
THE HATE U GIVE
DIRECTOR: George Tilman Jr. (Faster, The Longest Ride)
STARRING: Amandla Stenberg, Regina Hall, Russell Hornsby, KJ Apa, Issa Rae, Anthony Mackie, Common
SYNOPSIS: Starr (Stenberg) witnesses the fatal shooting of her childhood best friend Khalil at the hands of a police officer. Now, facing pressure from all sides of the community, Starr must find her voice and stand up for what's right.
MADHERO: Uhoh, my EXTREMELY RELEVANT SOCIAL COMMENTARY alarm is ringing.
STICKMAN: Time for that IMDB rating to plummet because that's what happens to all socially relevant and challenging RELEASES.
LARRY: So apparently the black community is not supporting this movie so much anymore because it's "trauma porn."
STICKMAN: At least they watched it, unlike IMDB.
MADHERO: Not sure if that applies to everyone. I hadn't heard much in the way of controversy, but I can sorta see why when this film tackles real life and they'd rather wanna see Black Panther.
LARRY: I'm just interested in seeing it, the cast looks good and the message is important.
STICKMAN: I'm not particularly interested but if it's  good, then greaaat. I ain't gonna GIVE it HATE. Hhuhu.
MADHERO: The reviews from critics has been really good, but its IMDB and RT Audience Score is rather low-ish. Probably no campaign going on there. Nope, no siree
STICKMAN: I'm sure a quick trip to Twitter dot Com will sort this mystery out.
LARRY: I love having to sift through ridiculous controversy. Can't we just...watch movies and like them or not like them.
STICKMAN: When did they plant the FLAG, LARRY. WHEN.
MID90S
DIRECTOR: Jonah Hill (directorial debut)
STARRING: Sunny Suljij, Lucs Hedges, Katherine Waterston, Gio Galicia
SYNOPSIS: Stevie (Suljij), a thirteen-year-old in 90s-era LA who spends his summer navigating between his troubled home life and a group of new friends that he meets at a Motor Avenue skate shop.
STICKMAN: Jonah Hill's wild 2018 continues.
LARRY: Maniac90s......I tried
MADHERO: He's been having a pretty good year what with Maniac and now his directorial debut. Always nice to see an actor give that a shot, especially for something that seems personal to his own upbringing somewhat
STICKMAN: We've come a long way since Superbad.
LARRY: We really have. He seems to have matured a lot since those days.
STICKMAN: Jonah Hill has always been weirdly an Oscar favourite despite his roots...so...this feels like a natural progression.
MADHERO: He had a pretty interesting interview with Michael Cera about that film's legacy and their lives since then. I just kinda hope the A24 logo made from skateboards is in the actual film. Also more PS1 shoutout with my boi Atreus
STICKMAN: A24 skateboard logo, no doubt soon to be a hipster t-shirt on their online store.
CAN YOU EVER FORGIVE ME
DIRECTOR: Marielle Heller (The Diary of a Teenage Girl)
STARRING: Melissa McCarthy, Richard E. Grant, Dolly Wells, Jane Curtin, Ben Falcone
SYNOPSIS: When Lee Israel (McCarthy) falls out of step with current tastes, she turns her art form to deception.
MADHERO: No. Haha, Got eeeeeem.
STICKMAN: This film looks weiiiird.
MADHERO: Melissa McCarthy in SERIOUS ACTOR mode. Apparently she's really good in it, with some critics buzzing it might get her an Oscar nomination.
LARRY: I mean, I kinda hope she's good in it. I'd like some antidote to the crap she's been putting out.
STICKMAN: The real question is does she fall down and make a fat joke at any point.
MADHERO: She got an Oscar nom for Bridesmaids, so y'know, its happened. I think its nice for her to branch out and do more serious work. Also nice to see charactor actor Richard E. Grant in a bigger role.
STICKMAN: Richard E Grant is the scenery chewiest actor in the world, but that's kinda fun in the right places, so who knows.
LARRY: Not wrong. In Logan he really just dug his teeth for the 20 min he got.
MADHERO: He tends to disappear in some films despite the chewing, but its nice to see him have a bigger part. Also good on McCarthy.
STICKMAN: I mean. I'm not a fan of her but maybe she can prove me wrong.
LARRY: If she's good, then I'll give her credit.
MADHERO: Soon itll be Academy Award Melissa McCarthy and there will be nothing you can do about it.
STICKMAN: AAAGGHH. This truly is Halloween.
-----
MADHERO: With that nightmare cast upon your minds, its now time for MOVIE OF THE WEEK! While getting into the real spoops and japes is something for next episode, we've still got some pretty good picks for you, including something spooky to get into the mood.
STICKMAN: Let's get spooky, bitches.
LARRY: Not yet, Stix. NEXT episode ya ding.
STICKMAN: LET'S GET SPOOKY
MADHERO: What about it, Sticky. Do you have anything truly spoopy to share?
MOVIE OF THE WEEK
STICKMAN: WeLLLL my pick isn't a horror film straight up, but it is a violent revenge thriller the likes of which you've probably never seeeen? Sooo? Yeaaah? Now, let's preface that by saying ...YES...revenge thrillers have been done a lot, and no this one doesn't cover new ground broadly speaking, but how it does the tropes, and the way it presents itself? Hoooo boy what an amazing experience. I'm talking about REVENGE, the lazily titled subversion rape revenge thriller that's not an easy watch, but it's a fucking great one all the same. Rapeploitation thrillers are never easy sells, I get that, but this one is a gooden.
This is a French, female led, written and directed film that gets that nasty detail out of the way pretty quickly and then gets straight down to the revenge, which is what you want. Not only that but it's a truly jaw-dropping visual achievement, which some incredible sound design to boot. Every frame is dripping with style, not to mention blood...a LOT of blood, this film gets real nasty, but generally deservingly so, given the context. If you like your thrillers overloaded with style, oozing with blood and pulsing with violent, snyth-heavy energy? This is the fuckin' film for yoooou.
LARRY: Damn yo, I didn't even know Rapesploitation was a genre.
STICKMAN: I mean that's not what people call it, but that's what it generally is. Justifying generally male-gazey rape scenes with ensuing revenge violence.
MADHERO: Oh Larry, you sweet summer child. Soon enough you'll learn about films I Spit on your Grave and Hatchet
LARRY: Okay I just didn't know it had a name, geez.
MADHERO: This film has been on my list for a while. Heard nothing but great things about it honestly.
STICKMAN: It's one of those films I really wish I'd got to see at the cinema, it's such an amazing experience and it deserves to be seen on the biggest screen you can find.
LARRY: Yeah sounds epic.
STICKMAN: There's a lot of dude butts in this film, that's all I'll say in addition. Evil dude butts.
MADHERO: The worst kind of butts
LARRY: I'm sure that is a sell for you.
STICKMAN: Butts are to be treasured, Larry. ALRIGHT WHO'S NEXT
MADHERO: Alright, i've got something real spooky: A NETFLIX ORIGINAL! MUHAHAHHA! But hey, this one, like Hold the Dark is pretty dang good and anticipated. Sticky and I are both big fans of Indonesian action movies The Raid and Raid 2, and it was gonna be interesting what director Gareth Evans would do next. Would he continue his ass kicking, or would we see something really different to show he's a much more versatile director than expected. As it turns out with Apostle, its the latter.
Apostle takes things slow with its Victorian horror, which sees Dan Stevens as a former missionary entering a remote cult who have kidnapped his sister. The first half is very Wicker Man (the one one, not the Cage one) and the horror comes from a more psychological angle, and then it gets quite bloody in the 2nd half.  Its a tad slow, but the atmosphere sucks you in and once it let up, it does not stop.
STICKMAN: Heeyyy I saw this one tooooo.
LARRY: I didn't. So, I'mma just dive in a hole real quick.
MADHERO: Larry, you can't. Tis the season. I'm not sure its quite the right Halloween movie, but it does deliver on the creepy atmosphere if you want to go that route.
LARRY: It's like...human mutilation, right? The trailer looked to be really unsettling.
STICKMAN: Gareth Evans proved with The Raid 2 that he was more than just an action director (even if he is a bloody amazing one) and to see his take on horror? It's pretty amazing. I wish it'd been a bit faster paced, but that last 30 minutes is fucking insane.
MADHERO: Yeah, this film gets pretty nasty at points, and oh god that last half hour
LARRY: Yeah I don't really lovvvvve nasty.
STICKMAN: But Larry it builds up to it pretty nicely. But if you're not into mutilation in films maybe don't watch this film. Cuz...hoooooo.
LARRY: Yeah, exactly. So, pass from me.
MADHERO: Well Larry, what do you love then? What's your Movie of the Week?
LARRY: My film is ALSO a Netflix release, in partnership with Annapurna, but it actually ISN'T available yet and won't be until November. I was lucky enough to get tickets to see "The Ballad of Buster Scruggs" as part of the 56th New York Film Festival! Directed by the Coen Brothers, "Scruggs" is a wonderful Western anthology with a distinct attention to period detail and an eclectic cast of top-notch performers.
It tells six frontier tales, and while they vary on narrative strength and pacing, each one provides a unique experience. Whether it be singing cowboys or morbid stagecoaches, the film never stops being engaging, with moments ranging from sardonically hysterical to emotionally powerful. Perhaps it would have been a bit more consumable episodically (it does run a bit long), but there is value to be found in its entirety and the similar motifs found through every story. Whether you catch it on the big screen or via Netflix, I thoroughly recommend this one. It's hard to go wrong for a Western when you have one of the few modern directors who understand the genre.
MADHERO: O hey, I can't see this one yet cause I don't live in New Yawk
STICKMAN: I don't get the pizza or the films. What a jib.
MADHERO: I ain't walkin there. Anyway pretty neat to hear that its good. Do you notice that it was originally supposed to be a show?
LARRY: Apparently that's a false rumor. In an interview with the Coens, they said that they never really ever solidified what the format would be. That being announced was a result of them partnering with Netflix. But they said them doing it in a movie version was never something they were forced into, it was always something they imagined.
MADHERO: Yeah, I don't buy that one bit that this wasn't supposed to be a series originally when that was announced, but hey, if it got us a good movie, then I guess its ok for them to be LIARS!
STICKMAN: So Larry, as someone who finds Westerns generally quite boring, will this entertain meeee?
LARRY: ...I mean, they certainly work well together as six stories in one anthology. There are very similar motifs in all six. But...yeah, it does run long and is perhaps better for some if consumed one by one.
MADHERO: Its almost like it was a series at one point
STICKMAN: Oh shit. What a ballad this has been.
LARRY: lol aight Mad To be very honest, this is a true blue Western, so if you don't enjoy the genre, I'm not sure you'll like it. Each one is based on a Western subgenre, tho they all sorta genrebend a tad.
STICKMAN: But is there any HORROR!?
LARRY: One is more comedic, one is a musical, one is indeed a horror/Twilight Zone-esque one. It's a really eclectic mix.
STICKMAN: So many things.
LARRY: But it won't be for everyone, it stays true to Western conventions. Lots of gunslinging and such.
STICKMAN: Coming out just in time for the post-Red Dead Redemption 2 release blues.
MADHERO: Guess we'll find out when people can actually see it and not just the liberal New York elite.
LARRY: Shrug. That's me.
--------
MADHERO: Alright, that about wraps it. Get ready for next time as we truly enter the BONE ZONE with some truly demonic depictions of cinema. The terrifying trailers will come and get you. I am of course talking about future ho