Holy shit we've done six of these updates, Crabbies. Six. We hope y'all aren't tired of hearing us natter. This update is packed full of more surprises and information than any of our previous ones. From our special March meetup to the official unveiling of Prawn the Spot, there is a ton to do and see this month in RTMD! Dive in and read on.
Mark Your Calendars
RTMD's Digital Day Out
You know what time it is: meetup time! Not to be confused with meat up time, that is an entirely different point in the day. Now, you may be wondering: what wonderful, amazing, face-to-face interaction are we forcing you all into this time?!
We're not!
*record scratch* 
Yeah, that's right, you heard me correctly. We will not be having a standard meetup this March. RTMD is unique and individual, nothing standard about it! Therefore, we will be having a weekend-long meetup online. Due to a lot of traveling, icky weather, and life changes, we figured an opportunity to reach all of our peeps for some games and fun would be way less stressful for everyone. (Admins especially, I mean, what).
Friday, March 16th - Jackbox Party
Join us for a Jackbox Party pack, where we'll be playing all the hits and crying from laughter. We will be streaming the main screen on Twitch at 7PM, courtesy of Emily.
Sunday, March 18th - PC Pals
Ready for some zombies? 7 Days to Die, but a whole night to kick some ass! The PC version of the game will begin at 6:30PM. Thanks to Taylor for hosting! Ask @Cole on our Discord for additional details.
Monday, March 19th - Movie Marathon 
An afternoon movie marathon from 5:00PM to 10:00PM. We'll be watching a variety of good movies, bad movies, and stuff that makes you go "WTF" and wanna never turn on another television screen again! You can join the marathon at any point by venturing to Hannah's rabbit account. Movie suggestions welcome! Times are subject to change, so make sure to keep an eye out for updates on Discord.
Game Night
An official game night will be happening on Saturday, March 24th at 6:30PM. We'll be playing Overwatch on Xbox so stan your faves and kick some ass. A huge thanks to Isaiah (@Izayer) for hosting! Please contact him via website or Discord for further details and any questions.
Cheers, love!
I See DC
This April, we want to appreciate our nation's capital and nature's capricious little cherry blossoms. On Saturday, April 7th, we'll be trekking to the magical lands of DC to loiter around museums and stare at some gorgeous flowers. April 7th is also the 2018 International Community Day for Rooster Teeth and what better way to celebrate it than with friends and adventure!
We do strongly suggest taking the metro into the city as the combination of it being a weekend and the Cherry Blossom Petalpolooza means roads no do goo.
We'll be meeting by the metro stop "Smithsonian Station - National Mall" for easy access to all the fun. Please be there by 10AM, and we'd love RSVPs so we know who to look out for.
Hope to see you there!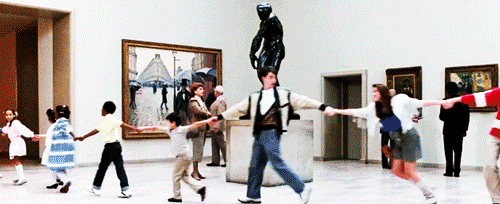 Birthdays
Happy birthday to youuuuu, happy birthday to yoouuuuuuuu, happy birthday dear:
Mak (@HollyJollyMak) on 3/27
Happy birthday to you~!
(Whew that was a mouthful!)
Prawn the Spot
Her birthday is this month, so we felt it was time to share the brain child of our lovely RTMD member Mak.  Totally not because we forgot two months in a row, nope. When our cast of crabs (That's the actual name of a gathering of crabs y'all. Emily is ecstatic about this) was just getting its little legs under it back in July, we filmed a homage to Rooster Teeth's own On The Spot. Through the tireless efforts—and constant nagging reminders from someone—we are proud to present episodes one and two of Prawn the Spot!
Previously on RTMD
In the spirit of love and togetherness, February's meet up was to shoot each other with laser guns and run around. A good time was had by all! After eating Chipotle and getting to know everyone, our group's first game was aptly called under the callsign Ruby. (Go RWBY!) Everyone played three games and dunked on some small children. A couple of members were absolute snipers, and a couple of members fell down once or twice. You win some, you lose some.
Sadly photos were lost in the fun, but we hope all the crabbies enjoyed the running around! Goooooooo blue team!
And Now...The Weather
You know what they say: April showers bring May flowers, but March is a confused mess. Glad to see everyone survived the Great Windstorm of 2018! Nothing starts March off right like mother nature's farts and downed power lines.
You're probably wondering why I've gathered you all here today. Well, Mr. Bond, I--wait, wrong script. Well, RTMD, we have officially made it over a year since the revival of this group. We've tripled our membership, met some amazing people, and only had minor injuries amongst members! All of us together has created so much in a year and I couldn't be prouder.
The word of the day is "create." It doesn't matter what you create; to quote a personal hero of mine, "just do it."
If you're artsy, make some art! If you're wordy, write something you care about. If you're neither, create a budget! Create a meme! Create a playlist of songs based on moods! Create an alternate reality where every member of RTMD is now a millionaire! Just do it!
In all seriousness, what you create is a part of who you are. No matter how big or small, good or bad it is. Your interests matter, and the world could always use more of you. We all are here right now—a part of this group—because a bunch of guys decided to go ahead and create. Please don't let any worries or obstacles stop you. Any voices in your head telling you not to do what you love are plain wrong.
Whatever you create, as long as you find joy in it, all of us in RTMD are behind you 100%.
(...but yeah if you could get on that millionaire thing, that would be great! <3)

Your Friendly Neighborhood Admins,
Emily (@Mololue) and Hannah (@hannahconda)