TICKETS ON SALE NOW!!!
Hey folks, we're crazy excited today. Want to know why? Because today's the day we start selling tickets for RTO 2013!
That's right, you can buy your tickets for RTO!
Right now!
GO DO IT!
We have two options available for admission to the event...
1: Basic Admission
- $25.00
for access to the whole weekend's events, as well as a raffle ticket!
2: Shirt Combo
- $40.00
for access to the whole weekend's events, plus an exclusive RTO 2013 shirt in the size of your choice and 2 raffle tickets!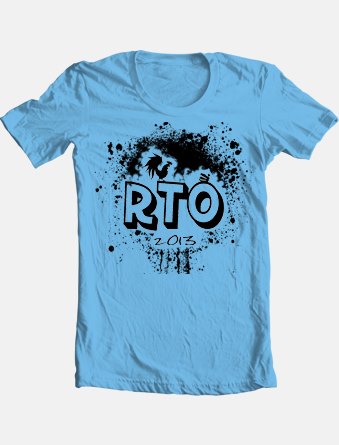 (Shirt Design subject to some minor changes)
You can now head over to our website and learn how to order tickets at
www.rtoevent.ca/?page_id=27
It's all quite simple for the most part. All you need is a
paypal account
or
credit card
and you're golden!
There is also a special, discounted hotel room block for the event at The Delta Chelsea Hotel. If you want to book online, we will provide a link early this week for online booking. If you don't mind booking via telephone, you can do that right now by calling
416-595-1975
or
toll free 1-888-890-3222
. Just be sure to mention
"RTO"
or
"Rooster Teeth"
. The room block discount applies for the nights of the
6,7,8 & 9
. Room discounts are limited, so if you want to get in on them book as soon as possible.
Single Rate $129/night
Double Rate $129/night
Triple Rate $149/night
Quad Rate $169/night
Basically with 2 people in the room, you save $20 per night, and you are also placed in the same room block as all RTO attendees.
If ANYONE has any issues with room booking or with the hotel, feel free to send us off an email at rtoevent@gmail.com or message me on here, as I am the one dealing with the hotel, and I can get it sorted out as soon as possible, or answer any questions that you may have.
All in all, it's been a lot of exciting work to organize this weekend of non-stop awesome. We have to thank you all so much for your patience and support in making this a weekend/week to remember! We're doing this for you, because we love you and want to hang out. And maybe pop a few headshots or drink a few carbombs along the way. RTO is all about community, and we want you, your friends, and your online friends to be here to celebrate what brings us all together. Whatever that may be.
Hope to see you all in June, cheers!
XOXO The RTO Crew.