Acceptance and #selfies
So this was brought to my attention on Twitter yesterday: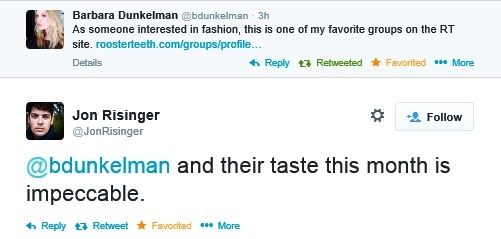 I don't even know what to say. Thank you to Barbara, Jon and to everyone else who has tweeted too. I had never dreamed that the Rooster Teeth is Fashionable group would get as popular as it is today.

When I first came on the site, I was told there was no place for my group in the community, that fashion had nothing to do with a comedy/gaming YouTube channel.

I carried on anyway, I knew that I was proud to wear my Rooster Teeth merchandise my own way, and I knew there were lots of others in the community that did the same. The group grew in size, I added features like looking at the style of some of the Rooster Teeth Cast & Crew, then SideQuest Attendees, as well as RT Community folks.

With the creation of RT Community Day, the group has been more popular than ever, as that's what the group's message has been from the start. We are proud to represent Rooster Teeth and their Community, and we will do it in our own individual way.


Thank you to each and every one of you for your continued support, I could never have done it without you. Stay fashionable.
Which brings me swiftly on to the subject of selfies.



Now I don't really look at the Top Posts anymore, but I've consistently seen journals pop up all over the place complaining that the Top Posts section of the site is mostly selfies.

I can see why they're writing them, I really do. I know a lot of people don't come on the site to see pictures of girls posing and pouting. But when I see these selfies, I smile.

Because you see, I love selfies. I love taking them, and I love seeing them. Well, the RT Community selfies anyways. Why? If you don't love yourself, then who else will?




I see these lovely ladies (and guys too) on the site posting up their selfies and I think you all look wonderful. You are bloody gorgeous, all of you, so I say welcome selfies to the Top Posts. Our community loves each other so much, but we need to remember to love ourselves too!