1. Too much book learnin'. So my son Spyton and I were walking out of our guitar lessons yesterday and all the sudden he starts pointing and yelling things, which I will now re-enact with the following Halo Action Figure Theater (unrelated to the Steve N Lois Saga):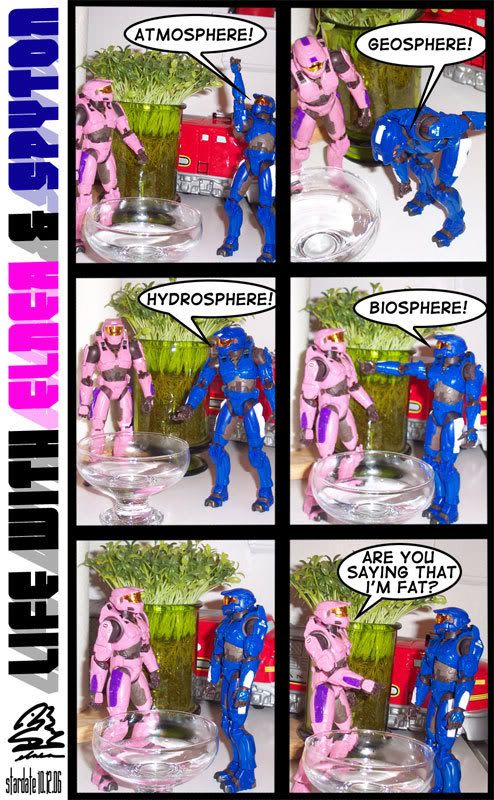 2. Ethnic diversity I e-mailed my other cool and politically active cousin Jack, whose wife is a filmmaker, who lives in New York, about where to stay for the Mackies. He responded with the following:
Laguardia is not at all far from the American Museum of the Moving Image in Astoria, Queens, a lovely and diverse neighborhood of Greeks, Brazilians, Czechs, Croats, Mexicans, Egyptians, Bosnians, Bangladeshis, and de-ethnicized predominantly white people of various yuppie/hipster stripes. Queens in general is very safe (remember, New York is the safest big city in the country!) If you wanted to stay in a hotel nearby Laguardia, that would be feasible, although a cab would probably be necessary (there's a bus that goes from Laguardia to Astoria, but it's not near the Museum). (You may remember that we went for Brazilian food in Astoria).

There's a cool restaurant/bar nearby the Museum called "Cafe Bar", which is both a cafe and a bar (I think the cafe part would make it legal to take [Spyton] there). It's a little bit overpriced but a funky nice place to hang out and get something to eat/drink. My favorite NYC Greek restaurant may still be there (I heard rumors that it went out of business), S'Agapo, just down the street - great dips (tzatziki, skordalia, etc.), and there's a really tasty Bosnian fast food place nearby as well.

3. When will Apple come out with the iStun? SCI FI had an article in their blog about this stun gun.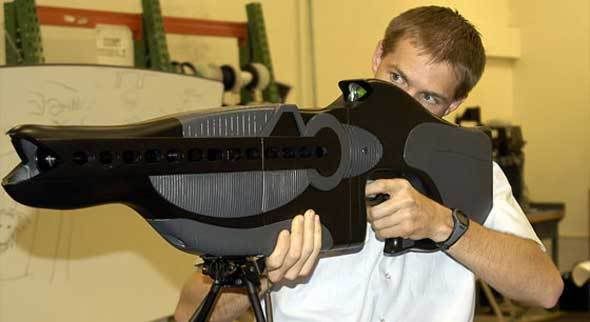 I don't know, it seems a teeny weeny bit conspicuous to me. I mean, you can't really surprise someone with a thing the size of a Buick.

EDIT: I had a comment here that I didn't think the light could be damaging to the retina... I'm taking that back as I've tracked down the original article and discovered that when they said it was a "laser" gun they meant in fact that it was a "laser" gun, in the techinical sense. Wizbang2 below comments below correctly that laser light would not be diffuse and could be hazardous to vision, depending on the length of exposure and wavelength used. Certain wavelengths are far more destructive than others. They mention in that article that there are safe green lights that can be used... we use a green targeting beam when we do ablative laser procedures on the retina (as in diabetic eye disease) but I know there have been studies showing that repetitive exposure to the foveas of ophthalmologists to the green aiming beam can, over time, cause some permanent loss of sensitivity to light. Similarly, prolonged exposure to lasers like the ones in laser pointers can cause a diminished light response... so don't stare at a laser pointer for prolonged periods of time.

I wouldn't tell you that, but I know at least one forum member here has done it. You know who you are.


Sorry for the sloppiness on my part. I was laughing so hard at the ridiculous gun I didn't read the blurb very carefully. My bad. I guess I'm not so money after all.

Anyway, they should just use the slime gun.

Uh... so there.

Today's Vocabulary Words
conspicuous
uneconomical
Buick