So tonight I am going to see a rock concert. A rock concert consisting of the bands Volbeat, Avenged Sevenfold, and Metallica. It will also be at the new Minnesota Vikings stadium, a place I helped build to a certain capacity with my job. This show was announced on the day my Dad made the decision to give up alcohol and is currently 5 months sober. I was driving to a site when they announced it live on the radio, and five minutes later I got a phone call from my Dad telling me he was shaking due to the previous night's bender and needed my help getting clean.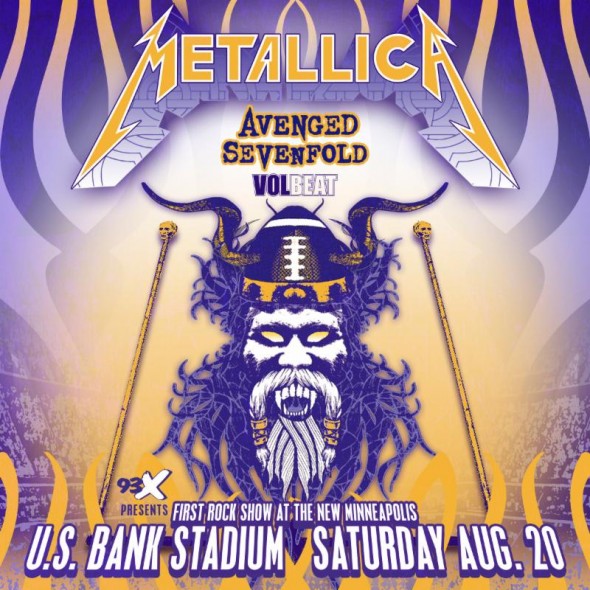 I've not seen Volbeat before live, but I've been enjoying listening to their last couple albums and am looking forward to seeing what they do in a live setting.
Avenged Sevenfold, I believe I've seen them three times now, and I had to miss their latest show back in 2015 due to a tough work schedule. They are by far my favorite band of all time. I've spent countless hours listening to their discography, learning song after song on guitar and bass, and rocking out to them with friends old and new, and some that aren't with us anymore.
Then there's Metallica. The last time I saw them, it was with a friend that I've written about in the past, Joel. To sadly put it briefly, Joel was a coworker that I bonded with for four years who loved metal music, we'd go to concerts like Judas Priest, Lamb of God, and Metallica together, and we'd gush about the latest albums and drunkenly sing every word to Avenged Sevenfold's City of Evil album. He committed suicide in August 2013, here's more information regarding what his life meant to me.
Also my musical brother is going to be going to the show with me, him and I were known as the Metallica boys back in high school since all we would do is listen to Metallica for the course of over a year and a half.
There are a lot of emotions going through me right now for this show. Hell I'm crying just thinking about it. I know Joel will be there in spirit, because that fucker would already be at the venue drinking a beer and getting ready!
I miss you Joel, and will have a beer for you, headbang and go insane when "One" begins, and be thinking about you all day today. This song may not be balls to the wall metal, but I think of you all the time when listening to it. Love ya bro
.