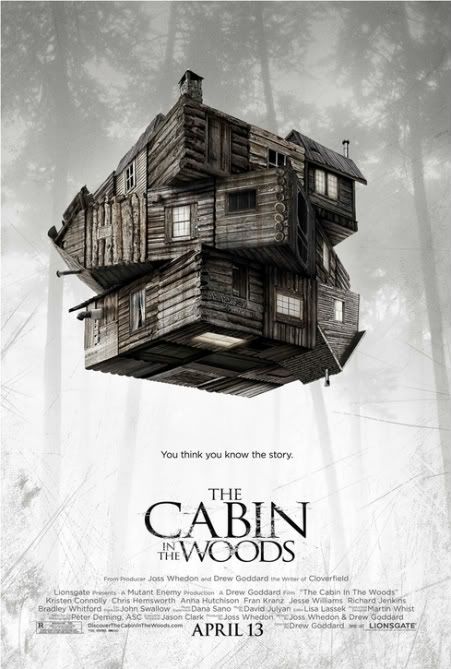 Plot Synopsis:

"Five friends go for a break at a remote cabin in the woods, where they get more than they bargained for. Together, they must discover the truth behind the cabin in the woods."

Taken from the film's IMDB page, that synopsis is all that you should know before watching Cabin in the Woods. Without being facetious, I almost want to say "just go see the movie. Trust me on this," as it would be a crime to spoil any one of this film's surprises. That being said, it's time to rise up to the challenge and review this thing. Somehow.

One of the most endearing aspects of this film is its self-awareness, which primarily shines through the dialogue between these five friends. Each of the actors fit neatly into their respective archetypes, with Fran Kranz stealing the show as the gang's stoner. More than just another token, however, the character actually ends up being considerably deeper than I initially expected. The same holds true for both Richard Jenkins' and Bradley Whitford's characters, though I won't elaborate on those two any further for the sake of spoilers.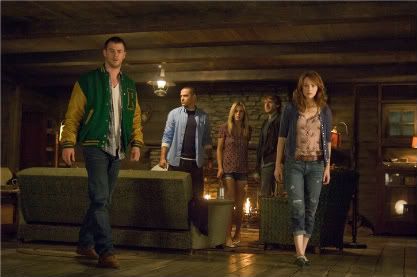 The bulk of Cabin serves as both a parody and an homage to classic horror movie tropes, with the sharp, witty writing of Joss Whedon and director Drew Goddard carrying the day. It's the climax, though, wherein the horror film genre is turned completely upside down, that the movie elevates to a whole new level. Simply put, shit hits the fan.

While single-handedly destroying the genre, Cabin in the Woods provides for one chaotic ride. Not since last year's Hobo With a Shotgun have I had this much fun at the movies. I just about permeated this review with insufferable hyperbole, so I might as well end it with some more: nothing can prepare you for this movie.

Seriously, though, don't let anyone spoil it for you.

9/10