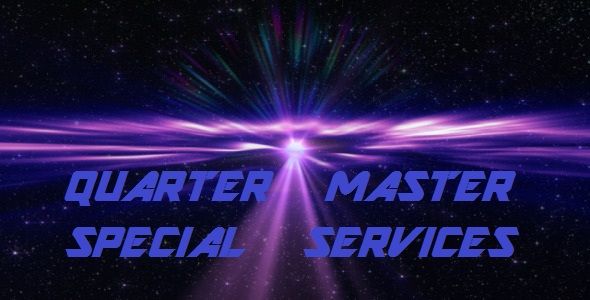 The Quarter Master Special Services, Q.M.S.S. was created by ONI as a means of both supplying the various UNSC bases, colonies and human habitations with the necessities of life as well as mail. The project's ultimate purpose was to place an ONI operative on the ground at regular intervals in various locals so as to monitor events that might be of interest to the ONI.

WO 4 D. Bunny took effective command of the Q.M.S.S. and with vast funds, built up five specialized fleets of UNSC Warships to defend, and if necessary destroy, the Alpha Omega system. Three of the five fleets were designated as trading fleets (Hudson's Bay Fleet, Muscovy Company Fleet and the East India Company Fleet).

Two of the fleets were designated as expeditionary/punitive fleets (Dutch West India Company Fleet and Virginia Bay Company Fleet).

The fleets comprised one Flag ship per, several capital ships, several screening vessels as well as specialty ships.

The greater majority of the ships were under operative control of disembodied brains placed in specialized containers. However, a good number of humans were necessary to provide the brawn necessary to maintain and fight the ships. A good number of these individuals were former UNSC personnel who had been catastrophically injured and the missing body parts replaced with cyborg replacement components.

The Battle of Alpha Omega brought to an end the five fleets. However, remnants of those five fleets beyond the battle zone coalesced into the Lost Fleet.