Kiss has been here longer then iron maiden there cool to but still what they were hated by a group of moms called

M.A.T.M.O.K This stands for Mothers Against The Music Of KISS this group beleaved that KISS stood for KNIGHTS IN SATINS SERVICE

but when the BAMF band found there name on a bilboard in new york even with the few people in this group i beleave there r more kiss rockers here in RVB and i would like to say back when the midnight special was up kiss acdc and even the Billy idol were up there ROCK 'N' OUT till this day even after the bands split PAUL and GENE were still together featurin with other bands for a while then they came up with 2 new members there name was Eric carr and well icant remember who the other one was well icant remember its been a while .

but when Erics tragic deth it was like the sadess thing for The awsome band sader then the time when that kiss fan wanted to come to the kiss concert and died by a car accedent when he collided with an 18 wealer thats when the band dedicated the song DETROIT ROCK CITY


first of all isnt this cute ???


and this is a pic of the 4 original kiss members PAUL GENE CRISS AND ACE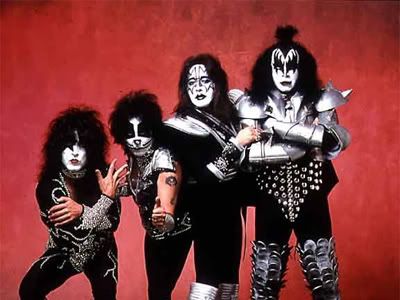 this is the band with out criss and ace


when the band did a show in 1976 ACE Frealey was electriccuted and soon after treatment he got out to finish the concert and soon he wrote his song SHOCK ME!

well thats all for now nd to all whoo reads this THEN