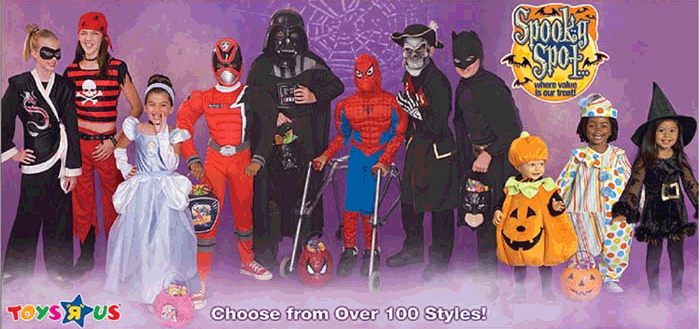 ok this picture is just wrong!

first ninjas and pirates don't get along. Ninjas aren't valley girls. Keira keighntly is the only hottest girl pirate around. The howdy doodie looking princess lookls like she's spreading gossip. The power ranger looks like strongbad Darth vadar has no gloves. SPIDER-MAN IS A GOD DAMN CRIPPLE. IF STAN LEE SAW THAT, HE WOULD SLEEP WITH JACK KIRBY'S WIFE AND THEN OFF HIMSELF. Whatever the next costume is looks like a skeleton eating a pig's heart. i think theres nipples in the batman suit. we can grow children out of pumpkins? here comes the cloning of pumpkins. I know this sounds kinda racists but shouldn't that clown have some clown makeup on? the witches costume looks so dsamn tight, its looks like a cheap night gown.

Toys R US ads, SOLID FREAKING GOLD!

cmon! this company should've gave this a bigger budget. I feel so wrong for these people.