Hi hi!

First, if you didn't take a listen in my last journal, click on the big button below and then go over and give congrats to SnowJade for her great reading and then go tell OboeCrazy what an amazing musician she is. You may not realize it, but the English Horn is just like a big bass oboe, and is covered with valves and buttons... so how she did that slide thing there at the beginning is completely beyond me. She has magic lips!!!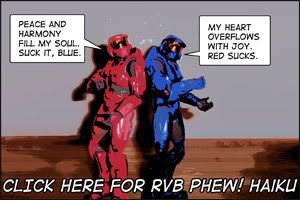 Second, Comcast has upgraded my connection to double speed, so predictably my pages now load half as fast. A new modem is on the way, and this weekend I'm finally going in to order my new Mac so I can finally get all this music and machinima done I've been promising people. But it is just tough for me to journal and comment. It took me literally 2 days to get that last journal and all the links up. So, it might be a little slow here this weekend. In the meantime, here is some Steve n' Lois (back issues here):

Episode 33. Mind in the Gutter ("Un groupe d'Indiens est apparu sur le haut de la colline")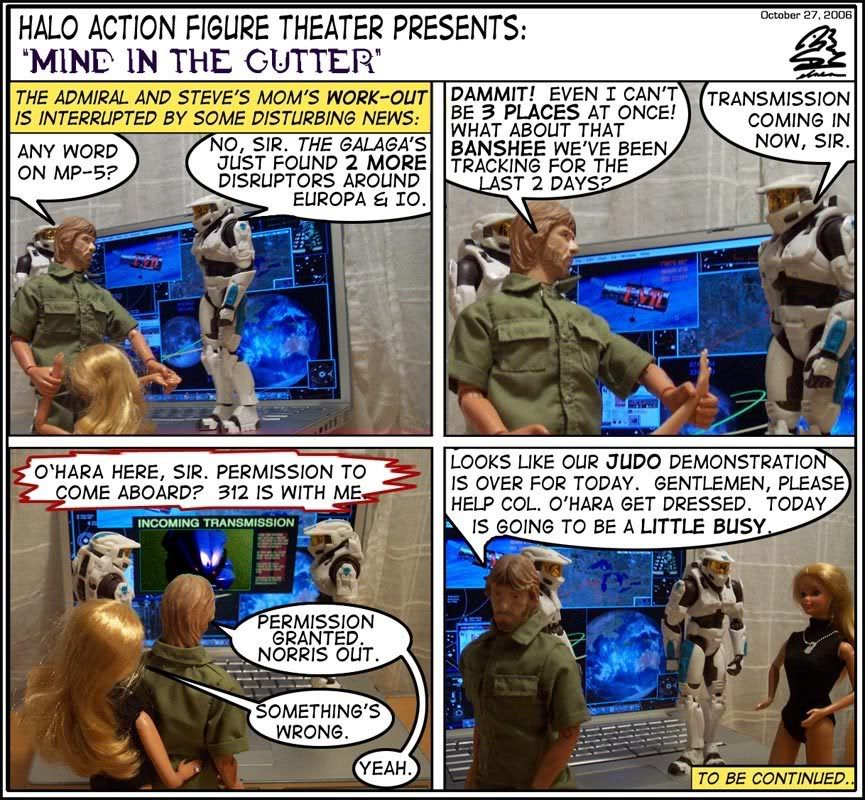 As we near the season series finale, I have some plot points for you to consider:

1. Why is Steve's mom on the Aletheia, and what is it about her that Admiral Norris finds so fascinating?

2. Why does John-617's highly intelligent and competent girlfriend "Six" have crappy old Mark V armor?

3. Why was Steve so easily tricked by Jill?

DIscuss.


Third, if you've been enjoying the latest Doctor Who episodes with David Tennant, I highly recommend going over to iTunes where you can download three 2-2.5 hour Doctor Who audiobooks which are read by David Tennant and which are not available in the States yet... but they are on iTunes. The stories are all very Who-ish (creepy, scary, and funny), but what makes them really worth listening to is David's performance. He is from Scotland, and his English "Doctor" voice is an accent for him. He does every character in each story in a completely different accent and characterization, but reads in his natural voice. Obviously he plays the Doctor in the Doctor voice, and is hilarious in doing so. I've heard many many many audiobooks, and I've never heard one actor sound like an entire cast before. He even does a good Billie Piper. Check them out. There are three books available: "The Stone Rose" (creepy with a tinge of 'ship), "The Feast of the Drowned" (scary and creepy), and "The Resurrection Casket" (most like an episode, includes pirates!). They're over at iTunes for about $10 each.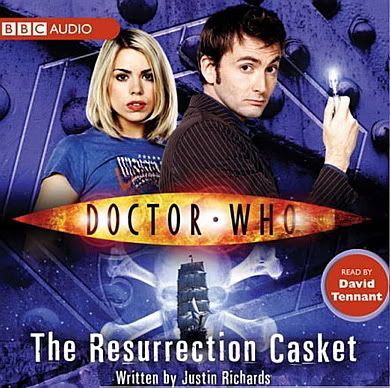 Okay, that ought to keep you busy. And stop looking at that photo of Chuck and Barbie. I'm telling you, they were practicing Judo! Sheesh!



Today's Vocabulary Words
English Horn
Judo
gutter
Galaga
resurrection

EDIT (in response to M_O_DuFrense): See, now, again, you just assume I did that whole scene just to have a naughty insinuation, when actually what I really needed was the line, "Help Col. O'Hara get dressed". Hmmm.... I wonder why? Discuss. And no, there is a definite reason Six has Mark V armor.

PS: If the link to the back issues doesn't work, you can also see back issues at the Halo Action Figure Theater thread in the forum, or as a last resort, you can go to www.TaiChiKnees.com and see them there.