Due to discrepancies in ballot counting and some hanging chads, I've made it into the first round of voting for "Miss RvB", which means I am required to hand in a photo and biography. This is really weird. So, uh.... here ya go. It is actually all true. Freaky.

For those of you (rightly) uninterested in reading about my lame life, here is an article about some angry Austrians. Please enjoy!

* * * * * * * * * * *

Elnea. Tall, blonde, leggy, old as dirt. Gamer. Not what you'd expect. "I remember when I shot my first Wumpus," she says, waving her hand around her office, decorated with gaming and sci-fi paraphernalia. "I knew where I'd end up."

From her early days playing Pong she knew what she wanted to do. "For my 7th grade science fair project I wrote up and ran Basic computer versions of Hammurabi and Star Trek that I'd gotten out of some computer magazine. The judges in the state competition thought I was crazy. Then as a teen I had a summer job working at the University of Illinois as a computer graphics gofer, but all I did in my breaks was play Zork. I was so hooked."

But there were dark times as well. "Yeah, well," she says, wiping a tear from her eye, "1985 to 1998... I didn't really game at all. I mean, I tried a little DOOM, but... I lost my way. I thought all those degrees and doing cancer research and getting medical training and being married and having a baby were important. I mean, being an eye surgeon is a little like video gaming. You look through a camera and shoot things with a laser." She chokes up, unable to continue.

It wasn't until her son introduced her to Halo that she found her way back to her true calling. Her blossoming interest in blowing things up with a rocket launcher and a chance encounter with a kid at the door selling subscriptions introduced her to Electronic Gaming Monthly magazine where she wrote her infamous Letter of the Month: "Grudge Match: Halo Vs Your Boyfriend." Then an article in EGM led her to RedVsBlue.com.

Elnea brightens. "Yeah, well, when I heard Church say, "I f*ckin' hate you" in Episode One I thought, 'These are my people. This is where I belong.' Then one thing led to another... after Halo2 came out and the first guy on XBox Live told me to turn around so he could hump me I wrote the parody song "Blow Boys Away" and sent it to my friend AmandaJ3162 who put it online... it turns out some of the FragDolls actually heard it and liked it. Which was, you know, awesome. And I started drawing Spartans, and LouisWu put the pictures up at halo.bungie.org which really inspired me to take some drawing classes to get better. I've done some experimental machinima (RiverStyx) with my friend OboeCrazy and from the scoring I did for SSPH I was inspired to reacquaint myself with music theory. I'm writing actual classical music now. I've even got a website and have made many new friends, and of course I still game all the time with my son Spyton. It's all been so good for me."

She glances up again at her desk, littered with action figures, a model of an eye, books about LogicPro and orchestration, modeling clay, a sewing kit, some bills, a hemostat, a ziploc bag filled with Canadian currency and a framed baby picture of her son. She winks. "I mean, sewing up eyeballs is all good and fun, but sticking a grenade in the middle of that snow field in Assault on the Control Room with the Banshees screaming down on you? That's heaven."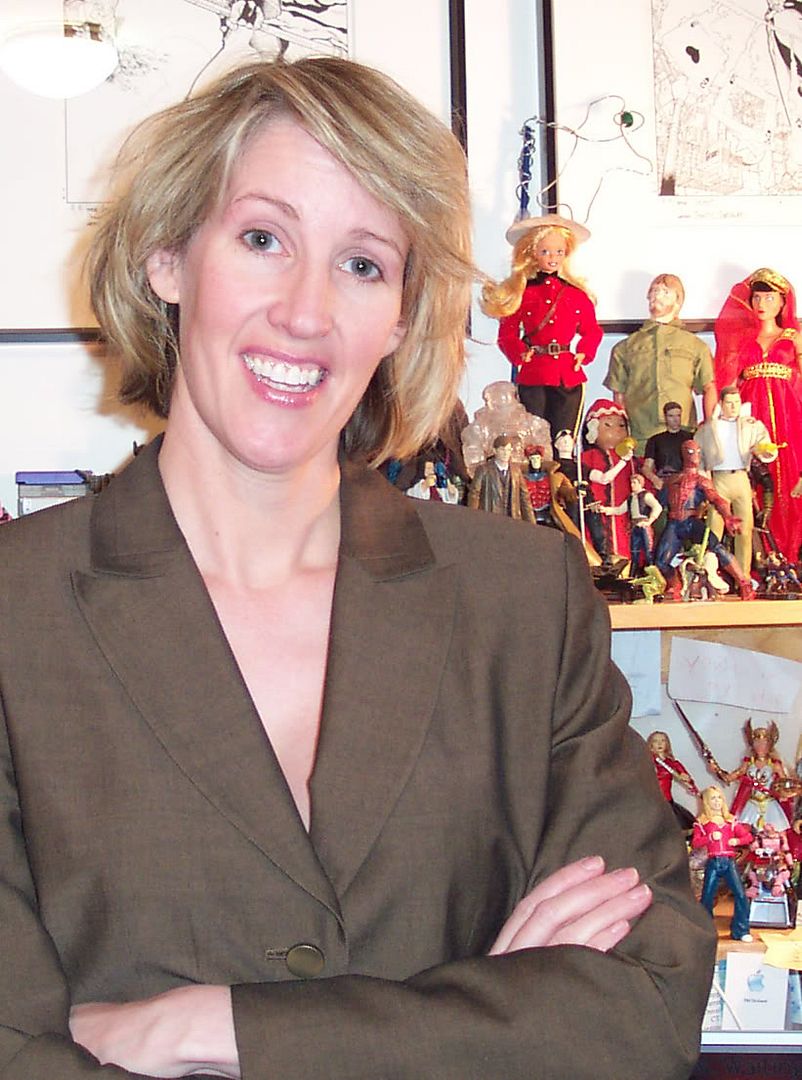 Linnea AKA "Elnea" in her natural habitat. Much controversy exists over the meaning of her display "Crichton with Rubber Chicken."
* * * * * * * * * * * * *

Today's Vocabulary Words
discrepancies
chads
paraphernalia
masquerade