I've been too occupied lately to work on the final comic. Mostly work and school, but also local concerts. I don't know if I said anything before, but I've really been getting into the local music scene here in Denver. Good stuff, too.

Got my tickets for Metallica and AC/DC. This means I'll have lost my hearing completely by Thanksgiving.

Heroes season 3! Yay! I even have a new shirt just perfect for the occasion: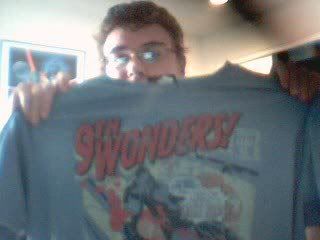 Mom bought me this last week while she was in New York. Straight from the studio, its very cool.

Thats all for now, final will probably be out Sunday.

-Pete

Keep an eye out for me in the Flobots music video for Rise, I'll probably be on top of the RV, if not then in the crowd.