The "Take it Back!" mission lead up was awesome. The gigantic robot that leads to the Jefferson Memorial was awesome. It kinda reminded me of the first boss from Alien Hominid The ending, however, just made me go "That's it?"

One good thing about the game is the replayability, so I just backtracked my long list of save files to right after I left Raven Rock . Now I'm just roaming The Capital Wasteland with Fawkes and exploring the land. I'm almost at level 20 and that's the highest character level. Unfortunately, there's no achievement for being good at level 20. I am for sure going to create an evil character after I get most of the quest achievements. I'll probably play as a woman next time round and blow up Megaton .

Now there's a funny thing for me to say, achievements. I've never been an achievement hunter... I don't think I am even after finishing Fallout 3. The fact I know
there are more quests [with storyline tangents] and things to collect in the game just entices me to go out and venture the Capital Wasteland again. I can't wait for the expansions for this gem we all call Fallout 3.


Edit:
WTF? Lies!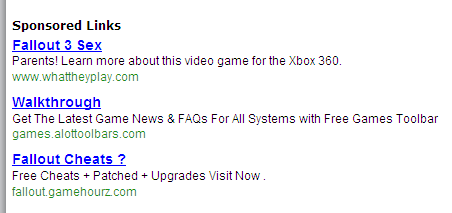 The link lead to this: What they Play False advertising if you ask me.