Yes I'm making the RvB Id cards... If you would like one pm me with the following:

I need:
1. what pic you want to use
2. what team you want to be on
3. what you want in age
4. what you want in Location....

The cards are the orginal Red and Blue ones...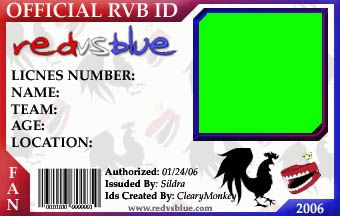 Cards will be made frist come, first served...

I will making them as I have the time(Even I have a life too) so please don't get upset if you don't get yours right away...

Id Cards cost: "Nothing"! You don't have you give me anything for me to make one for you... I've have enough mod points as is and nothing to do with them.... but if you really insits ok go ahead... but you really don't need to give me anything...

Enjoy your cards! ^_^