Last month a few of you asked me questions using #AHEditors. Well, I'm here to tell you that the wait is finally over. Look, let's be honest. Nobody is going to read this if it's a wall of text. Let's keep this short and sweet. Thanks for the questions. So sit back, relax and enjoy the read.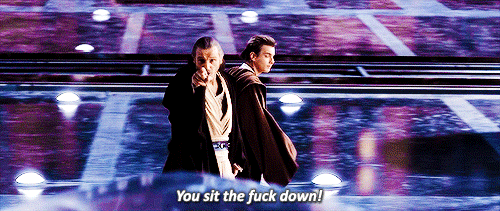 @BabyfaceVagabon - Hi Andy! Believe it or not, I'm a big fan of you! My question is this! Who decides what to 'watch' per se and is it collaborative

We base our Let's Watches usually on new titles and DLC releases. From what I understand it's mostly collaborative except for that one time Jeremy and Ryan fought to the death on two different games using a snapped pool cue.
@Tate_tec - what software do you use for editing the videos
We use Adobe Premiere.
@DoutDetective - did you ever hear the tragedy of darth plagueis the wise?
Yes, but not from the Jedi. It's not a story they would tell me.
@ChortleGames - what's the hardest part about editing for @AchievementHunt?
When new releases and DLC's occur we usually have a quick turnaround time on those. Which, at times can be stressful. Other than that I love my work environment. Sure it's hectic at times, but the best thing about this job is that I never know what the day has in store for me. 
@JomiAdeniran - Is it easier to edit a let's watch considering you aren't looking at 5/6 different cams and voice channels? 
Let's Watches are easier, but to make up for the fact that it's a single screen video I like to implement some fun edits. Like with the Outlast 2 Let's Watch series. It's a fine line though. I never want to go so crazy that the edit takes away from the original content. The point is to add to the existing content, not subtract. 
@iLoveRWBYokOK - How long have you been doing editing and stuff for AH/RoosterTeeth? 
I have been editing since my very first day when I was part-time back in May of last year. I'm still a growing boy and I learn new things from my coworkers almost daily. 
@LittleToaster6 - who produces the best footage when they're playing and why is it Gavin?
He is a silly twat.
@Murtagh9554 - I loved the video on how your guys' editorial process works. Are there any plans for more of those? 
Trevor did a great job with that video. Fun Fact, I watched that video a ton the week prior to starting here. And we should make more because new features and updates have released since.
@WilRockCentral - What is your favorite video that you edited @AndyTheBlanch?  Also, any "Rule of Thumbs" to consider when editing? 
My favorite video or series that I edited would probably be Outlast 2 as it's still fresh in my mind. Michael and Gavin aren't just playing a video game. They are performers and I try to reflect that with my editing. Things like punching in on the webcam when they do something wacky and dumb. (Example is when Gavin got so scared he fell backwards out of his chair) The way I edit is to add to the chaos, never detract from it. Another "favorite" edit was Cluster Truck where Michael had the AMAZING idea to have a death counter. So I added one. Only took me three extra days to painstakingly put together. But in the long run, it was worth it and I'd do it again.
@noisymix14 - What capture card do you use specifically 
Here at AH we use the Elgato HD 60.
@Argon8183Aaron - Does it kinda suck watching the guys have so much fun while you sit there and do nothing 
I have toys at my desk so I manage.
@gamingdaily228 - Why are you so red?

There's always one.