Next sunday it will happen. The yearly held fantasy fair will be in the Netherlands again. Yay. I am looking forward to it.

I am going with some friends to it. One of them will be tomb raider. The other some matrix guy. The third one as the hobo with the shotgun XD and I myself will go as Murphy MacManus, one of the Boondock Saints. I just loved that movie and feel a kinda connection to it.

So just 10 minutes ago I was practicing drawing on my hand. I have written the word Aéquitas on it. Which means Justice. Im quite happy of the result. Even so happy that I made a pic of it to show it to you people...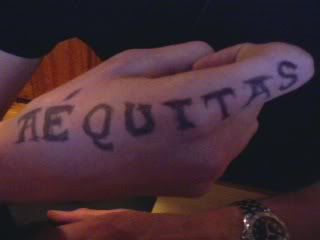 Its not perfect. But it sure as hell is decent. Decent enough to walk around with it on the streets here XD