Ahhhh!!!! So much to do!

But, always time for Halo Action Figure Theater! Right? Of course right!

First, a note about the Halo music video I linked to in my last journal. That group has been featured in a number of stories over at halo.bungie.org and LouisWu was kind enough to provide me with links to a panoply of hbo news items where you can see a variety of cool videos, hear a professional recording and read an interview with Hanah, the awesome and sexy teenaged violinist from Julliard (woot!):
* halo.bungie.org/news.html?item=16648 <-high school talent show
* halo.bungie.org/news.html?item=16660 <-another version of talent show video
* halo.bungie.org/news.html?item=17323 <-recording
* halo.bungie.org/news.html?item=16758 <--interview
* halo.bungie.org/news.html?item=17483 <-"studio" video from the other day

And now onto Halo Action Figure Theater. For those arriving late, the first 39 episodes can be found here. Also note there are two purples, they are twins: Betty and Claude. And... uh... Six and John-617 have history... and um... and Cent Cinq is from Quebec. Er... the rest is too confusing to explain. You'll have to go read it all. LOL!

Halo Action Figure Theater: The Steve n' Lois Chronicles Presents
Episode 40: No Way Out ("Bombe D'Amour")
Today's HAFT is dedicated to the memory of devoted 'Scaper Steve Palmer, who passed away December 21, 2006. Save a space for us in the Uncharted Territories, buddy. We miss you!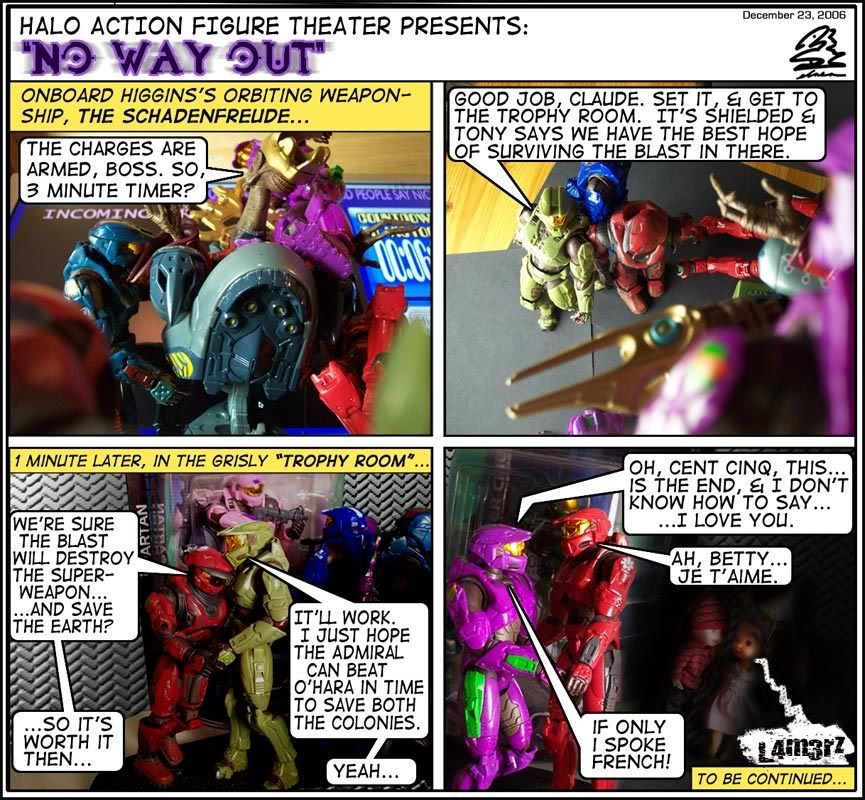 Today's Vocabulary Review Quiz
Which of the following words is NOT defined correctly:
A. behemoth: (n.) a huge or monstrous creature
B. impeccably: (adv.) to make a mark that cannot be removed
C. preponderance: (n.) the quality or fact of being greater in number, quantity or importance
D. surreptitious: (adj.) kept secret, esp. because it would not be approved of

The answer to the last quiz was B. PITHY is to APHORISM as TERSE is to ADAGE. Pithy and terse are synonyms, both meaning a concise and brief way of stating something. An aphorism is a pithy observation that contains a general truth such as "if it ain't broke, don't fix it." An adage is like an aphorism, a short saying or proverb stating a general truth... like Murphy's Law: "If anything can go wrong, it will."