I'm half-asleep so I will put this in Alsace-like numbered format:

1. I've lost some of my messages, so I am missing two people: whoever it was that I was talking to about scoring the music from the Halo 3 trailer, and also about taking some of my Marvel comics off of my hands, will you please re-message me? And I will know if some of you try to trick me!

2. I had these two pics come up as alerts in my watchlist next to each other.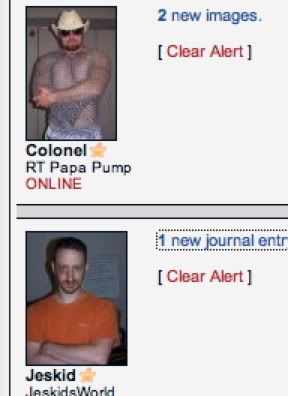 <Insert your own comment here.>

3. RE my cat Mazha. Other than her pride, she is relatively unharmed from her whole "being on fire" thing. *holds head in hands* I still can't believe the cat was on fire. Today at dinner Spyton almost choked to death on his stew. I can't take all the brushes with disaster around here. It's a wonder any of us manage to survive every week, or that I haven't had a nervous breakdown... recently.

4. RE my "online" status: I have my online status setting turned off because unless I specifically sign out, or shut my computer down completely, redvsblue.com will show me as being "online"... so frequently it will say I am "online" when in fact my computer is just turned on and I am listening to some audiobook while I workout or something. So I just turned that off. Today I got a message several hours later than I wish I had, but I don't know how else to set it up. I've left the online message settingon in the past and inevitably I forget to sign out and then people think I am ignoring their messages etc. So, sorry about that. I am not trying to lurk, etc.

5. RE Lyric Contest: Thank you to those who have submitted. To the rest of you, the deadline approacheth! So far I have ten submissions (yay!) but there are so many talented folks here I know I will be hearing from more of you.

To get you motivated, I will print some inspirational lyrics from now until the contest deadline. Inspirational in that these are lyrics that are way weird, but yet cool. The kind of lyrics that make you think, "Hey, I could have written those, surely!" Yes. And stop calling me Shirley. Today's lyric comes from a great song my ex-husband K3stut1s introduced me to. I'd forgotten about it but Nico reminded me of it in one of his journal entries. Great song, freaky weird lyrics by the PIxies. Which read as follows:
There was a guy
An underwater guy who controlled the sea
Got killed by ten million pounds of sludge
From New York and New Jersey
This monkey's gone to heaven

The creature in the sky
Got sucked in a hole
Now there's a hole in the sky
And the ground's not cold
And if the ground's not cold
Everything is gonna burn
We'll all take turns
I'll get mine, too
This monkey's gone to heaven

Rock me, Joe!

If man is 5
Then the devil is 6
Then god is 7
This monkey's gone to heaven
Now get those entries in! I'll even forgo the vocabulary list again today so you can be thinkin' bout those lyrics.

6. Weird Al: AmandaJ3162 linked to the "White and Nerdy" Weird Al Yankovic video and I showed it to Spyton. He'd never heard of Weird Al... or Donny Osmond... This is like when my little sister asked me who the Beatles were. Ah! I'm old! Ah! You young'ns may not realize that Michael Jackson was the one to really bring the idea of synchronized dancing to the music video... that was his contribution, really with the "Beat it" video... I remember we all "Ooohed" and "aahhhed" at the synchronized dancing in that which only lasted about 5 seconds. It's laughable now... ah well. And, I mean, he ripped it off of "West Side Story"... but we didn't know. We were young and foolish and wore leg warmers and had enormous hair. So anyway, I had the treat of playing Spyton Michael Jackson's "Bad" video followed by the Weird Al "Fat" video... both of which are great, and hilarious, in their own way. If only I could find the original "Bad" video with the Michael Jackson "acting" mini-film at the beginning. Now that was serious comedy. Or a sign of the apocalypse. One of the two. Yikes.

Well, to cleanse the palate, here is some HAFT. I think I have every possible romantic storyline activated now. Why? Because I can.

7. Halo Action Figure Theater: The Steve N. Lois Chronicles:
Episode 27: We'll always have Mukwonago ("J'aime le fromage")