I've had this rattling around in my head for a while, and I've wanted to write something about this before, but really didn't have the words lined up right. It's only 2AM, so I figure it's the perfect time to tell this story right.
So there was this guy named Louie Bonpua.

Louie was kind of a badass.
I feel I should explain that statement, so here goes.
I met Louie at one of my mom's Team In Training practices, when I came to do a track practice with them. By this time I was pretty heavily into competitive swimming, and had been to a few nationals meets in Texas, Arizona, Hawaii, Florida, and Colorado. Safe to say, I thought I was pretty hot shit.
So I'm at one of my mom's practices at the Stanford track, and I'm dying, because while I could swim like a fiend, I could not run distance to save my life. Short, tree-trunk legs are not conducive to endurance running. There's this guy who runs up next to me, and looks like he is struggling just as much as I am, and yet has this giant shit-eating grin on his face, like there's nothing he'd rather be doing than suffering through a hellish track workout on a summer night. He looks me straight in the eyes and says, "Come on, you can do this!"
So I'd love to say that I dug deep down, and found some reserve of strength and finished strong, but I sort of stumbled slightly faster towards the line and just scraped by and made my interval.
So no shit, there I was, panting like a dog, and this guy still has that damned grin on his face.
And of course, that was Louie.
I learned later on from my mom, who was his mentor/trainer, that Louie had been diagnosed with leukemia and had been given a pretty grim prognosis. Either the treatments would work, and he would beat it, or it wouldn't, and he had about 3 years to live.
Given 3 years to live, what would you do?
I'd travel to a couple places, hang out with some friends, probably make a video or two, and then pass away quietly, with no fuss.
Louie simply did not give two fucks about cancer, and said, "I'm going to purposely do massive damage to my body attempting to complete an event that even Navy SEALs drop out of, all while my body is being torn apart from the inside by a disease that is rapidly advancing."
So this 5 foot 8, 140 pound soaking wet masochist trained for an Ironman triathlon, completing nine sprint and Olympic distance races before taking on the Ironman Canada race in Penticton, British Columbia. For those who don't know, the four most common distances of triathlon are: Sprint (500 meter swim, 12 mile bike, 3 mile run), Olympic (1 mile swim, 24 mile bike, 6.2 mile run), Half-Ironman (1.2 mile swim, 56 mile bike, 13.1 mile run), and Ironman (2.4 mile swim, 112 mile bike, 26.2 mile run).
To this day, I remember what we would say: "I mean, it's raining, kinda hailing, really and the wind is about 20 miles an hour and the wind chill puts it at about 30 degrees, but damnit, Louie's out here. I really don't have an excuse if he's gonna do it." I don't even think Louie knew that he was, just by showing up and giving his all, that he pushed all of us to do the same.
Life just didn't want to give Louie a win all easy like, so five days before the race, Louie was told he was anemic, and would need a blood transfusion and a couple days of recovery before attempting a race. Of course Louie ditched his doctor after the transfusion and hopped on a plane a couple days later, Canada bound.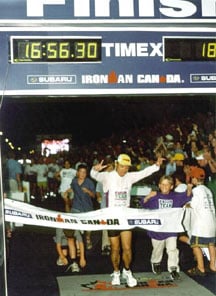 He crossed that finish line 3 and a half minutes before the time limit expired, and with damn near the whole city of Penticton, and every finisher from the last 4 hours waiting to cheer him home. (for the record, if you see that kid on the left who looks like he just tripped over his shoelace, that's me)
So the obvious question is, "Why?"
Why would he do this, and put himself through all of this just to complete a race?
Simply put, "Because you can either sit there, and watch yourself die, or you can get up and do something about it. I wanted to show people you can live, even when they're telling you you're going to die."
But hold on. It doesn't stop there.
After the Ironman, Team In Training nominated him to carry the Olympic Torch. A couple months later, the IOC (International Olympic Committee), approached Louie about carrying the Olympic Torch. Of course he accepted, and of course leukemia had to come crashing in like that really loud uncle who you hope just gets drunk and passes out at Christmas dinner. Louie was hospitalized again, and when the time came for him to carry the torch, Louie gave his doctor an ultimatum: He was walking out that door, with his help or without it. Thankfully, the doctor agreed, and Louie was brought to where he would carry the torch. When they got there, Louie flatly refused to go in a wheelchair and insisted on walking the whole way. A nurse and 2 EMT's stood and argued with him, but Louie was nothing if not stubborn, and in the end, he walked.
So despite it being a freezing morning, there was Louie, grinning like a fool, carrying that torch and laughing and thanking everyone for coming out all while there was one of the most beautiful and bright San Francisco sunrises that ever was.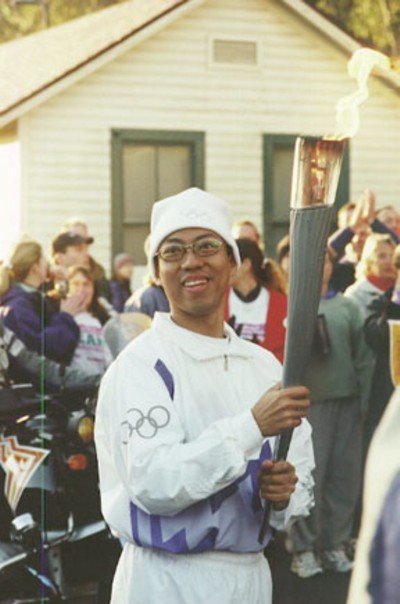 Two days later, Louie slipped into a coma, and didn't wake up.
And so he left us, and I miss him still to this day.
I have not met anyone quite like Louie. When you spoke to him, he made you the center of his universe and told you exactly what he was thinking. He inspired so many, and taught so many people that they could be so much stronger as long as they believed in themselves.
Louie was, and still is, in my eyes, a superhero.
TL;DR, Louie Bonpua is a badass, and to support that statement, watch this video.
Louie Bonpua Tribute Video