Fair warning, while I was positive and nice about Halo Wars 2 in the previous journal, this time I've got a tiny bit of an axe to grind on one particular gameplay weakness. But until that point, I'lll try and keep things civil, so settle in.
TL;DR, Game's fun, being glassed from orbit isn't. 

If you're expecting every single unit from Halo Wars 1 and then some, I'm afraid you'll be in for some disappointment. Not every unit made the cut, some thankfully (like the overpowered as hell Sparrow-Hawk spam...) but the game offers up plenty of new units and interesting twists on the old ones, especially in Blitz mode where rare cards will convert humdrum units into finely tuned death machines. 
You've got plenty of new toys to play with, from artillery to jump infantry to anti-air, mechs, heavy armoured support or even the game's "Super" units, which are incredibly satisfying and will more often than not leave you cackling like a maniac as your foes flee in terror from your rampaging Scarab or death-bringing Condor Super-Heavy Gunship. 

Enough of the old units are back that it feels familliar, but not so many that the same old strategies will work. The unit counters work on the same "Rock Paper Sissors" system we had last time, (Air beats vehicles, vehicles beat infantry, infantry beats air) with certain outliers and exceptions (Such as say, the Wolverine Anti-Air launcher which is an anti-air vehicle that can't fight ground units) and a colour coded system that determines how well each unit can counter each other kind of unit, making it very clear what your army is capable of without having to deep-dive into the functionality of every single unit type.
With RTS veterans Creative Assembly at the helm of this game, the bar's been set quite high as far as engaging gameplay goes, and in that regard, Halo Wars 2 doesn't disappoint. Where the first game's missions were fairly... monotonous, boiling down to either "attack" or "defend", Halo Wars 2 plays some of the tricks and twists that other strategy games like Starcraft 2 have used to great effect vary up the mission content. 
While traditional base-building and siege mechanics are common, they won't be for every single mission. Sometimes you'll have only a small contingent of units and be forced to play "guerilla" style, making strategic hit-and-run's until you can build up a larger force. Other times you'll be split between simultaneous offense and defense, having to make progress against a near-endless stream of enemy reinforcements while keeping the pressure on them in order to prevent your base from being overwhelmed. 
This is made far more intuitive with the use of leader powers. Leader powers were always present in the original Halo Wars, but suffice to say, came off as "gimmicky" or not worth the time and resources to deploy. The Leader Powers this time around and their effect on the battlefield cannot be understated, as it's clear they were given a great deal of attention as a means of allowing strategic "counters" without making the game entirely about micro-management (as is the curse of many other RTS') which given the fact that the game has to be designed primarily with a controller in mind, was a wise decision.
The campaign gives you a variety of passive buffs and active abilities, though not all at once. You'll start off with simple regeneration drones (Area-of-effect healing for your units), then Archer Missiles (carpet-bombing) and so on. You'll occasionally earn "leader points" which can be spent on improving certain powers- though increasing the cost to deploy them in the process. 
The powers I found myself most often utilizing were a heavy turret deployment and ODST call-down, allowing me to bolster waning defense lines, reinforce front-line assaults at the right moment, or outflank the enemy by catching them from another angle. In the multiplayer modes, these powers will largely be exclusive to one of the six playable "leader" units who all have unique flair and play-styles.
However, as fun as these leader powers are, they were a massive detriment to the game's "fun" and challenge factor, for one reason. Artificial Difficulty. Yes, I did say I'd talk about what I disliked about the game, and this is the real elephant in the room. 
When playing on any difficulty above 'normal' (meaning Heroic or Legendary) the enemy AI also has access to leader powers, and will use them repeatedly, and mercilessly. Now you might think that's fine and fair- and on paper, I agree. Level the playing field and all that. The problem is, this isn't a level playing field anyway. The enemy AI has more bases, more production capabilities and more economy than you, and is not bound by a unit cap. 
Ontop of having units in the field right from the get-go, (an issue that is nightmarishly hard to deal with, as several "defend your base" missions begin with your base immediately under assault, and only a handful of token units to defend yourself with, and no time to do the necessary base building) the enemy already has your back against the wall, so the leader powers are completely unnecessary.
The reason I bring this up is that the most commonly used power the AI will employ is the "Purification Beam" power (Orbital death laser). This is- quite frankly. Bullshit. Here is why.
This attack has no hard counter; unless you deploy your "healing field" power right as the enemy deploys his glassing beam, and even then that's a matter of extreme luck and quick reaction time, not to mention odds are your regen power will be on cooldown, as all the powers have cooldown timers to allow for balance; and is unavoidable. 
Unlike Starcraft's "Nuclear Launch Detected" call-out, you won't know that beam is coming until it hits. Unless you happen to be- by pure coincidence, looking at the spot where it'll be arriving, then you get a half a second targeting reticule as warning.
And once it hits? You're fucked. The beam can outpace all but your fastest scout units, so even if you try and split your army, you can kiss at least half of it goodbye right away. This will more often than not put a major dent in your outbound attack, as the enemy will drop the beam on you right as you're attacking them, or just when you're getting ready to do that.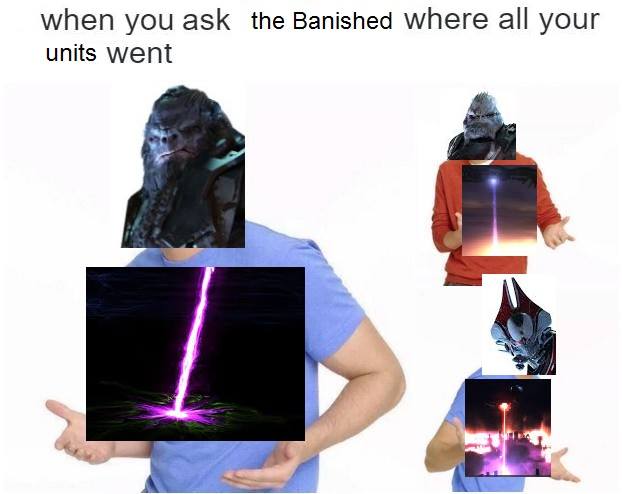 So during the time you spend rebuilding your army, the enemy AI will just sit and wait for the beam's cooldown to recharge. Then hit you with it again, as odds are good rebuilding your army will take longer than recharging that leader power. So you get stuck in an endless loop of building and losing units for no good reason. 
Without this artificial difficulty wall, I would've steamrolled most of this campaign with barely any resistance. This isn't a challenge, it's an annoyance. During mission 9, which I absolutely HATED the most, I threw up my hands in frustration and said "fuck it", tossing all strategy to the wind and mass-spamming marines at the enemy, as at least this way I had SO MANY units that they couldn't possibly hit them all at once, and losing the whole army wouldn't put too much of a dent in my economy due to being the cheapest unit to rebuild. 
These shenanigans become especially frustrating when the "bonus objectives" that net you EXP for the blitz mode (I'll cover this next) often require you keeping certain units alive, or not losing [x] amount of a certain unit type, which is impossible with the middle-finger of god slamming right down on your army when you least expect it.
There are even points when this should not be possible. And I don't mean from a balance stance, I mean "the fact that the enemy can use this abillity right now is a plot hole" kind of narrative breaking problem that destroys your immersion in the story. I found it incredibly tedious and frustrating to endure, and whoever thought this was a good idea deserves to be forced to sit through this crap themselves as punishment for inflicting it on an otherwise enjoyable campaign. 
The enemy leader powers (thankfully) do not show up in every single mission. Just most of them... enough to grate on you anyway. So if you're playing, I'd recommend sticking to normal difficulty. For those who want a challenge that's actually fair, the classic Halo campaign skulls are present, one in each mission that you can find by completing aforementioned optional objectives. So that's something I'll need to try and see if they're worthwhile (And for old purists, yes, Grunt Birthday Party is among those skulls)
Given I've rambled long enough here, I'll save the multiplayer criticisms and thoughts for another time. 
-Lorcan