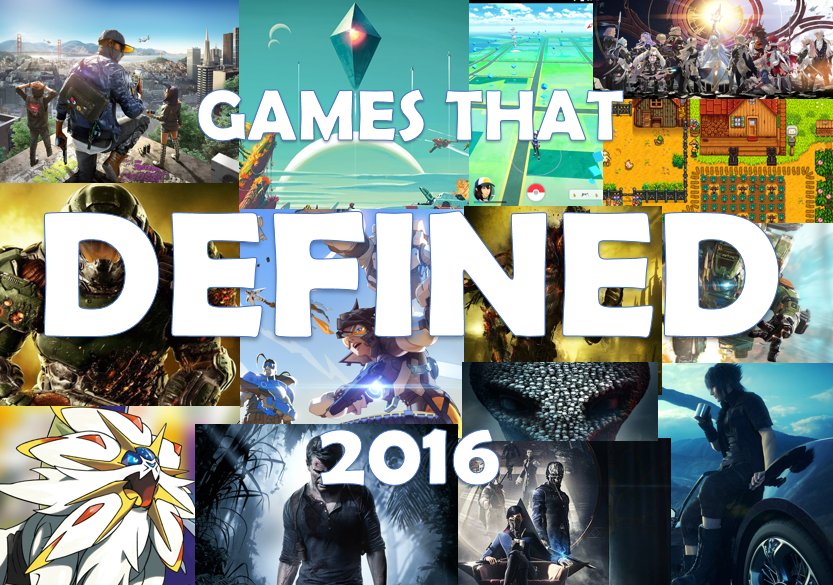 Hello everyone. 2016 was quite the hectic year, but a damn interesting one for video games. One game took gaming by storm, the other THE ENTIRE WORLD, and we all had stuff we enjoy. But what Defined 2016? Or just your year in general? That's what I asked several members of the community, and they came out in full force. So here are the GAMES THAT DEFINED 2016!
PIERCEM3 – ASSASSIN'S CREED: THE EZIO COLLECTION
As a longtime fan of Assassin's Creed, I was glad to hear that 2016 was the first year since 2009 that they weren't releasing a new installment in the series.  With the ever expanding roster of bugs, waning sales numbers, and the onset of yearly-release-fatigue, they needed a break to fix the series and give fans the game they really want.  When the Ezio Collection was announced, I knew it would be nothing other than a cash grab and reminder about the upcoming movie.  However, I pre-ordered the collection, a first for me since my utter disappoint in Unity.
And am I ever glad that I did.  I played the first AC game at a friend's house and thought the gameplay was amazing, but it wasn't until 2 that I got hooked.  The hidden video files, the past and present bleeding together, and don't forget the ending.  Ancient aliens underneath the Sistine Chapel?  Forget about it, that's the moment I became a massive fan.  Ezio's story continued to enthrall me over the next two games.  Brotherhood is my favorite in the series for its subtly powerful ability to make you really feel like you really are rising to leadership and while Revelations was hit or miss (tower defense, ugh), the conclusion to this Italian Master's tale was worth it.  
So why does the Ezio Collection define 2016 for me when it's just a remake?  It's because it got me newly excited about not only the franchise, but gaming as a whole, in a big way again.  The Ezio Collection reminded me that there was a time that AC games were more than just excuses to murder in historic locales. They were about people.  Altair will always remain the iconic AC mascot, Edward Kenway delighted us all as a pirate assassin, but Ezio is the best character in the franchise.  That's because when I was playing an Ezio game, I forgot about the "present" story that was taking place.  When I was with Ezio, it was only his story that mattered.  By giving us a collection that focused solely on that, my interest in a series that has left me bored with the last few installments was renewed.  I want to meet the next characters and learn their stories like I learned Ezio's.
Not only is my interest in the Assassin's Creed series of games reinvigorated, but my passion for gaming has been reignited.  Though it's a big hobby of mine, gaming is something that I've unfortunately had to let slip by the wayside over the past year or so.  I still play, but the purchase of games is more selective and the time spent playing has dwindled.  With the Ezio Collection though, I found myself lost for hours rediscovering Renaissance Italy and dropping Templar agents by the dozens.  When I needed a break from climbing for those viewpoints, I would play a match in FIFA, eagerly await my next Titanfall, or sink a few hundred years' worth of turns into Civilization 6 (a game purchased and promptly forgotten simply for time's sake).  The Ezio Collection helped me rediscover a hobby I thought I might be losing.
As the Assassin's Creed games are famous for, The Ezio Collection achieved a marriage of past and future, and defined my year in doing so.  By hitting that sweet spot of pure nostalgia it encouraged me to look forward to the next installment in the series, as well as new games in general.  So 2016,  Requiscat in Pace.  What new memories will 2017 bring?
FREESHOOTER – DARK SOULS 3
Dark Souls III means a lot of things to a lot of people. For some, it is the highlight of the series. For others, it is a disappointing conclusion. For me, it was a fitting end to the game series that changed how I game.
Dark Souls wasn't a perfect game. It had bugs, poor design choices (Lost Izalith), lighting issues (Lost Izalith, Blighttown) but the game play in it was so unique, so different that it didn't matter. We played it and stuck it out, we died over and over to Havel the rock, to the Gargoyles. It was refreshing and new.
Dark Souls III sought to recapture that feeling, polish it, refine it, and give players that one last hurrah. Now I'm not saying that they succeed 100%,  but they did do this: They made a game that veterans like me could walk into and still have that 'wow' factor, that sense of discovery and figuring it out for yourself.
I got my ass handed to me by several bosses, quit the game for days at a time, nearly threw a controller across the room and I kept coming back, just for that one shining moment of triumph, for the game to tell you you won and for that to actually mean something. In the age of games holding your hand this series was one of the few that stood in defiance, sword in hand, and fight back. It is for that reason, that the Age of Fire and Dark Souls has come to an end, that Dark Souls 3 defined 2016.
MUSICMANIAC – DISHONORED 2
Why did Dishonored 2 influence 2016? It seems like an odd choice, the game wasn't talked about much like Overwatch or Battlefield 1, but still received great scores and even won best adventure game from The Game Awards. So why is it influential? The open world levels of the game lead to thousands of possibilities to complete your query, by having a goal and limits makes the game not overwhelming like other open world games. With all that, the game came and went. There wasn't much talk or hubbub about it, but it is what everyone wanted in a stealth game.
When Thief came out, everyone was excited that one of the best stealth games was being renewed, only to fail miserably. When Dishonored came out, everyone said it was the Thief game everyone wanted, so they made a sequel. Everyone was excited about it, "There's a female protagonist", "The best stealth game ever", but it was but a blip on everyone's radar. This isn't the only franchise to suffer from this, I feel that Gears of War 4 also suffered from this, all the hype, did great, but fell off quick.
Gamers nowadays have so many games that they want to play, they'll play the game they are so excited for, but in a couple of weeks the next game they are so excited for comes out, and they're going to play that for a couple weeks till the next game that they're so excited for comes out. There are so many great games that are fighting for their fan base's attention and it overwhelms everyone with the amount of great games they can play, and I feel Dishonored 2 suffered.
This is what the videogame market is like now, a lot of companies and IPs fighting to stay relevant and fighting for everyone's attention. It's not that the games are bad and have nothing going for them, but the exact opposite where they're all great games and no one can choose just one to play. Dishonored 2 got screwed by this in a big way and who knows if it's going to change anytime soon.
GRIEVOUS954 – DOOM
DOOM defined 2016 for me because in a year of shocking deaths, political upheaval and just a lot of crap DOOM kept one part of the status quo the same: If it ain't broke, don't fix it.
The new DOOM decided that it didn't need to re-invent itself with fancy new mechanics, wall-running or over the top explosions. It knew what worked and kept things that way. The simplicity of DOOM is sort of beautiful to behold. Run, shoot and tear. Nothing more is needed and nothing more was added. Id Software knew what we all wanted from a DOOM game and they delivered excellently. No outlandish promises were made, the DLC was all for a multiplayer that thankfully wasn't the main focus and best of all the game simply worked properly.
Gaming is in an era of bigger and better. More unique DLC, bigger environments, better graphics, crazier game play and deeper characters. While all of these things are good changes, it's sometimes good to go back to basics and stick to the old tried and true methods. This is the epitome of the new DOOM. It stuck to it's guns (pun intended) and in a year of chaos and uncertainty in the gaming world, DOOM was the shelter in the storm we all needed.
MEGASILVERX1 – DRAGON QUEST VII
Even though this isn't my favorite game in the series or even my favorite game I've played this year, I was so happy to see that this game along with Dragon Quest VIII's 3DS remake were getting localized back in the November 2015 Nintendo Direct since I was assuming, especially in Dragon Quest VII's case, that these games would be staying Japan exclusive; the main reason being that re-translating all the text for DQVII would be a herculean task due to the shear amount of it in the 100+ hour game.
More importantly, this remake allowed for newcomers to get into the series since it had been a few years since a mainline Dragon Quest game was released on a non-mobile platform. Also this was the first time people in Europe could play DQVII since it, like with most of the games in the series, never saw a release in the region originally.  
However, all of this isn't why I chose this game as my "Game that Defined 2016," rather my reason for picking Dragon Quest VII was because it was a welcome reminder that video game companies can and do listen to their fans. The only reason why this and later in January, the eighth game are being brought over was because of fan demand; many petitions and letters were sent to Square Enix and with Nintendo's help with the localization, English versions of these games became a reality. Hopefully with these recent Dragon Quest releases, the series can continue to grow a larger audience outside of Japan.
MR. HAIRBALL – FIRE EMBLEM FATES
It was easy to be excited for Fire Emblem Fates. Awakening is one of the best games you can play on the 3DS and Fates was set deliver an innovative experience to the series. The idea of a branching story and getting to play the game's plot from different perspectives hadn't been seen in the franchise before and the notion that you could be on the side of the evil empire really helped build up a lot of anticipation. Coupled with the fact that it would offer possibilities for a more challenging experience not seen in the series in years, how could I not give into the hype?
From a mechanical standpoint, Fates makes for an exceptional tactical RPG. Building the game's characters into gods that can take on an army is a fun experience. It brings interesting new classes and options for team composition to the table and the game does this neat thing where some classes are exclusive to the nation you've opted to side with, bringing different balances to your team based on your choice. While the mechanical execution of Fates is strong, everything else is lacking. Fire Emblem is first and foremost an RPG, so while the game's mechanics are certainly important, what typically makes a game like this stand out are its story and characters. Final Fantasy VII wasn't put on a pedestal for its battle mechanics.
It can be said that Fire Emblem is commonly categorized by mostly one-dimensional characters, generally because the character roster is often so large it's difficult to truly flesh everyone out. Fates makes little attempt at giving distinct characterizations in places, to the point where sometimes it was difficult to remember which character was which. Some of your player character's siblings, main characters in the game, are so bland and uninteresting it could be said that they have no characterization at all. And this is a 60 hour game when playing through all three versions, which is necessary if you want an even remotely satisfying experience. Birthright couldn't possibly offer a more basic, cookie-cutter Fire Emblem plot if it tried. Conquest does offer up a more unique experience by making your player character carry out the will of the bad guys, but makes its plot feel very repetitive. Revelation finally gets to the real plot of Fates, but by the time you get to it you've invested 40 hours and haven't been given a truly engaging story or characters to make you care all that much about what's really happening. It just falls flat and makes for a disappointing experience.
I was fortunate enough that Fire Emblem Fates came out so early this year in that it helped set expectations for every game that's come out since. Fates taught me a lesson that many learned when No Man's Sky came out: temper expectations and don't give into the hype. While through this lesson it might be easy to feel jaded toward future releases, it's honestly led to a more positive gaming experience for me. I ended up setting my expectations lower, sometimes to the point where I had zero expectations for some games, so games have been more enjoyable and sometimes even surprising. I'm looking forward to going into 2017 with fresh eyes to discover what new things the gaming industry can offer.
LEXIOLT – FIREWATCH
So why does Firewatch represent 2016? Not only has it been one of the greater games to emerge from the ever growing capabilities of the Independant developer era, but it's also a game that  has purely focused on what a lot of gamers crave at times. Story.
Some of the greatest games have come about with little graphic content, yet seeping with storytelling, and mysteries to discover. and Firewatch is all that. it's telling us a story that we get to look further into, we don't have to skip the minor details, and admire the raw creativity of the designers. It also somehow reflects a little on ourselves. as we as gamers, we have grown up in a roughly similar generation, where we're beginning to question why we're here, what is it we are doing, and why were we there before? Questions that were beautifully portrayed in its brilliant gameplay. and as we fumble in the dark, we begin to unravel the answers slowly, but at our own pace. The game also succeeds in it's stunning visuals and unique artwork in it's 3D environment, adding to the atmosphere and aesthetic that the developers  and designers wish to show to the audience.
These qualities have been forgotten in previous years, where we've forgotten that some of the greatest games don't need super fancy gameplay or high skills, and super kitted out 3D rendering, and it's a good game anyone can enjoy and play, and feel like they've gotten the most out of the game in their own way. it's a game that allows the completionist to look at these details in story and in the game and figure out more of the games awesome storyline.
THE STICKMAN – METROID PRIME: FEDERATION FORCE
2016 has been a year where games which people have been OH SO VERY excited for have ended up disappointing, and in the process, that disappointment turned into hate, and those mediocre or just decent games became TERRIBLE games, just because they were expected to be so much more. No Man's Sky, The Last Guardian...that kinda thing. In a way they define the year by being the ones everyone was waiting for, and ended up letting us all down. Meanwhile, my game was something NOBODY was looking forward to, or had any hopes for, and yet ended up being pretty damn decent, and that's Metroid Prime Federation Force. Yes, that one.
If you ask most people what Federation Force is, the people who don't foam at the mouth and then punch the nearest wall have probably never heard of it. After 5 years since the previous, a new Metroid game was low-key revealed at E3 2015 to be a 3DS co-op shooter, to much RAGE. After that point Nintendo didn't really want to talk about it much, and then just farted it out without any fanfare a year later, during the entirely ignored 30th Anniversary of the tragically dying franchise.
Nobody bought it, nobody talked about it, and any praise for the game was swiftly ignored because people simply weren't interested in supporting it. And yet...in a year where explosively exciting releases ended up dropping the ball (Or the BLAST Ball! AHH? Jokes.) and making everyone mad, the little game nobody ever wanted, or even noticed existing actually delivered, for the most part, a surprisingly entertaining and well-made game. No, it wasn't perfect, and no...it certainly wasn't the Metroid game people wanted to see, me included...but credit where its due, I rather liked it. And yet, that doesn't seem to matter, its release and decency is just the full stop on a legacy of hatred that far outweighs the product itself. Hell, if you look on its Wikipedia page there's several paragraphs talking about the controversy and negative reception...to its announcement/trailers, and literally one sentence basically saying "Oh and it got mixed reviews", a lot of which were scathing on the basis that "THIS WASN'T MY METROID". Basically, Federation Force was the opposite of a lot of 2016 games, it had its rage explosion before launch, and then faded into the ether (Aether? Ahahh, Metroid jokes) by the time it released, now completely forgotten about, either willingly or just in unintentional ignorance.
People have spent so much time hating the things they wanted to love, they missed the fact something they hated was better than anyone could have expected. And for that reason the decency and solid entertainment of Federation Force will most likely never be experienced by most, whilst a game, undeserving of much attention in retrospect, like No Man's Sky, the focus of more hate than the entire shit-show of the US Elections (Okay maybe not that bad) becomes a focal point of the end of year discussions. Federation Force may not have been fantastic, but it was certainly less disappointing than a lot of others, maybe that was just because of the insanely low expectations surrounding it, or maybe it was just a decent game and people over-hated it in the same way that they overhyped other things. Basically, Federation Force is the Anti-No Man's Sky, a hated product that released to no fanfare despite being decent. Still, that's mostly Nintendo's stupid lazy ass fault. Jesus. The IDIOTS. UGH.
AZERO_TEHIRO – MIGHTY NO. 9
Great googly moogly! 2016 was certainly one loony year. So many unexpected events transpired that practically changed the very state of our world. The video game industry was no exception. People truly had their judge of character and credibility put to the test with one particular chain of events. Three years ago, a man by the name of Keiji Inafune came out to the public and announced his campaign to make his very own game, the first time he would be involved in such development since he parted ways with Capcom. 
He and his team, Comcept, were going to make a spiritual successor to the one of the most beloved, yet sorely absent franchises to date. With signature cap on his crown, Inafune declared that he and his team would be revolutionizing the video game, bringing back the good old days of classic action-platformers, melded with the advanced mechanics and aesthetics of  the modern world. In retrospect, his plans were pretty vague, and his credibility was really questionable. He was a business man after all, not a creator, as experts like Platinum Games' Hideki Kamiya warned about. But it didn't matter to the vast majority of gamers. They were excited that they were given this rare chance to vote for what they want in their games. Screw Capcom and the AAA industry. Fuck corporations. With Inafune at the helms, by golly they were gonna Make Megaman Great Again!
So when the time came, 67,226 people went into the Kickstarter booths and voted with their wallets: $3,845,170 raised to seal the deal.
So with all that money and support, how, then, were things handled so badly?  The game's graphics somehow transformed from an impressive piece to something one would see on Steam Greenlight early access, communication with fans was no longer existent, and projects were delayed for years at a time. The appointed staff weren't promising either. Dina Abou Karem was hired as community rep, despite never ever playing a Megaman game before, and went out to censoring incoming concerns from backers. She even banned the very accounts backers payed to use, simply because of known associations to certain lifestyles. Advisor Ben Judd called fans "salty" and at the end of launch day went out and said the final result of Mighty No. 9 was "better than nothing". And of course, who can forget the infamous phrases and words said throughout the ad campaign, with clear bias against anime fans. And the cherry on top of all this: Inafune was cited expressing interest in allowing Capcom to publish his game, the direct opposite of what his project and his passionate fans were all about!
So here we are, gazing down at the garbage pile that is the climax of the Mighty No. 9 shenanigan train. The game ended up being a poorly planned/programmed mess with boring level design and mechanics. With the final product receiving all-time low reviews and being dubbed an insult to its predecessor and classic video games, the gaming world is left struck and lost on who to believe in anymore. They can't trust the system. They can't trust the rebels of the system nor the Kickstarter that gives them the podium for their cause. They can't even trust themselves anymore, and have to resort to sealing their wallets in safes beyond their reach! Mighty No. 9 and its development are thus not only the definition of 2016, but perhaps a prelude/warning to 2017 and the future beyond. Looking at you, Death Stranding. Keiji Inafune for Man of the Year.
KATAWOLF – NO MAN'S SKY
No Man's Sky is a game that will go down in infamy, and will remain as a staple to show the dangers of overhyping something. It's announcement was arguably the best thing to come out of the shitshow that was the VGX in 2013, and ever since it kept building more and more hype, to the point where people started feeling that it would not be as good as it seems. And you know what? They were right. The game had extremely shallow gameplay, missing content that was promised, an insultingly high price tag, and then some. It got so bad that developer Hello Games was sued for false advertising.
To be fair though, No Man's Sky is far from the unplayable, atrocious piece of shit the internet has made it out to be. It's an oddly relaxing game at times, the soundtrack is pretty good, the art style is gorgeous, and the "procedurally generated universe" technology, while not as breathtaking as announced, was still pretty impressive. I mean, there is potential in this game, but as it stands, it is just a completely average sci fi game.
As I said, No Man's Sky was a victim of hype. Sony, various media, gamers, Hello Games themselves, and even fuckin' Stephen Colbert. It was being labeled as the game to end all games, with limitless possibilities and adventures thanks to its giant universe with near-endless planets, and so on. And that hype only got worse with the increasing number of delays, with reporters getting death threats just by saying the game got delayed. So of course when the game came out, it is no surprise that it was harshly received by gamers. The reception was so negative, that people started throwing insane criticisms at Hello Games, including the now popular death threats, extremely negative reviews on Steam and Metacritic, labeling the game as the worst game ever made, and the list goes on. Now, this was not without some justifying, since Hello Games isn't exactly blame-free. Some advertising for the came can be labeled as misleading or in some cases (such as the promise of being able to run into other people) downright lying. This has created a bit of a conflict. Who is to blame for how things turned out? Hello Games for questionable advertising and promises? Or everyone else for hyping the game to oblivion? That's what made it define 2016 for me. No game has created this much discourse, and hype culture needs to take a good long look at itself. But it won't.
WOODYMAN – OVERWATCH
Despite contrary belief, any video game game be a video game that defined 2016. It all depends on the argument you make. That's why although the game I chose to write about has been commercially and critically praised, its no more a game that defined 2016 than any other entry on this blog. Video Games has been making a shift. More and more video games have become about sharing experiences, and a shared experience. Games nowadays have a social media aspect where you can share your fights and victories with all your Twitter followers. Even Final Fantasy XV, a game series widely known for its single player experiences (except for the MMOs), has a feature where you can share photographs of your journey with your followers.
That's why for my Game That Defined 2016, I chose a game that has both shared experiences, and sharing experiences, and that game is Overwatch.
Unless you've been living under a rock, you probably heard of Overwatch.  The game promotes shared experiences because it's best played with a group of friends. You can play solo, or even with Randos, however getting a full squad of 6 each with your own playstyle, character, and skill is just the best.
The game also promotes sharing experiences. With so many characters, and abilities Overwatch is a game where crazy shit happens. In addition, every game you play has a Play of the Game that supports massive destruction. Everyone who played Overwatch has a story about something crazy that happened to them in the game. For me, I got play of the game with Zenyatta by killing four of the enemies, then using my Ultimate to guide the payload to the objective. What's your craziest moment?
NIRVASH – OWLBOY
Owlboy is a game that I was introduced to me 8 years ago that captured my attention like no game had ever done before, and throughout the years to come after seeing this game I fell in love with it's art, it's premise, and the music.
So why choose Owlboy as my 'Game that Defined 2016'?  I'll be honest this year has been a rough year for me in gaming due to my lack of interest in games that have come out, and my continued disintrest in the industry I have loved my entire life.  There wasn't a lack of amazing games coming out, but there was a lack of anything that grabbed me and made me want to invest my time into it.  Bring us to October 2016, and here I am listening to Dude Soup and browsing Steam.  I go to the Coming Soon section and what do I see?  Owlboy, a game that I've been wanting for so long to play. I instantly pre-order, and waited in anticipation as my imagination filled with childlike wonder; something I hadn't felt in a long time, but also questions like could this reinvigorate my love for gaming and the industry as a whole? Maybe but time would tell.  
November 1st hits, I download, install, and boot up this game I've been wanting for so many years to play. Suddenly as the title screen loads up I get this feeling in my gut, "what if this game just doesn't live up to my expectations? What if I have been waiting all this time for a game that could easily get awarded a SAGY?"  I ignore my self-doubt, start the game, and much to my relief the game captured me almost immediately with the visuals, and the music like it did throughout the many years that I had followed it's development.  As I played through the game I was feeling my love and passion for games growing again and reinvigorate as I became more invested into the story that this game was telling.  The game came to a close and I was anxious to go back through the game to find it's secrets, but also felt so refreshed and ready to move on and play games again.  
So long story short, Owlboy has defined 2016 for me because not only did it help restore my passion of this hobby that I have spent my entire life loving and sharing with my peers around me, but it reminded me why I love games, why I play games, and more importantly that this passion I have for the industry will always exist. 
MAX MARRINER – POKEMON GO
I'm no fortune teller, but I predict that a lot of the entries here are led with a pretext addressing the general awfulness that clouded every corner of 2016. Of course, I will not stand in contrast to that attitude; it's been a really rough year all around the world, and this was especially evident right in the middle of the planet's revolution around the sun. I'll never forget the hot July days in California, with riots, police murders, and the deranged ramblings of a woefully incompetent presidential candidate splattered all over American media. And then, in the middle of it all, there was Pokémon GO.
Let's not mince words: Pokémon GO didn't exactly put on its strongest smile right out of the gate: upon initial release, the game barely functioned properly, with server crashes and GPS inaccuracy abound; the app would chug battery power faster than you can say "Giga Drain"; and storms of Pidgey's and Rattata's covered every corner of suburbia. Even now, with its many tweaks to the design, I wouldn't call Pokémon GO a "great" game.
Yet, for a brief moment, Pokémon GO was EVERYWHERE. I will never forget the game launched in the States. Never before have I ever seen a single video game make such a strong, positive, sudden impact. You didn't have to look at charts and data to measure Pokémon GO's success; you could just walk outside and see for yourself! Pokémon GO sprung people outside, it brought strangers together, and it created a common ground rooted in both current technology and a property that defined childhoods; a near-bulletproof blend. The game's relevance may have short-lived, but even six months after its release, Pokémon GO is already remembered as one of the very, very few positive forces that burst through 2016. And with Super Mario Run upending a weird year for Pokémon's publisher, it may be soon remembered as the game that changed Nintendo forever. And it did this all without meaning to, all without knowing it would be exactly what a decent percentage of America - and Nintendo's investors - needed during such a bloody, maddening year.
I think Pokémon GO represents the importance of this annual community project. It's not the best game of 2016, nor is it the worst, or the most disappointing, or the most surprising, or the "most" anything. But it's a game that grew so much bigger than its medium and, for a hot minute, became the most talked-about, most widespread piece of interactive media in the country. The game itself may not be spectacular, but Pokémon GO's brief rise to pop culture dominance supplants it as one of the games that truly, genuinely defined 2016.
THE GUARDIAN – POKEMON SUN/MOON
Pokemon Sun/Moon might not be the game that defined 2016 so much as the game I WISH defined 2016. 2016 was a year that built a lot of hype machines. Be it Mighty No. 9, No Man's Sky, Final Fantasy XV, Call of Duty: Infinite Warfare, or (personally) Paper Mario Color Splash there were a ton of games that people got excited about. And were eventually disappointed by.
2016 was not a great year for games. We saw HD re-release after Enhanced Edition after remake this year. There were a few bright spots this year, many of which you either read about or will shortly read about here, but much of the excitement this year was met with underwhelming performances. Perhaps the chief being No Man's Sky and Mighty No. 9. And that's why Pokemon Sun/Moon is the game I wish defined 2016.
The seventh generation of Pokemon was going to be huge. In the 20th Anniversary of the original Japanese release of Red and Green, Nintendo was working hard and getting everyone ready for Pokemon. Pokemon Go, legendary Pokemon every month, Red/Blue/Yellow release on Virtual Console, this was the year of all years if you were a Pokemon fan. Nintendo built a hype machine this year that almost no other franchise could ever hope to match. My local Gamestop had almost 400 preorders for the games, the biggest number ever for the store. Call of Duty and Battlefield COMBINED didn't get that many. There was a virtual tsunami of information released about the game prior to launch (maybe even too much). There was an insane about of hype surrounding the games. And then they finally came out.
Now, I'd be lying if I said I'm the biggest Pokemon fan alive, I'm not. I skipped the sixth generation. My favorites are still FireRed/LeafGreen and HeartGold/SoulSilver. My appreciation for the franchise has steadily wound down as I've gotten older, like a lot of people my age. We are getting big kid jobs, gaming less, having life altering events (kids, marriage). But then this, the seventh generation, was announced and I was excited about a Pokemon game like I haven't been since Ruby/Sapphire in 2002. I went to the midnight release for a game for the first time since Pokemon Gold/Silver in 2000. And then I started playing the game. I felt the magic that I felt when I was 8 playing Pokemon Red for the first time in 1998. This game stoked the embers of my passion for the Pokemon series. I'm now 65 hours into Sun and loving (almost) every moment.
That is why I wish that Pokemon Sun/Moon was the game that defined 2016. This year could have been one of the greatest years in gaming, with a game that reawakens your Call of Duty fandom, your Zelda fandom, your Mega Man fandom, your Paper Mario fandom, your Street Fighter fandom, your Final Fantasy fandom. It could have been a year in which we all got a game we were deeply passionate about and love. I wish Pokemon Sun/Moon was the game that defined this year, not the year that could have been.
MOON SPIRIT – RATCHET AND CLANK
Ratchet & Clank has an extensive reputation as one of the best platformers to grace the PlayStation, as one of the biggest mascots for Sony's consoles, next to Jak & Daxter and Sly Cooper. When it was announced that there was going to be a movie based off this game, many fans didn't know what to expect, given the track record of video game adaptations into movies. But hearing that the creators were also going to supervise the film's production and so on, they later announced that a new Ratchet & Clank game would be released to coincide with the movie's release.
The visuals are spectacular, paling in comparison with PS3 HD port of its original. Just playing this game will probably the closest thing we'll ever get to interacting with a Pixar, DreamWorks, or Illumination Entertainment. And seeing all the locales in the PS4 is fantastic, which is accentuated by the technical capabilities of the PlayStation 4 like its lighting effects. As for the story, it has been rebooted as Ratchet is now an aspiring Galactic Ranger instead of a simple mechanic. Other than that, the game still has its trademark humor, and thankfully it is funny without having to resort to reusing old jokes from its predecessor. Hell, even the plumber makes a meta joke about the series as well.
But what matters is this: is the game still fun? Hell yes it is. As always, you got staples like the Combustor, Groovitrons, and Mr. Zurkon. The RPG elements are present as well as weapons can evolve and your health can expand. You can still buy new weapons and upgrade them using Raritanium that can be collected throughout the game. Speaking of collectibles other than the Golden Bolts, there are Holo-Cards to get, which are basically trading cards that give you perks when you have a complete set. These cards are also the only way of acquiring the RYNO, and it's still as overpowered as ever.
But here's why I believe the 2016 Ratchet & Clank game defines this very year: it proves that 3D platformers still have a place in the gaming landscape. Though the mainstream market is still oversaturated with open world games and first person shooters, this may be the game that could finally bring platformers back to its former glory, because we all know Mighty No. 9 has failed to deliver on its hype due to its mediocrity. As for its tie-in movie, critics seem to hate it, whereas fans are kind tossed around with it being good or okay. This could be the spark Yooka Laylee needs to have 3D platformers back in the limelight. Until then 2017, lock and load. Here we come!
EARTHWORMJOE – SENRAN KAGURA ESTIVAL VERSUS
Japan makes a lot of weird shit. I like weird shit. Me and Japan get along together great. So since my actual GOTY technically isn't out until next year, my second choice would have to go to the winner of my patented "Game most likely to disappoint your parents" award, Senran Kagura: Estival Versus. The sequel to Shinovi Versus on the Vita, it was released in Japan in 2015 with a western release almost exactly a year later. It's a Dynasty Warriors-style beat 'em up but unlike Dynasty Warriors, EVERYONE HAS MASSIVE TITS.
Similar to Dynasty/Hyrule Warriors, SK:EV features a shitload of playable characters (34 to be exact), with most of them feeling different from each other with varying weapons, speed, and special attacks. The gameplay is exactly what you'd expect from a DW-style game, with a shitload of enemies on screen and crazy as hell moves to pull off to defeat them. The game is mostly mission-based with each girl having their own campaign, and a Story campaign that is surprisingly lengthy and challenging. The story I honestly have no clue about because to be honest, who the hell cares, all I remember is two girls' dead sister isn't dead any more, they're all on some island with someone's grandma, everyone gets naked, etc.
In conclusion, Senran Kagura EV is one of the stupidest games I've ever played and I loved every single minute of it. You really shouldn't be too surprised though, this is coming from the same person who wrote about fuckin' Huniepop last year. Also Ryona is best girl.
CADEBENGERT – SKYRIM: LEGENDARY EDITION
Skyrim: Legendary Edition is an updated rerelease of the classic Bethesda game for modern platforms. The rerelease includes all three pieces of official DLC (Dawnguard, Hearthfire, and Dragonborn), a graphical upgrade, and a few new features including higher difficulty levels, Legendary skill levels, and mod capabilities. That's right, you can now be dressed as Spider-Man, yell "Just Do It!", and ride a pig on your home console all in 1080.
For me, this game defines the year in a kind of bittersweet way. First, the game is a ton of fun. The graphic overhaul does bring the 10 year old game to the modern world, and stands up alongside games like Fallout 4. All your favourite missions are still there (Dark Brotherhood, Skyrim Civil War, and of course the Wabajack mission), but the addition of mods allows for endless changes to gameplay, new missions, and even new locations, making replay ability almost endless.
That being said, I think it is very telling of the year, when one of the biggest and best selling games is a rerelease of a 5 year old game. This year saw the hype of new titles, only to see them crash and burn (looking at you No Man Sky and Recore), so a lot of gamers, myself included, have become a little jaded about new games. People are yearning for a return to form of past games, as evidenced by the recent resurgence of retro style games, and the popularity of remastered editions like Skyrim.
Do I think this is a good game? Yes. Definitely. If you enjoyed the original Skyrim, this is worth picking up, especially if you have not had a chance to place the DLC, or experiment with modding before. However, I do think it is very telling of the state of video games as of late, and the industry as a whole. I do hope that soon we will get to see more new IPs have success, and a departure from these remasters and releases.
JAWBREAKER ALLUMNI – STAR FOX ZERO
I'm a hardcore Star Fox fan, now ask yourself how many gamers you know that are hardcore Star Fox fans, whether on this site or anywhere else. For the first time in ten years (Not counting Star Fox 64 3D) a new Star Fox game arrived so of course I was excited. But being a hardcore Star Fox fan I knew two things, that it wasn't going to sell much, and not many were going to play or enjoy it. 
Now don't get me wrong, I think this is the best Star Fox since Assault, it's everything I want in a Star Fox game, quick levels, Arwing action, cheesy dialogue, kickass dogfights, and plenty of replayability. It's Star Fox 64… Again. Now I think it's ok to go back to the roots of the series, after all it has been ten years since Star Fox Command, but seeing what happened with Star Fox Zero am I disappointed with how well it sold and how people reacted? Yes, very disappointed. Am I surprised by this? NOPE! It's a very hard and depressing pill to swallow, but it's the truth. And the truth is that the Star Fox series is in a genre that hasn't been popular since the arcades, it has never sold more than five million copies, it's very hard to target towards people who aren't hardcore Star Fox fans, it relies on gimmicks for most of the games to sell well, and gamers and critics absolutely crucify games like this, as we saw earlier this year. I could go on, but this article perfectly explains my thoughts on the Star Fox series.
And yet, you ask yourself, Jawbreaker with all that's going against this franchise, why are you so dedicated to it? Why put yourself through all the crap that Star Fox Zero had to deal with? Why stick your neck out for a series who's best game was nineteen years ago? Why you say? Because there is no video game series I'm more dedicated to than this one, not even Mario and Sonic. I have every game that has been officially released, beaten Star Fox 64 till my hands have gone numb, considered making a fanfiction crossover with Star Fox (Don't ask about what the other series is), hell I even like Star Fox Adventures and Command to a point. And with Star Fox Zero, even though it's Star Fox 64 again, it is what Star Fox is and always has been to me; even with the motion controls (Maybe Nintendo should port the game to the Switch, hmm…). If you asked me whether I want Star fox to become a big franchise but lose what it made Star Fox, and keeping the series true to its roots but never getting out of that niche genre and market, I'd rather keep Star Fox the way it is no matter if it never reaches the likes of Mario, Zelda, Pokémon, or Kirby, than for it to make it big and lose its soul, and Star Fox Zero embodies why it's worth sticking my neck out for this series. Star Fox, let's rock and roll!
MADHERO – TOKYO MIRAGE SESSIONS
Boy remember when this games was announced as a crossover between Shin Megami Tensei and Fire Emblem? That sure was something. I don't think anyone could really expect it to turn out like this, but for what its worth, Tokyo Mirage Sessions was a nice unexpected treat, and something I felt defined the console it was on, and maybe possibly the year.
Its been no secret that the Wii U has been on its deathbed. There was constant asking and hunger to finding out what the NX was, and that hunger and anticipation didn't do the Wii U any favors, especially when the new Zelda was moved to the Switch as well and delayed to 2017. That left us with just the leftovers and late-bloomers like Pokken and Star Fox Zero. That's not a bad thing mind you. In fact, a lot of those leftovers turned out to still be pretty good, if not great and more cult-status affair. 
That's in my mind where TMS sits as well. It's a very fun old school style JPRG with the Japanese entertainment world as its backdrop, and while it all feels very very anime (so anime) and a lot like Atlus' Persona series, it's also very entertaining if you're into that sort of thing. And just…. Fun. I like fun, fun is good. No its not going to change the way I think about stuff, but not all games need to do that. It's a warm fuzzy blanket of a video game, and that kinda fits the cuddly console its on. Its hardly the type of game you find on the other consoles.
So in that sense, it represents the unique Wii U library (heck, it even does some stuff with the Gamepad) and how it all ended. While I'll be looking forward to the Switch just like most people, I'll also enjoy the point where the Wii U will be this generation's version of the Dreamcast, warts and all. TMS represents a very small speck of 2016 gaming, but it represents one all the same.
TENSHI13 – UNCHARTED 4
I wasn't a huge fan of the Uncharted games for quite a while; I usually just borrowed them at the recommendation of friends or watched the story unfold from a Let's Play video. When Uncharted 4 was first announced in 2014, I wasn't particularly interested in a sequel to a triple-A game series, even with Naughty Dog's recent success with The Last Of Us.
When I did get it at launch, I was really only expecting a fun little romp in a cheesy, adorable game with a snarky protagonist. For the most part, that's exactly what I got, but honed to such a degree that it really began to stand out. The set pieces were distractingly pretty, and the action sequences were just challenging enough to be rewarding while retaining the immersive feel of the game. The pièce de résistance was the small bits of dialogue between Nathan Drake and his cohorts, a little something Naughty Dog seemed to have brought over from their experience with The Last Of Us.
Uncharted 4 was a relatively lean game for the fourth in a series. There were no huge changes to gameplay; no levelling up, no perk points to spend or skills to unlock. Instead, this game took what was good about earlier games and made them great: Picturesque landscapes, a solid narrative, nearly seamless action, and dialogue that was not just throwaway one-liners, but also meaningful conversation between Nathan and his closest friends. The precise improvements upon both gameplay and narrative elements make this game stand out, even from previous Uncharted games.
That's what really makes Uncharted 4 such a wonderful, enjoyable game: the attention to detail is apparent in nearly every moment of gameplay from start to finish. It's an example of what a game can become when it's crafted with love. Uncharted 4 is my defining game of 2016 not because it was more innovative than any other game in the series, or even because it was my personal favorite, but rather because it was a perfection of the Uncharted formula and a shining example of games as an experience.