Okay, what have I said about hats on cats? Look at this crap: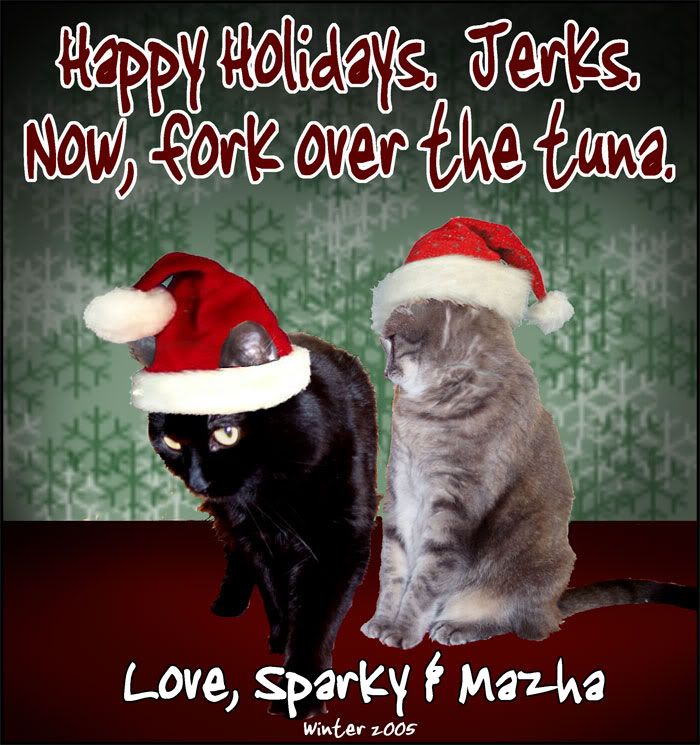 We animals don't celebrate your stupid winter holidays. If your god was looking out for us cats, he would have given us some g*dd*mn thumbs! When are you people going to wake up and realize that the ancient Egyptians were the only humans even close to getting it right?

I do get the whole idea of holiday gifts though. I usuallly get tuna and catnip, so you won't hear me complaining. And since the smelly lumbering oafs humans in this house celebrate Christmas AND Hannukah, this year will be a bumper crop of tuna... especially with both holidays falling on December 25. That's what I call "meow-tastic".

Seriously, though, I don't get the compulsion you people have for making animals part of your human celebration. I'd have to say that Ratty the XPlay puppet summed things up pretty well with his rendition of the Hannukah Prayer on their Holiday Special:

"Baruch atah adonai... b*tches."

Yeah, that's how we "lower" mammals feel about it. (Yeah, right, "lower", indeed. I'd like to see some of you dorks jump into a tree that is ten times higher than yourself. Can you? No, I thought not.)

Anyway, you still have some time to get over to PetSmart and order me some nice gifts.

I gotta go lay down some sacrificial Cat Chow and pray in front of my shrine to Bast. Send me some catnip, and maybe I'll put in a good word for you.

Jerks.