when the person you are in love with is your best friend.
I was just going through some old pictures tonight and came across this one. And since today was my bf's 21st Birthday, I thought I would include it in my little update on how things are going for me!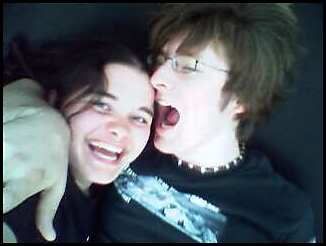 School is keeping me reeeaaaally busy as always, still hoping to run some of those errands that are still on my list one day...but, since this was my bf's 21st bday I took some time this weekend to do some stuff with him. He came up to visit for the weekend and Friday night we went to X-Men Origins: Wolverine, which I really liked, and on Sat. night we went to Star Trek in imax, which was awesome. While there I saw the Transformers ROF trailor, which I have seen before, but on imax=WIN! I was all excited b/c the theater said it would be played on imax when it comes out, but then realized that when it comes out I will be back home, where there is no imax-but I will get to see it with all my friends back home, so it's not a bad trade! I also finally got to beat RE5!!! We only had two levels left, so he brought it up with him and we beat it this morning! It was awesome and some parts were pretty challanging... XD Now I want to play mercenaries a whole bunch whenever I get a chance.
So all in all it was a weekend filled with nerdy fun and delicous cheesecake (I tried out a new recipe-actually two-I made a batch of regular cheesecake and split it into three and made one regular, one chocolate mint, and one banana caramel cheesecake- and the two new kinds turned out awesome!) and I now feel rejuvinated and a little less burned out. But now it is back to the hw...Hope everyone had a good day today, and to all the moms out there, I hope you had an amazing Mother's Day!