*Some parents may not find the content of this journal suitable for kids around the age where they still have squeaky voices and you can't tell if their a male or female.
___________________________________________________________________________________________________

I decided to check out and buy the Elfen Lied complete series box set today, aftering getting mixed up and buying Elfen Laid at first and having to return it and swap it out, in which I turned out to be highly impressed with the show, in which this journal is dedicated to and will most likely be removed by a kid that isn't suited for viewing (read warning above) and reports it to Burnie or someone to try and get an award.

Once a specific character was brought in I was able to quickly get into the anime for good and if you know your animes then you know why:


The pictures give the answer though their looks in the two aren't aren't as close as they are in most scenes of both animes. They also sound the same and act the same, both run aways that are taken in by a kind guy. They can also both cook good and so on.

I was also supprised and interested by how much porn was in it. Just the opening alone had more bare boobies than most hentai intros i've seen.
Though this is good in my opinion, it's "hard" to get one (said in two ways) once the scene continues and you see the naked girl tear apart some dude. It quickly went back down for me as I watched some other guy get his torn off by a naked hot girl or some 10 year old naked girl gets torn up by some guy:


(Does this turn you on?)

In all, I thought it was awesome though it lacked some detail in scenes and left me with some questions such as:
How far can a cat fight go?
Why didn't a naked, hot, girl show up on the beach when I went to the ocean?
Why didn't that happen and a girl could of been with me to say: "Hey, lets take her back to your place." like in the show?

Anyway, that's all I got to say and I leave you with one question:
What's the first thing that cums to your mind with this picture?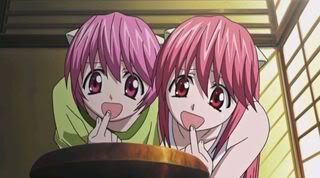 I'm going to grow up and show picture cards like these to people with problems for money.