We all are told by our government that the USMC are some of the best trained and equipped soldiers in the world.




There is no reason to doubt this statement as we see the vast amount of money that is spent on the marine corps in the U.S.A.
The current war in Iraq and Afghanistan cost about 5 billion US dollars a month, that money goes to buy
equipment such as state of the art tanks, jets, and guns. Also those advance equipment requires top notch training, so the U.S boost some of the most trained soldiers in the world.



A Billion dollar tank, wow that think and destroy nearly any other piece of armor out there. :P



The state of the art M16 rifle, it might have met huge complication during Vietnam, but that was over 30 years ago, and now the M16 is the benchmark for all other assault rifles used in modern combat.



Of course, if troops are on the ground there needs to be something up in the sky to shoot down all the baddies, and with this plane the baddies wont see what is coming.

This all looks great, the USMC and other US military division are the most technologically advance soldiers in the world, but does that mean they are the best? Sadly the answer is no, far from it, but then what country has the best soldiers?

Once might think it would be Britain, France, Israel, or even the former USSR, but those are no where close to the capabilities of the worlds true best soldiers.

Who are these ultimate fighters, well first they are invisible, and they are all under 18 years of age.




While these soldiers aren't actually invisible they have the next best thing, being on average under five feet tall. So when a full grown soldier faces one, they child will just be too short to get a good shot off, allowing the child to quickly kill the enemy.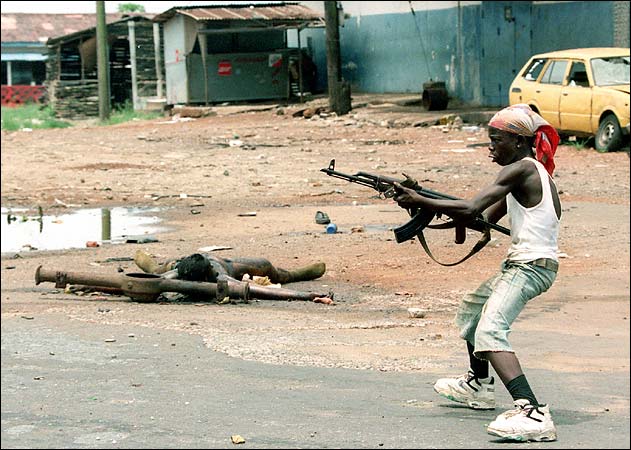 Look how the adult stood no chance against the shorter child.

Another advantage that these soldiers have over the Marines is that they are cheap as hell. A Marine requires a paycheck, pension, food, and other costly expenses, all you need for a child soldier is an AK-47, a hat, and maybe a shirt with mickymouse on it.



Kids do love the mouse

The child soldier is also harder to kill in combat because any sane person would never shot a child with out thinking about the action, and while this normal soldier is thinking the child can pump several rounds from his or her AK-47 into the soldiers chest.

Finally, remember by supporting child soldiers you are also getting kids off the street. Where they will participate in crime, and do drugs.



Look at all the waste of ambition and future possibilities.



This kids is clearly better off then those pictured above, he has clean clothing, a place to call home, good food and water, and also he is not participating in petty crime or doing drugs.

Child Soldiers are the best thing to happen to Africa sense the introduction of AIDS :D