We're entering the second weekend of release for the ambitious, beautifully shot and utterly fascinating character study that is Bad Times At The El Royale.
The movie, centered quite literally at a hotel that straddles the California/Nevada border, is a deeply immersive film chock full of some of the most interesting actors working today, from known names like Jeff Bridges, Dakota Johnson, Jon Hamm, and Chris Hemsworth to names you will know very soon, like Lewis Pullman and Cynthia Erivo. This is the kind of movie that grows on you and grows on you and grows on you until you suddenly realize you're watching it for the dozenth time.
You can probably tell I like this movie quite a bit. It feel tailor made for me, with the period aesthetic and early Motown soundtrack, this one is right up my alley.
I was lucky enough to get to chat a bit with writer/director Drew Goddard about the film, his directorial follow-up to cult favorite Cabin in the Woods. We talk a bit about the origins of the project, how we're both convinced Lewis Pullman walks out of this one a superstar and even a little bit about how the Fox/Disney merger could have an effect on his proposed X-Force movie. 
Enjoy!
Drew Goddard: Eric! How are you, my friend? How's life?
Eric Vespe: It's good. It's been a while since we talked!
Drew Goddard: How's the new job treating you?

Eric Vespe: It's good, man. Rooster Teeth has been treating me well. It's definitely a different kind of job than the Ain't It Cool days, but I'm pretty much doing the same thing... just bullshitting about movies with people.
Drew Goddard: Good. I hope it's satisfying and fulfilling for you.
Eric Vespe: Very much so.
Drew Goddard: Did I also see that you were playing Fallout 76?
Eric Vespe: I did! I got to play about 3 hours of it.
Drew Goddard: I know our time is limited, but can we just talk about that for 15 minutes? (laughs)
Eric Vespe: What do you want to know? We can do a quick rapid-fire!
Drew Goddard: No, no. I actually like to not know things going in, but I'm very jealous of you.
Eric Vespe: I get that, man. I'm a dyed-in-the-wool Fallout fan, so I was very excited to play a little bit of the new one. Fallout 3 was a seminal game for me. It was the first time a video game gave me the feeling of watching a great movie.
Drew Goddard: Interesting. Have you played Witcher, by chance?
Eric Vespe: I've only played Witcher 3.
Drew Goddard: That's the one I meant. That's another one. I was just blown away by the cinematic writing of it. I was like "Wow, I can not believe what they're doing with it." I felt the same way about Fallout. They're making some real leaps in storytelling.
Eric Vespe: I remember Roger Ebert, before he passed, voiced some strong opinions on how video games can't be art, like movies are, and I think time has proven him wrong on that one.
Drew Goddard: Yep. When video games do it there's a level of immersion that happens. It's different from the cinematic experience, but it can be incredibly effective.
Eric Vespe: Alright, now that I know you're a Fallout fan you gotta promise me you'll go make a kickass Fallout series some day. 
Drew Goddard: Okay, I'm on the case!
Eric Vespe: When you guys get the rights and need any pointers I'm always around. I know my shit!
Drew Goddard: (Laughs) You got it!
Eric Vespe: Congratulations on the movie. I loved it. It was great watching it at Fantastic Fest specifically. It was such a good fit for the bizarre and awesome energy that encompasses that festival.
Drew Goddard: I was so sad I couldn't be there. I had to be in Spain. I mean, I was in Spain, so I shouldn't feel too sad, but Fantastic Fest is where I'm the most comfortable. That's where I feel like I'm the most in my own skin.
Eric Vespe: You've had a bunch of projects on your plate since Cabin in the Woods. You've done a lot of writing for other directors and adapting other people's material, but what made this the right time for you to get back behind the camera with your own original project?
Drew Goddard: I think it was a confluence of a few things. I've always wanted to do a crime movie. I've loved crime fiction my whole life. I love crime cinema. I think I was aware that I needed to achieve a certain level of maturity to deal with it. The danger with crime cinema or any crime story is you can very quickly fetishize it and become the very darkness that crime cinema is meant to explore, if that makes sense.
I wanted to have that maturity to deal with it. I reached a point in my life where I was ready to tackle the bigger issues the film tackles. Similarly, I tend to not like to repeat myself, do the same movie. I think I was coming off of (writing) The Martian, which is in many ways the opposite of this movie. It takes place in many locations across the galaxy, it's science-fiction and bright and shiny and I kind of wanted to go in the opposite direction.
Eric Vespe: Well, poop potatoes do figure strongly into both films.
Drew Goddard: That's right. Look, I'm still me! (Laughs) I still have to put my little spin on it. I think it was kind of a mixture of all of those things, quite honestly. It just felt like the time was right.
Eric Vespe: Bad Times is a refreshing movie. It's nice to see this period, character-driven A-list style movie where every character is a shade of gray. Nobody is exactly as they seem at first blush, even the charismatic cult leader that Chris Hemsworth plays. You see the facade crack a little bit.
Drew Goddard: That was very much the goal: Take these 7 people and start from a place where you think you get who these characters. The audience can say "I already know the shorthand of who this character is" and then reveal that they're more three-dimensional people with a lot more to them, including Billy Lee (Chris Hemsworth). That was our approach with all of this.
Eric Vespe: Is it a coincidence that the Jeff Bridges character is named Flynn or are you a big Tron fan?
Drew Goddard: It wasn't intentional, but I'm very much aware of it. One of the things that happens when you cast Jeff Bridges is he's got, what? At this point 40 year career in film? Something like that. I was doing movies with Jane Greer when he was a baby. It's very hard not to reference a Jeff Bridges movie in one way or another. We had a laugh about it, thought about changing the name, but we just liked the name. We thought "You know what? If it intersects with Tron, that's not the worst thing in the world."
Eric Vespe: You also get the benefit of the movie-savvy people bringing in the baggage from associating that name. In Tron Flynn is a big personality, but he's a wholly good and pure character. Maybe the name can set up an expectation and give you room to surprise people here. I did have a thought during the movie that might have been intentional on your part.
Drew Goddard: It really wasn't. To be honest I needed a good Irish-Catholic name. I wanted a whiskey priest character. I wrote it before I even thought of Jeff and we decided to keep it because I liked it.
Eric Vespe: The whole cast of the movie is phenomenal. Everybody shows up to play here, but the two stand-outs to me were Cynthia Erivo and Lewis Pullman.
Drew Goddard: Oh, wow. Thanks!
Eric Vespe: Perhaps there's an expectation of greatness from the bigger names you have in the movie and the newer people stand a better chance at surprising the audience, but Lewis in particular wowed me. His character is the one that stuck with me after seeing the movie.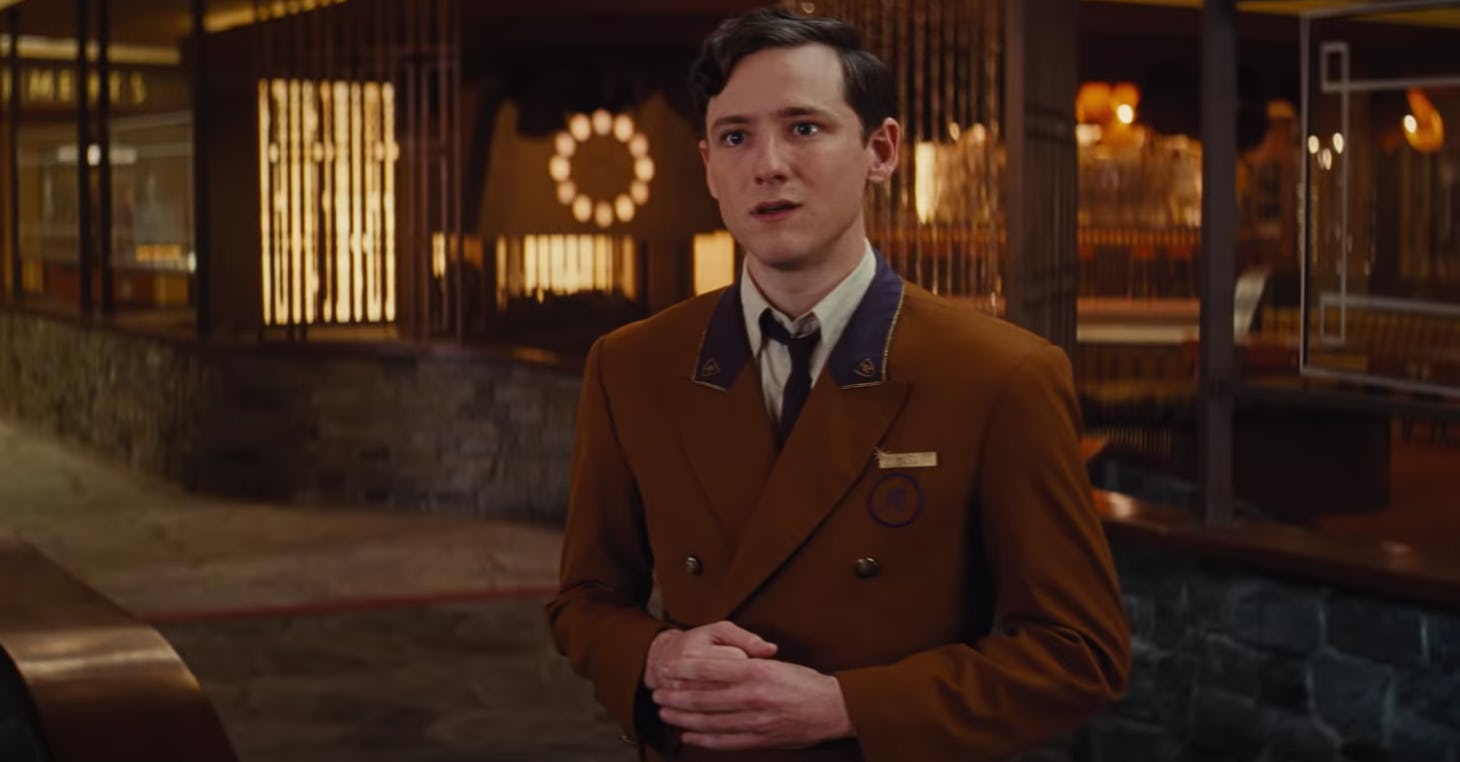 Drew Goddard: That's very gratifying to hear. That was certainly my intent, to have this character who is hiding in the background... you sort of dismiss him very quickly. You get what he's about early, and dismiss him. I knew that at their core, both Lewis and Cynthia's characters get dismissed early and then become the soul and spine of the film.

It's really fun, quite honestly... Even at the premiere I was standing with Lewis and I told him, "You know, your life is about to change. All of these people are walking into this theater not knowing who you are, but every single one of them is going to know you when they walk out."
Even on the red carpet people were obviously clamoring to take pictures with Jeff Bridges and Jon Hamm and Lewis and I were standing off to the side. When we walked out of the theater Lewis could not take two steps because he was so mobbed. It was one of those remarkable moments that I was so happy to be around. Lewis is such an extraordinary person and talent and I'm excited for the world to fall in love with Lewis the way I have.
Eric Vespe: Before I let you go I wanted to ask you about some of the other projects you've been attached to, specifically X-Force. The big question on my mind is what's going on with that considering the Fox/Disney merger is going forward.
Drew Goddard: The truth is I don't have anything exciting to update. I tend to focus very intensely on one project at a time and I've been very much in this world. Ryan (Reynolds) has simultaneously shooting another movie and then we do have the Fox/Disney stuff. I'm not going to sit here and pretend I have any insight into that at all.
Eric Vespe: I've talked to people at both studios and very few feel like they have a handle on what to expect when it goes forward.
Drew Goddard: These issues are so far above our pay grade! When you're dealing with billion dollar mergers that stuff does not trickle down to people like me. I think what's going to happen is we'll finish up Bad Times, Ryan will finish up his movie and when the Fox/Disney stuff is settled we'll all sit down and talk. Certainly X-Force is a comic I've always loved. These are characters I love, I love working with Ryan in a team with Josh (Brolin) and Zazie (Beetz). If there's a place for it I'd be very excited. We'll figure it out in the back half of this year.
Eric Vespe: That's good to hear. I just love your work, man. I'd love to see what you'd do with a superhero group film like X-Force. You bring a cinematic eye to everything you do, going back to Cabin in the Woods, which was made when found footage was still the go-to style. Now The Conjurings have brought genre back to a more measured, higher production value style, but I do remember being impressed that you went that route back then.
Drew Goddard: The thing that I love about (the Conjuring) movies is they're so artfully done. They're not afraid to let the camera sit in one place. At the time of Cabin it was very much either found footage or highly shaky/fast-cut approaches, which is fine. There's no right or wrong way to make a movie, but we were certainly trying to do something different. Similarly with Bad Times there's only one handheld shot in the whole movie.
Eric Vespe: That might be a good place to end the interview, talking about how achieved the look of Bad Times. It's a rich, vibrant world that isn't afraid to be a bit pulpy and even though it's a period movie you don't go out of your way to put the "period movie look" filter on.
Drew Goddard: I kind of wanted it to be its own thing. In this particular case the movie has its own quality. I was very inspired by David Lynch and films like Vertigo... films that have a very clear color palette or color theory. It helps define the movie. In the case of this movie we took our color seriously and our visual approach seriously. Nothing is arbitrary in this movie, for better or for worse. We wanted to have a thought and an emotion behind every decision.
Eric Vespe: Well, it certainly comes across. It certainly doesn't feel like a movie slapped together without any thought, but it's also entertaining. It's always good when you can get that combination of entertaining and thoughtful.
Drew Goddard: That's the hope. It's always tricky to find that balance, but that was definitely the hope, so it's very gratifying to hear you say that, Eric. It means a lot.
Eric Vespe: Cool, man. Thanks for taking the time to talk with me. Good luck with the movie!
Drew Goddard: Thanks, Eric. Good luck at Rooster Teeth. I'm sure we'll talk again.