MADHERO: Besides our clown adventures, we're finally past the end of  August/beginning of September lull to officially go into ""The end of summer means that we're now getting some diverse films gunning for awards. Want some old man action? We got it. Space adventures? Yep. Strippers? Yep, even got that, no overly expensive strip club needed. Good times.
STICKMAN: We're in the between clowns episode of At the Screwvies. AKA the worst one.
LARRY: Yeesh
MADHERO: Yep. We can still go and talk about that other wacky clown's antics over in Europe and Canada though.
LARRY: Yay wacky antics!!
STICKMAN: If we musssssst.
NEWS
It feels weird to say the Joker movie is now only a couple weeks away. Seriously, we're gonna discuss it next episode as a release. Its out that soon. So why are we talking about it now? Well, because the Clown Prince of Crime has been hitting the festival circuit like a real big kino. It made its debut at the Venice Film Festival, where its first reviews came out to a lot of praise for its edge and intensity, AND particularly for Joaquin Phoenix's performance, putting him squarely into the Oscar race for Best Actor. At the end of the festival, it went on to win the prestigious Golden Lion, the highest regarded trophy at the festival, with previous winners including the likes of Shape of Water and Roma. So yeah, expect Joker to be gunning for that Best Picture nom.
Then again, we may need to pull the brakes just a tad, cause Joker also premiered at the Toronto International Film Festival, where its reaction was a lot more divisive and the top prize went to Taika Waititi's Jojo Rabbit. While the praise remains for Phoenix, there were some critics who felt the movie didn't really have much to say, felt mostly mean-spirited and borrows perhaps too liberally from Martin Scorsese's previous works (particularly King of Comedy). We all still need to see the movie, so we'll find out soon where we stand. It winning such a prestigious prize is of course a big moment for comic book cinema. And hey, if it doesn't work out, its already got a 9,6 on IMDB, and we all know that's the only score that matters.
STICKMAN: Joker's Award.
LARRY: Joaquin Pheonix was GOOD? In a MOVIE? Shocker.

MADHERO: Who'd had thunk, right? He's honestly the main reason I'm interested in this film. The takes that came from this movie have been wild.
STICKMAN: I'm interested in the movie cuz it looks goooooood. Like, fuck the losers who think it's a Bible
MADHERO: Its definitely crazy that it went on to win the main award at Venice. Hasn't done much at Toronto, but we'll see how the awards race goes once we know all the contenders. Jojo Rabbit winning is a tad surprising considering the response from critics was mixed
STICKMAN: Jojo Rabbit seems to be a film you either love or hate, and I guess when you're making a wacky feel good comedy about Nazis, that's...to be expected I guess.
LARRY: Jojo Rabbit seems to be doing better with audiences than with critics, which is to be expected. But I think it looks like a lot of fun, and the cast is stellar, so I'm gonna see it, critics be damned.
STICKMAN: Awards season is looking SPICY.
MADHERO: It is. No clear frontrunner just yet, but more should probably appear soon. And who knows, maybe Joker's trickery can lead to Phoenix getting a Best Actor nod
LARRY: It looks like it's gonna rattle me to my bones lol
STICKMAN: How can you not enjoy the sinister SEND INNNN...THE CLooOoOoooOOOOWWWNNNs in the trailer. Funny stuff.
MADHERO: More Joker takes next episode. Hoo boy.
A few episodes back we talked about Amy Jump, writer of such films as Kill List, Free Fire and High Rise being hired to write the screenplay for a sequel to 2018's Tomb Raider reboot. At that time I speculated that Ben Wheatley, her husband and frequent collaborator, was maybe being eyed for the director role. Well...today we now know this to be true, and Ben Wheatley is indeed helming the sequel, which as far as I'm aware would be his first mainstream film. He's dabbled in Doctor Who once or twice, but when it comes to cinema, his films usually wallow exclusively in adult themes...so...it's an odd choice, but also an exciting one.
Whilst 2018's Tomb Raider was fine, it certainly lacked a lot of oomph, its best moments having been cherry picked and/or diluted from its 2013 rebooted source material. Amy Jump and Ben Wheatley aren't exactly known for playing it safe, so hopefully if they've been hired, it's because the producers (Now sans Warner Bros) want to shake things up a little. It's unknown whether or not the sequel will adapt the game reboot's own sequel, or if they will take things in a new direction, but we know that Alicia Vikander is back in the lead, and the release date has been penciled in for March 19th 2021, so we should start hearing about what form this sequel will take in the months ahead. I'm pretty keen to see how this plays out.
MADHERO: Wheatley's finally going mainstream. Its about time.
LARRY: What an insane jump in interest from me. It's shit like this that helps salvage dampened franchise hype after bleh first movies.

STICKMAN: Can't wait for Tomb Raider 2 to be some fucked up dark comedy horror.
MADHERO: This is like David Fincher potentially directing World War Z 2. Maybe not as big a leap, but up there. Kinda surprised Free Fire wasn't a bigger hit honestly.
STICKMAN: Free Fire was one of his weaker films so maybe that's why. Was still fun though.
LARRY: If Tomb Raider lacked something, it was originality, and Wheatley can provide that in spades.
STICKMAN: Frankly, I'm there just because it's Tomb Raider...but yeah, this is a really promising sign.
MADHERO: I wonder if they're going more into what Rise and Shadow did or are going into their own direction. My guess is probably the latter.
STICKMAN: I feel they need to go in a different direction, the follow up games are too large and supernatural in scope to work in the film reboot's world. Just don't adapt Angel of Darkness and we good.
LARRY: Agreed, let 'em write their own TR story. There's no shortage of options.
MADHERO: Just spend the whole movie unable to push a large box.
STICKMAN: WHEN WILL THEY LOCK THE BUTLER IN THE FRIDGE.
SONY RELEASES FIRST TRAILER FOR BAD BOYS FOR LIFE
Sometimes these Franchise Age trailers can really sneak up on ya, huh? Yeah, after a little over 15 years of speculation and development and what have you, it looks like Bad Boys 3, now titled "Bad Boys For Life" actually moved forward at some point, with a trailer dropping this past week for what is (hopefully) the final installment in the franchise. For those unaware, the Bad Boys series stars Will Smith and Martin Lawrence as narcotics detectives in the Miami Police Department.
The first two films were directed by everyone's favorite explosion-happy fuckboi Michael Bay, but he has been replaced by Belgian duo Adil El Arbi and Bilall Fallah, with this being their first major American credit. "Bad Boys For Life" has Smith and Lawrence's characters ready to retire, but they decide to do one last mission when a Romanian mob boss exacts revenge on them...assumingly from something that happened in the second film? I dunno. All I know is that this film looks to follow in line with the previous two; explosive action, witty banter from our leads, lots of guns, you know how these things go. Oh, and Vanessa Hudgens. She sure is....here. Whatever, we all know this is gonna be mindless fun that will hopefully end an otherwise (peacefully) dead franchise. Sorry Martin Lawrence, at least Will Smith has a YouTube channel now....
MADHERO: Big fan of the trailer going badboys everytime it transitions
LARRY: What ARE we going to do?
STICKMAN: Not watch this film probably. Lawrence sure ain't got that action star bod no more.
MADHERO: Got too meta into his Big Momma's House role. But to be fair, I think its kinda the point he isn't in action hero shape.
LARRY: They definitely had to work around it lol. But like, the guy probably didn't expect to be in another fucking Bad Boys movie
MADHERO: The original Bad Boys will be 25 years old when this films comes out. They've talked about a Bad Boys 3 for so long that I'm surprised it actually exists
LARRY: Me too, honestly.
STICKMAN: Both of these films are trash, just so we clear. Like they got some good action scenes but they trash. Anything Michael Bay touches is trash.
LARRY: Oh yeah. They're mindless garbage.
MADHERO: I'm curious about El Arbi and Fallah making their Hollywood debut. They did well with their Belgian films and were also in talks to do a new Beverly Hills Cop. Guess they're gonna be the guys to revive everything old. Speaking of....

At some point in time during the late aughts and early 10's, we'd get a bombardment of remakes of classic movies from the 80s and 90s because Hollywood is anything if consistent in its recapturing of what was once original. Usually these remakes didn't really do anything in capturing the essence of the original or what made it interesting to begin with. Total Recall,  Robocop, Point Break, the redos of Friday the 13th and Nightmare on Elm Street. While we don't really see as much of these stories as we used to, cause a lot of them failed, it hasn't stopped them happening. Next on the chopping block: John Woo's Face/Off, with Fast and Furious producer Neal Moritz (who coincidentally, also produced the Total Recall remake) making it over at Paramount.
If you've never seen Face/Off, it follows John Travolta's FBI agent who literally swaps faces with Nicolas Cage's terrorist face to infiltrate a high security prison, only for Cage to take Travolta's face and taking over and ruining his life. The movie is spectacularly bananapants, both thanks to Woo's typical over the top filmmaking, as well as one of Cage's most absolute insane performances. So then what can a remake of it really add?  Honestly, I just see it turn into another Total Recall esque film, so with most of the original's personality sucked out and making way for something much blander. Its still in the writing phase, so maybe I'll turn around when casting happens and we find out who's faces are getting switched, but I have my doubts.
STICKMAN: OHHHH NOOOOOOOOOOOOOOOO
MADHERO: The faces have come off. Again
LARRY: They are gonna rip ALL of the personality out of this one like a beating heart out of a chest. And it's gonna be disappointing as shit, too.
STICKMAN: To be fair the argument could be made that Nicolas Cage brought TOO much personality to the original.
LARRY: I'm sorry, you're speaking gibberish to me. There is no such thing as too much Cage, dear boy.
MADHERO: They're probably going to do deepfake stuff instead of actually physically replacing faces
LARRY: Yooooooo wait WAIT. THAT'S A GREAT IDEA
STICKMAN: Oh no, Larry is into it now. PUT HIM AGAINST THE WALL.
LARRY: Okay but highkey if they rebooted the film to be about deepfakes and shit, I'd be all OVER that.
MADHERO: Larry no. Using the new hotness isn't gonna make this idea anymore of a bad idea.
LARRY: Yeah, you're probably right. Still though, if they were gonna do it, that would be a brilliant angle.
MADHERO: So who's faces are gonna be swapped? I want them to go for completely different actors, like, I dunno, The Rock and Tilda Swinton
LARRY: That sounds incredible.
STICKMAN: Nicolas Cage and Cheddar Goblin.
MADHERO: Yes please.
Welp, this is unfortunate. "Crazy Rich Asians" co-writer Adele Lim has backed out of co-writing two sequels to the surprise smash-hit romcom over a pay dispute. Despite the first film grossing over $200 million globally, reports state that co-writer Peter Chiarelli ("The Proposal," "Now You See Me 2") would be paid up to $1 million to write the sequels, while Lim was offered ten times less with 110,000. WB claims this is based on industry standard and experience, but Lim is a veteran TV writer, and Chiarelli written two mildly successful movies. Lim clearly brought a lot of important cultural awareness and understanding to the project, which is largely what made it so resonant and successful, so to see her being short-changed is nothing short of staggering. She says it herself in THR's story: "If I couldn't get pay equity for CRA, I can't imagine what it would be like for anyone else." Despite Chiarelli offering to split his fee, and Jon Chu (the film's director) trying to negotiate, she has declined all offers.
Now, thankfully, Lim has signed a contract with Disney Animation to write Raya and the Last Dragon. But this situation once again spotlights the important conversation the industry must have in pay disparity between men and women, particularly those of color. Chu came out in support of Lim, saying that the conversation this brings up is more important than two sequels, and he's right. Hopefully, studios will look at this situation and recognize that not only does the pay gap rightfully exist, but that it can ultimately come at the cost of making true, impactful narratives for women and people of color.
MADHERO: Well this could've been very easily avoided.
STICKMAN: Big oof. Not a good look in 20 of 19

LARRY: HUGE oof. Just fucking pay her.
MADHERO: I can somewhat understand paying the veteran more, but with such a big pay gap between the white man and Asian woman for a movie called Crazy Rich Asians is not a great look    
STICKMAN: The irony is deafening. Does kinda show how Hollywood is big into making money from diversity but not practicing it themselves.
LARRY: Good luck getting him to write a better one on his own. Just Warner Bros. being fucking idiotic.

MADHERO: It just poisons the well and kills interest right from the off by creating an easily avoidable controversy that will likely cost you more money than paying Lim equally would've provided.
STICKMAN: After a gig like CRA, I'd imagine she's quite sought after.
LARRY: She's writing a friggen Disney movie. She has been sought. If Warner Bros. were smart, they would be scrambling to find an up and coming young Asian writer to help write their sequels.
MADHERO: We'll find out how this fuckup is gonna be fixed.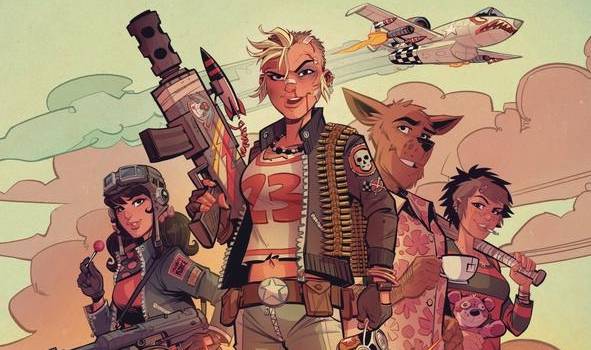 Although for many, Tank Girl is just a film with a notoriously turbulent, studio interfering production and ultimately poor (But cult favourite) end result, it actually has its origins as a far better received, British comic series with art by Jamie Hewlett, who would go on to work as the designer of the digital band Gorillaz. Whilst you'd be forgiven for thinking that any further attempt to adapt this material into a movie would be unlikely, it turns out that a fresh take on the series is in the early stages of development at Margot Robbie's production company 'Luckychap Entertainment'.

Robbie herself plans to star in the lead role, an anarchic, violent, wise-cracking bounty hunter who I'm sure immediately draws comparisons to her work as Harley Quinn., with indie director 'Miles Joris-Peyrafitte' (Dreamland) signed on to direct. Honestly, one has to question how adaptable Tank Girl is, as a live action work at the least. The comic series is so heavily stylised and hyperactive, with its kangaroo love interest and oversized weapon'd hyperviolence, it'd lend itself far better to an animated feature or series that followed the style layed out by Hewlett all those years ago. But live action seems to be the way, again, so that's gonna be a thing I guess.
MADHERO: Kangaroo people here we come!
STICKMAN: Hot young kangaroo men in your area.
LARRY: ...um, I'm sorry. KANGAROO love interest?
STICKMAN: The world is for the furries now Larry, get used to it
MADHERO: Going from Harley Quinn to something like Tank Girl feels like a pretty natural transition since Tank Girl is basically a Harley Quinn type character (although she predates Quinn) in a Mad Max type world. Though its not confirmed yet if she's gonna star in it, though her producing it makes it rather likely.
LARRY: Considering the same went down for I, Tonya, I'm sure of it.
MADHERO: Also Terminal but no one remembers that film. I can't say that I'm that familiar with Tank Girl. I know of the movie which wasn't very good and that the artist went on to work on Gorillaz, and that's basically where it ends
LARRY: Me neither, I know of the movie but I hear it's trash.
STICKMAN: Imagine if Gorillaz did the soundtrack to the new Tank Girl. Sploosh.
MADHERO: O man. Daft Punk would have some competition then.
LARRY: That would be fuckin rad
STICKMAN: Make it happen, Margot.
---------
MADHERO: That about does it for the news, but now its time for an good ol' fashioned review. Not of the new Rambo or the Brad Pitt space movie cause those ain't out yet, but of the crime drama stripper movie Hustlers. How progressive we are. The movie has picked up quite a bit of buzz the past couple of weeks, and also proven to be a hit for STX, so a lot of good vibes surrounding this film. Do Larry and Stick join those vibes? Who knows? I mean, they do so I'll ask them
STICKMAN: I meaaan, what if I don't want to shaaare.
LARRY: I'm fine going solo!
MADHERO: That's ok. We'll just let Larry go first then. So Larry, what did you make of Hustlers? Did it bring in the dollah bills?
REVIEW
HUSTLERS
DIRECTOR: Lorene Scafaria (Seeking a Friend for the End of the World, The Meddler)
STARRING: Constance Wu, Jennifer Lopez, Julia Stiles, Keke Palmer, Lili Reinhart, Lizzo, Cardi B
SYNOPSIS: a group of strippers in New York City (Lopez, Palmer, Reinhart), led by an ambitious single mother (Wu), as they lie, steal, and hustle dozens of wealthy men when the sex industry bottoms out during the late-2000s financial crisis.
LARRY: I enjoyed Hustlers, yeah. I don't think it's in the Oscars conversation per se, but I think it gives voice to a perspective we don't normally see in cinemas, and it's got a very strong cast with solid direction at the helm. I will agree that it's nice to see a female director not be crazy indulgent in the female characters' sexuality, rather highlighting their abilities and confidence in the stripping scenes. Apparently J-Lo genuinely trained to pole dance and it shows. Otherwise, the film is shot and colored well, and it has a number of surprisingly impressive long takes and camerawork. That being said, the film is bogged down by some serious pacing issues. The film is easily 20-30 min too long, and tries to balance a narrative framing device inspired by the article the film ITSELF is inspired by, and yeah, it feels incredibly repetitive at times, and sorta loses its charms by the third act. But it was still a fun time at the movies, with lots of fun humor and strong performances (personally, if anyone should be in conversation, it's Constance Wu, not J-Lo), so I'd definitely recommend it.

STICKMAN: I found myself less enthusiastic, it's fine...it's an okay movie, but I feel it still goes quite deeply into the whole T&A showcase in its opening act, something that would've been described as gratuitous by a male director. I don't feel it necessarily balances the hard work angle to the 'here's some ass bouncing' part...but it's fun I guess. I felt it was pretty generic from a narrative perspective, whatever apparently true story is buried deep within here must be heavily diluted into the formula of a standard rags to riches to rags crime saga. But mostly, I agree with Larry on the pacing/structure/length issues, but find myself less enthusiastic in general about the film. J'Lo is fine, but everyone is fine, and I don't see anything about the film getting much attention come Oscars season. Forgettable entertainment with a lot of glitzy, gaudy music and colours.
MADHERO: Hmm. Both not as excited as the reviews, but mostly falling on the positive. Being the chauvenist that I am, I have to ask: are the stripteases and pole dancing any good?

STICKMAN: The stripteases aren't shown quite as much as the pole dancing. J'lo really goes at it on that thing. If there was an Oscar for swinging on a pole, she'd win it.
LARRY: Not since Showgirls have seen such excellence in this category.
MADHERO: What an honor to be compared to Showgirls. A lot of attention has been given to Wu and Lopez, but are there any other people that stand out. Obviously Cardi B and Lizzo are in it but I doubt for very long. Do they make the most of their time?

LARRY: They really are barely in it. Personally, Keke Palmer and Lili Reinhart provided solid supporting roles. Everyone else didn't do much for me. Constance Wu's grandmother was adorable, though.
STICKMAN: Oh yes! She was great. No bouncing ass shots for her I'm afraid. The side cast are very much supporting the two main roles.
MADHERO: I've mostly seen a lot of comparisons to Goodfellas but with the female gaze. Does having a female director add anything or is it noticable in how the women are framed?
STICKMAN: I thought it was still pretty male gazey in the opening act, intentional or not. It does feel very Scorsese light in parts, with similar length related issueessss I feel.
LARRY: See I felt like this wasn't male gaze-y. The stripping scenes are less about flaunting sexuality and more about showcasing ability and confidence. It's definitely Goodfellas: it's got a solid cast and director but it's too long and poorly paced. Bah dah bum bah dah bum, good night everybody!
MADHERO: Damn. Scorsese got fucking roasted. Time for the wrap-up. Despite some reservations, do you guys recommend Hustlers?
STICKMAN: Eh, I guess. If killer clowns aren't your thing. Less clowns, more diverse representation in acting/directing.

LARRY: I do, personally. I think it's important to support diversity in this case. I don't think it's bad, I think some audiences will really enjoy it
--------
MADHERO: Alright, not the most exciting of recommendations, but an recommendation all the same from both. Now how about we move on to something MANLY! Like SPACE! and EMOTIONALLY STUNTED RICH WHITE BOY! And I guess Rambo can be considered manly as well. Only slightly though
STICKMAN: WOOOAAAAAHH
LARRY: I guess woo'ing strippers ain't manly.
STICKMAN: Just pay the ladies, Larry.
MADHERO: Not when the strippers are the one we're supposed to root for. Anyway, lets talk some movies
MOVIES
RAMBO: LAST BLOOD
DIRECTOR: Adrian Grunberg (Get the Gringo)
STARRING: Sylvester Stallone, Paz Vega, Sergio Peris-Mencheta, Adrianna Barraza, Yvette Monreal
SYNOPSIS: Rambo (Stallone) must confront his past and unearth his ruthless combat skills to exact revenge in a final mission.
STICKMAN: Johnathon Ramboson back to stab people some more.
MADHERO: He's gonna ride and kill some Mexicans till he can't no more. BTW, go check out Sly Stallone's Twitter thread recapping the previous 4 Rambo movies. It sure is something
STICKMAN: It sure don't recap them well but it...it's something. Hard to have much hopes for this except maybe some mindless violence. The last one had an insane bodycount.
LARRY: I really don't have much interest in these films. Rambo is fine, the sequel is fine, the rest are....meh.
MADHERO: Some fun kills is probably the most you can expect from a Rambo movie these days. At least now he ain't helping the Taliban, but that was pretty close to being ok again. HO HO, that's some political commentary for ya.
STICKMAN: The first Rambo I found super boring, but I think that's because I came to it retrospectively of knowing Rambo as an action franchise. The first...really ain't.
MADHERO: Well now you get to see him kill a lot of non-white people one last time. Unless it makes money. Then we'll see him go kill again in another decade
STICKMAN: Someone stop Rambo before he kills again.
LARRY: Too late. RAMBOS 6 - 20 CONFIRMED
MADHERO: Can't wait to cover those in the future.
AD ASTRA
DIRECTOR: James Gray (The Immigrant, The Lost City of Z)
STARRING: Brad Pitt, Tommy Lee Jones, Ruth Negga, Liv Tyler, Donald Sutherland, Jamie Kennedy, Natasha Lyonne
SYNOPSIS: Astronaut Roy McBride (Pitt) travels to the outer edges of the solar system to find his missing father (Jones) and unravel a mystery that threatens the survival of humans on Earth.
LARRY: Alright, NOW we're talkin'
MADHERO: Time to go find my space dad
STICKMAN: Heeeeyyyy, space dad moon wars.
MADHERO: I don't know why I remember thinking this movie had troubled development but I was kinda meh on this film for the longest time despite the whole thing seeming extremely my shit. And now reviews are saying its great and now I'm all aboard.
STICKMAN: The reviews are a lot better than I expected, this film's release got pushed back a bunch cuz of the whole Disney/FOX situation, but I'm glad the end result is something worth watching. I'm ALWAYS down for well reviewed sci-fi action, unless it's...Star Wars.
LARRY: Fuckin Brad Pitt, hot off of Once Upon a Time, ready to give us a good ol' sci-fi adventure daddy issues flick? AND TOMMY LEE JONES? What could be better? I'll wait.
MADHERO: Tommy Lee Jones just made space a whole lot grumpier
STICKMAN: In space, nobody can hear you sulk.
MADHERO: He just couldn't sanction Brad Pitt's buffoonery and had to go. So yeah, looking forward to this. I think we all are so gonna be a race who can make it their MOTW first.

STICKMAN: What if Rambo turns out to be a masterpiece though. WHAT IF.
DOWNTON ABBEY
DIRECTOR: Michael Engler (The Chaperone)
STARRING: Hugh Bonneville, Laura Carmichael, Jim Carter, Raquel Cassidy, Maggie Smith, Imelda Staunton, Geraldine James, Simon Jones, Matthew Goode
SYNOPSIS: In 1927, King George V and Queen Mary (Jones, James) visit Downton Abbey, causing a stir among the Crawleys and servants alike.
STICKMAN: Oh look, my sleeping pills are here.
MADHERO: I've not seen a single episode of Downton Abbey and I don't think I'm gonna start now to prep for the movie. I'll stick with El Camino.
STICKMAN: This is Breaking Bad for those who find sudden nose bleeds shocking and violent.
LARRY: Okay, as someone who has parents who really love Downton, I get it. Like, it's a big deal. But yeah, I'll stick with Ad Astra
STICKMAN: When I saw the trailer in cinemas I struggled to say awake through it, but the old people in front of me were THRILLED.
MADHERO: I feel like Downton Abbey is a much bigger deal in America than it is even in England. Its got a lot of fans.
STICKMAN: It's big in England but I think Americans get a kick out of this fake sense of how British people are/behave. So...yeah.
MADHERO: Oh pish posh. Chip chip cheerio, god save the queen and all that
STICKMAN: A spot of tea before the Queen pops around for a visit.
MADHERO: She's definitely gonna get a private screening for this film
STICKMAN: Meanwhile it'd be like YEAH BRUV FUCKIN LET'S GET SOME FUCKIN' RED BULL INNIT. Which would make the residents of Downton Abbey go OH MY WORD and drop their tea cups
LARRY: Kinda makes you wonder how it took them so long. Typically the Franchise Age woulda spit out a movie or a spinoff of this after like season 3
STICKMAN: It takes time to make boring movie spin-offs, Larry.
MADHERO: When are they gonna get a cheeky Nando's with the lads?
THE GOLDFINCH
DIRECTOR: John Crowley (Closed Circuit, Brooklyn)
STARRING: Ansel Elgort, Oakes Fegley, Nicole Kidman, Aneurin Barnard, Finn Wolfhard, Sarah Paulson, Luke Wilson, Jeffrey Wright
SYNOPSIS: A boy in New York (Fegley, Elgort) is taken in by a wealthy Upper East Side family (Kidman) after his mother is killed in a bombing at the Metropolitan Museum of Art.
MADHERO: Mmmmmm, yes, some prime failed Oscar bait.
STICKMAN: Made one hell of a crash landing at the box office.
LARRY: Wait...this opened? I thought it was still just on the festival circuit.
MADHERO: It opened around the same time as it entered the festival circuit. Maybe to get a boost if they received some good reviews, but that didn't happen.
STICKMAN: Time flies when you're dudding on all cylinders.
LARRY: Christ...yeah I read the reviews, looks like this is a dud.
MADHERO: Acclaimed book, pretty good cast, Roger Deakins cinematography and it was all for naught. Though to be fair, people were already saying the book is much better served as a miniseries than as a film
LARRY: Yeah apparently it's got a huge scope.
STICKMAN: Can't wait for the HBO series in 8 years.
MADHERO: Nothing like some burned Oscar bait to start the season.
STICKMAN: Delicious.
------------
MADHERO: While we feast on that charred flesh, we can also talk about movies that have succeeded, at least in our personal opinion, in MOVIE OF THE WEEK!!!
STICKMAN: WaAAaaAAaaaaaaaaaAAAAAGH
LARRY: YAYYYYYY. Moooooooviessssss, yum
STICKMAN: Don't eat the movies, Larry.
MADHERO: Yeah, celluloid ain't good for you. Is your Movie of the Week edible though, Sticky? What would IT taste like?
MOVIE OF THE WEEK 
STICKMAN: It'd taste like poor queer representation ........and FEAR. Well...I'm kinda in two minds about this one. It's fair to say, after my disinterest in the first film proved foolish, I was excited to see where the supposedly darker, more scary sequel would take things. As it turns out...it took things in a lot of strange and not necessarily good directions, with some problematic subtext giving me especial pause for thought about doing this for my MOTW. That said...for all its flaws...IT Chapter 2? A real blast of a batshit crazy big budget horror movie.
We don't get a lot of big budget horror these days, since cheap and cheerful has superseded the days of The Omen and The Exorcist where the genre could be tentpole entertainment. Chapter 2 harkens back to those days of big budget horror, but with its own crazy stylings. It's (literally at times) big, it's loud (really bloody loud) and it's often brutal as hell. Pennywise remains a massively fun villain and his various silly and gruesome forms make for gleeful viewing. The directing in this film matches the horror in just...going ALL IN with the crazy. It's a crazy movie, and that doesn't pay off in a lot of departments, but from a sheer spectacle perspective? It's hugely satisfying.
MADHERO: I've yet to still see this. The mixed reviews combined with what people say about the length make me feel I'm better off watching this at my own leisure at home.
LARRY: Yeah I definitely would recommend that, Mad. I was not such a huge fan of this movie, spectacle be damned.
STICKMAN: As someone who watched both films back to back, I didn't really notice the length too much.
LARRY: As someone who also did that, I certainly DID feel it.
MADHERO: Ooooh, we got ourselves a DEBATE
LARRY: I can respect Muschietti's fuckin wild-ass ideas, and the CGI does look really good, but fuck me this movie just relentless to the point of ridiculousness. It's like a Pandora's Box of fever dreams.
STICKMAN: That's dope though, Larry. Like you're selling the movie better than me.
LARRY: The first was gonzo at 2 hr 15 and that one was MUCH tighter, it warranted its length.
MADHERO: Why is deepfake Face/Off more appealing to you than Pandora's box of fever dreams?
LARRY: Because half of them make no bloody sense. And they're fucking scary. Like I felt like it had its cake and ate it too and then ate 15 more cakes.
STICKMAN: Hellll yeah. Larry over here accidentally selling the movie.
LARRY: And there's not nearly enough character or story work to justify all of it.
STICKMAN: I'll be real with y'all, this movie got some huUUUUUUUUUUUUuuge problems, it's a real mess. But the horror/spectacle was not one of them. I could dine on that shit for many more hours. Cut the opening 10 minutes though, maybe.
MADHERO: Obviously Larry ain't a fan, but maybe there's another movie of which you are. What's your Movie of the Week, Larry?
STICKMAN: Larry fears Pennywises many loud and jiggly forms.

LARRY: Welp, I didn't like IT 2, and I already reviewed Hustlers, so let's dive deep into the vaults with JOHN WICK 3: PARABELLUM, a movie I actually really liked.
I watched all three Wick adventures in one day, and the results were high-octane good times. Parabellum isn't my favorite of the trilogy (soon to be quadrilogy), but it certainly has the craziest action set-pieces and is probably the better showcase for its side characters, particularly McShane and Fishburne. But, of course, this is Reeves' movie, and he hasn't lost his touch one bit. With a ton of action movies merely providing...well, action, the JOHN WICK films have always managed to send us into a world of seriously deep lore and really unique, enaging characters.....and fucking RAD action to boot. Also, horses. Enough said.
STICKMAN: Ain't that deep into the vaults Larry. But this movie fuckin ROCKS
LARRY: Yeah, you right. And, YEAH YOU RIGHT.
STICKMAN: Opening 15 minutes is like the fuckin best thing ever.
LARRY: It's insane, man.
MADHERO: That's probably the best part of the film which is a bit of a shame for the rest of it but there's still great stuff in it. Fighting 2 guys from The Raid? Check. More bullshit lore? Check. Dogs? Triple check.
LARRY: THE DOGS
MADHERO: Halle Berry's dogs are some heckin good puppers. Just don't let them near the testes    
LARRY: Oh, yes none of that pls. But yeah, its setpieces like that that make this installment probably the most fun.
STICKMAN: I have some issues with this film but like...they mostly don't matter because hoOOOOOOOOOOOOOowee. A real action masterpiece.
LARRY: The second is better imo. Better pacing and storytelling.
STICKMAN: Now just imagine if in the fourth movie, John Wick opens Pennywises pandora's box of nightmares and has to gun-fu them all.
MADHERO: John Wick can probably kick Pennywise's ass.
STICKMAN: I'd pay much to see that fight.
LARRY: NO. NO MORE MUSCHIETTI WEIRD SHIT. Let him make his ridiculous director's supercut in peace.
STICKMAN: Speaking of weird shit...hey MAD, what's your MOTW?
MADHERO: My movie of the week is something a little different: A CARTOON NETWORK ORIGINAL! Uwaaaaaah?! I didn't know they still released those in theaters. Well, they don't, and through totally legal methods I managed to watch Steven Universe: The Movie. Steven Universe is probably one of the best cartoons of the decade in my opinion. Its got great characters, some really detailed and well established lore, fun action, and above all else is a show that truly dives into the power of empathy. So yeah, I really like these gay space rocks, and the movie luckily turned out to be no exception.
It picks 2 years from last's season finale, which appeared to wrap things up for the  show's major plot threads, but even if Steven has now grown and matured to the point that he now has an actual neck, his job of protecting Earth is not as over as it seems. Like most movies from an animated series, it largely feels like an bigger, more extended episode of the show.  That mostly shows in the quality of the animation, which is put onto full display with main villain Spinel, who's animated in rubber hose style and makes her really fun to watch. The music (and this is a full blown musical) is pretty great for the most part. Some songs didn't land for me, but that's all down to personal preference. If you like Steven Universe, there's a good chance you'll like this movie, and if you've never seen it....you may need some catching up.
STICKMAN: Seeeee...I wasn't super into this film. I think it's mostly the music...or...sing-talking. The show is known for that, but on occasion, whilst in the film it's basically the entire thing and bar one or two songs, it really didn't work for me. That and the plot felt arbitrary.
LARRY: And I didn't see it.
MADHERO: I can understand it feeling arbitrary since it features a character we hadn't seen or heard of before and takes some leaps and bounds to get to the whole earth destruction thing, but that didn't really bother me. I'm not the biggest fan of musicals either, but I thought almost all the songs were pretty great.
STICKMAN: I found most to just be truncated and annoying. Some of them worked, but not most. The animation was nice, but that's the case with the whole show. It lacked CHARACTER DEVELOPMENT, somewhat by design in a way. But it was okay. It was pretty gay.
MADHERO: What? Gay?! HOW?! Nothin' gay about some space rocks kissing
STICKMAN: Space rocks singing, merging and kissing. Some REAL HETERO SHIT.
MADHERO: This movie was purely made for the straights. Anyway yeah it was good and wholesome and I liked it. Don't watch it if you haven't seen the show though, cause even with a recap you're gonna be super fucking lost.
LARRY: Will do.
STICKMAN: Sorry Larry. No gay rocks for you. Just PENNYWISE.
LARRY: NOOOOOO I'M SO FUCKIN OVER CLOWNS.
----------
MADHERO: Well.....you may wanna skip next episode then, cause we'll get involved with some really twisted clowns then.
STICKMAN: Welcome to my twisted mind. Hope I don't...OFFEND YOU.
LARRY: OH NO! INCEL BANDWAGONS!
MADHERO: The gamers are gonna rise up and take back society.
STICKMAN: We'll stomp that politics OUT of our video games NEXT TIME on ...this movie blog. GOODBYE..uhh...LoOOOosers! hHahhh....Joker.
MADHERO: Stay tuned for some epic tricks next time.
LARRY: Peace out, hombres.