Hi folks, Kainin here! Interjecting  some self-musing on you all.
 
After watching this past weeks SideScrollers,I was a little bit intrigued at a comment from Warren Spector,creative director for Epic Mickey 2.
His comment went along the lines, like this:

"Epic Mickey 2 is the first musical comedy game in the history of videogames," Spector gushed. "We're honoring 80 years of Disney creativity, how could we not have songs in the game?"
Now..I thought to myself,"Hey  self? Isn't there already a Musical Adventure game out there? One that has comedic elements, and catchy musical numbers? Oh Yeah! Rhapsody: A Musical Adventure!".
This game first released on the PSOne (there *is* a DS version, but they altered a few things in it). Myself personally? I own this game.
It may look like a girly game..I mean sure.. It has singing, dancing and puppets..wait.. puppets?! You bet our sweet bippy there are puppets. But don't take MY word for it, why not instead, watch this awesome intro song?
So yeah, you play as Cornet.. This sweet girl who can talk to, and later control puppets, via her horn.. Yup..horn. Cornet is on a mission to save her prince from the evil clutches of the witch Marjoly! (Boy will you get a jiggle out her song..I mean giggle..yeah..giggle)
 
Joking aside, this actually was a very decent game. It is a Tactical RPG (which was altered to turn-based in the DS remake), in which you find and recruit puppets to help you on your journey.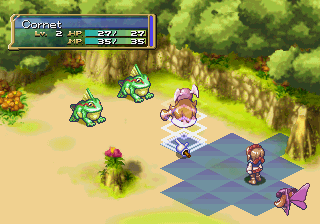 So, even though it is a short game(roughly 10 hours to beat), it was quite enjoyable, and the tunes weren't that bad.
As for Mickey? Take THAT mouse! Looks like you aren't the first musical game after all! Kidding..I still love you Disney.