I didn't go to school today.
Because sometimes I get sick.
Because sometimes, people named Cindy think it's okay to come to school for about a week when she "feels like crap."
And sometimes I have to sit by that girl in US history.
And by sometimes, I mean always.
So, thank you, Cindy Otero, for getting me fucking sick.
Now not only does your throat hurt,
So does mine!
Along with my head, my ears, and my entire freakin' existance.

Le sigh.
I'm bored.
And I'm pretty sure I'm dying.
But mostly, I'm bored.
Which is why I'm doing this.
What is this you ask?
Well, I suppose we could call it a contest of sorts?
Except that it isn't really.
But sort of. In a way.

I'll make you a deal.
You make me a portrait of M-Brod and myself.
Make it real nice.
You know, one for the Christmas cards.
It doesn't have to be made with one of those fancypants photo editing dealys.
But it can be. If you want it to.
But if not, you could use paint.
Or hell. Just draw it yourself.
Stick figures never let you down, you know?
If you do this little task I will give you a mod point.
That's right.
A whole freakin' mod point.
Why one?
Because I only have, like, 10.
But if you do make it all fancy and crap and put a lot of effort into it I might consider giving you more.
If I have enough, that is.
Ah, hell. Maybe I'll give you two instead of one.
Who knows?!
I guess you'll just have to participate to find out.

If you don't know what I look like, well...
You're probably an idiot.
Because this page does have an image gallery.
And the same can be said if you don't know what M-Brod looks like.
Because there's a picture of that guy in my image gallery.
You know. It's the one that isn't a puppy, turtles having sex, or a picture of me.
But if you don't want to use that picture...
Well... I guess someone'll just have to hit up the google image search, now won't they?
Here's an example picture: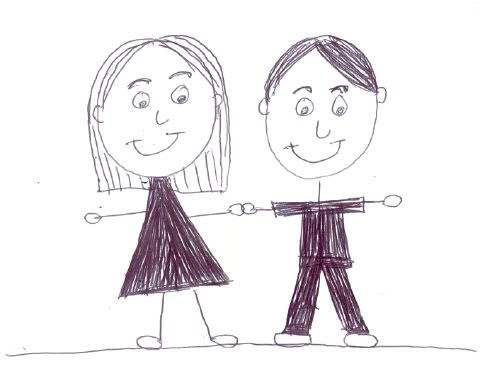 Yeah. I know. I'm the best artist ever!!
(PS: I have no idea why his eyebrows are doing that. Well, actually, I do. That thing took about two minutes to draw... That's probably why.)

So, have at it, I guess.
Or not.
See if I care, asshole.