Yeah, hi.

Today is 1.12.08.. which... . if you'll look slightly to the left .. you'll see that this means i've been a member on this site for 3 years now.

THREE YEARS!!

*going out to get a life.. bbl*

[and of course, by later i obviously mean very soon...]..


But before i do.. so that your trip over here wasn't completely wasted... . two reasons why midgets are incredibly awesome:

Reason 1: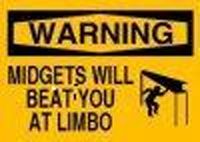 Reason 2:




Good Day.