Allow me to speak my mind as I am only representing myself and no one else. Others may share my views, but again, I do not speak for them. What I'm going to write is purely from my own perspective, based off my opinions and backed by my own experiences. This is me being real with you guys but in a carefully worded way. You are free to disagree, but I will tell you now, I will not put up with disrespuect or hate.
It is public knowledge that I have been given the honor of being one of two leads for the PA Guardian team for 2015 and 2016. Prior to that I was welcomed on the team in 2013 as a traditional PA, then I was moved into an experimental PA role as the team's first freelancer in 2014. The team has grown over the years, and I and a few others were among the first of the official PA Guardian team. That is not me boasting. That is a fact. I need to write this down so you, as a reader, can understand where I am coming from in this journal.
I can't tell you the exact reasons why I was chosen to be on the team in 2013, but I believe it had to do with my existing relationship with the community, an established level of trust with some staff, and my professional experience as an assistant.
Over the years, I've seen a healthy mix of constant and change. And being placed in the position of lead, one of my highest priorities is to make each year better. I want the best for not only my team, but also for all Guardians and attendees. That has never changed. What HAS changed is the stigma that has surrounded the PA team. While PAs are placed in unique roles for RTX, for some reason, that somehow translates to some that we believe ourselves to be of an elite force or so high and mighty that everyone else is below us. Note how I write that only SOME people believe that. I know the majority of people do not feel this way. How this became a thing, I will never know. And honestly, I can't change the perception that some people have. It's not my job to, nor is it to apologize for or coddle that mentality.
What I CAN do is tell you my side of things. Again, I am going to hold back some because there is a time and place for everything and right now, I just want to publicly say a couple things to lay a healthy foundation.
Real talk, in my time as a Guardian, I have only seen one full panel during RTX. That was Social Disorder in 2015. One panel. In all of four years I was a Guardian. All I wanted in 2014 was an Ice Knight figure from the Behemoth booth, but I didn't have any time to go on the floor on my own time until 4PM on Sunday, and they were all sold out. I'm not bitching, far from it. I'm just stating facts.

Being a PA isn't unicorns and rainbows. It isn't. No matter how you want to slice it, there is a lot of hard work put into RTX for those three days. We bust our asses for not only our assigned parties, but also for each other. We work as one unit. There is no set schedule for us; there is no black and white. Things can change in a matter of seconds and we have to adapt. If we are asked to stay after hours or show up hours before the hall opens, we do so. If we need to sacrifice personal time to get a job done, we do so. This is the job we signed up for.
If we happen to find a quiet moment for ourselves to get away from the crazy or post a picture of us smiling and being genuinely happy for loving our job, you have no right to take that from us. Let me give you a purely made up example of how I see this stigma being presented to me. The stigma is made up. The reality is well, reality.
There's a hilarious picture of me hugging a box of donuts. I cannot tell you how happy I was to have those things.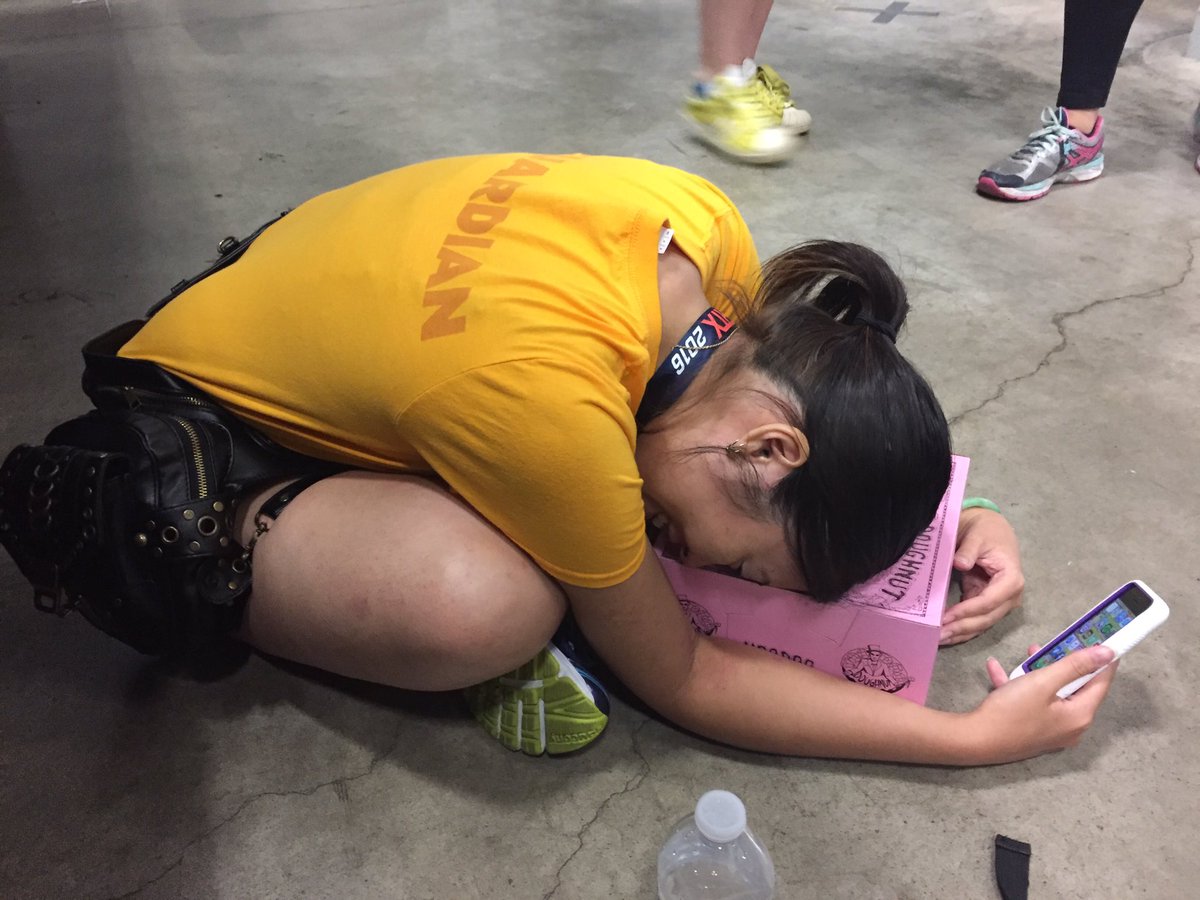 Stigma: Look how happy she is! I bet it's awesome that PAs get free donuts. Must be nice. And look, she's sitting on the ground, so I guess that means PAs don't have anything to do but lounge around until something happens to their staff member. She's probably playing Pokemon Go and messing around until she's called on. Some Guardian she is.
Reality: I hadn't eaten since the day before. I was up at 5:30AM and this picture was taken around 10AM. This was one of the first times I was able to actually sit down somewhere. I was exhausted, hungry, and yes, constantly on my phone because I had chatter going off on the walkie that I had to pay attention to and multiple texts and group chats that I had to focus on. As soon as I saw a notification pop up, I was on my phone. If I was mid-bite on said donut and I was needed, that bad boy would go back into the box and I would be off again.
Not everything is the way it seems. So bottom line, perception can get very warped when it comes to not only Guardian teams, but life in general. If you have a certain perception and you don't bother to do a little bit of digging to see another side of things (whether that be fact checking or just being empathetic), then your view of the world is very narrowed. I and no one else can help you see the other side unless you are open to doing so.
Suffice it to say, I am very protective of Guardians and I am protective of my team even though changes are made to the rosters year to year. Their well-being and efficiency as a team is my responsibility and their successes are my successes, and where they hurt, I also hurt. If you happen to be someone who has a certain belief or perception of my team, I encourage you to please try and look at it from our POV. If anything, ask questions. You'll find that we are human, we're just like everyone else, we just have a couple of extra unique duties assigned to us.
That being said, I have very high expectations of my team. I want them to have fun, have a great time, and be able to enjoy their time at RTX, but I also expect them to work as a team with EVERY team, understand to not take their jobs lightheartedly and more than anything, I place a lot of emphasis on being humble. If my expectations are not met, there will be discussion. I don't mess around when it comes to how Guardians are treated OR how they behave. It's a two-way street. And on the real, it's a three-way street because I am not exempt from this. You can bet that I will hear from the people I report to if I don't meet their standards.

So that's it. There is a lot more I can say about this topic, but this is insight that I can offer as of this moment. I like to avoid the domino effect whenever I can, so if I see issues, I will address them head on when I can. Make no mistake, every moment of being a Guardian is fucking worth it. The takeaway here is that I care very deeply about this community. That's no secret. I care very deeply for my Guardian family. That is also not a secret. Another non-secret is that I care for my team. And I will both protect them and coach them as needed. We aren't perfect, but we certainly aren't whatever this stigma is shaping us to be. Again, the overwhelming majority of what I see and hear about the team is positive, and I am grateful for that. I am just addressing a minority perception that while is a minority is still harmful and let's be honest... Kriss ain't having none of that.